Leinster Club IFC final: Resilient Trim triumph
January 16, 2022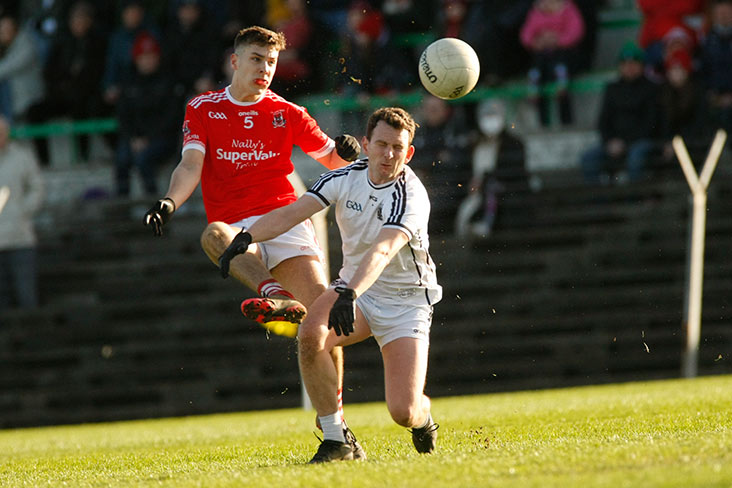 Trim's Conor Quigley shoot as Lorcan Hiney Clara tries tp block during the Leinster Club IFC final at Pairc Tailteann.
Trim claimed Leinster intermediate football honours with a spirited win over strongly tipped Offaly opponents Clara early on Sunday afternoon at sunny Pairc Tailteann. PHOTOS

Trim (Meath) ........ 1-15
Clara (Offaly) ......... 2-8

Kevin Reilly's men overcame the concession of two second-half black cards and later a sending-off.to become the fourth Meath team to win this title.

Trim put behind them the concession of two first-half goal with minimum fuss to lead by three points 1-9 to 2-3 at the break. They posted 16 scores to Clara's 10 and were only headed momentarily in the opening quarter.

Their ability to respond positively under pressure had a major say in the outcome. Once again, Aaron Lynch took scoring plaudits and was undeterred when attempted passes or scoring attempts went wrong.

The full-forward got the first two scores of the game leaving it 1-1 to 0-0 inside seven minutes. A productive spell yielded 1-2 for Clara with Cathal O'Meara netting.

Backed by their strong support, Clara were ahed by the 14th minute, 1-2 to 1-1 with a Matthew Mitchell point. Within two minutes points from Mikey Cullen and Lynch (free) had Trim ahead at the first water break.

It didn't seem likely at the time, but Trim were to take that lead to the finish. However, there was no time for show boarting as the end neared.

Instead Trim controlled matters expertly in the latter moments when they exchanged fresh legs for exhausted ones.

Hugo Brady's 22nd minute goal tied the scores for the third (and final time) with the board at the opposite end reading, 2-2 to 1-5.

Trim closed out the half with four points on the spin before a harsh call against them - that incensed their fans - led to a Hugo Brady pointed and an interval scoreline, 1-9 to 2-3.

The second-half was a fractious affair, yielding just 11 points. Two players were black-carded while two others were red-carded for second offences.

Clara were never more than four off the pace in the second-half but were unable to capitalise on bouts of numerical advantage.

Mikey Cullen were first to depart, on a 41st minute black card. Alan Douglas followed in similar fashion moments later. The numerical disparity was closed when Matthew Mitchell received a second yellow in the 49th minute.

Trim led by four points, 1-13 to 2-6, when Gerry Dwane picked up a second yellow just after his side had their full compliment restored.

Displaying admirable resilience, Trim picked off points when opportunities presented themselves, much to the delight of their vocal supporters. Sub Ciaran Joyce wrapped up the scoring in the sixth minute of added time with a sensible point to secure the outcome.

Matthew Gilsenan (Moynalty) gave an impressive rendention of the National Anthem.

Before the throw-in a minute's silence was observed in memory of Ashling Murphy, following her tragic death

Scorers: Trim - Aaron Lynch 1-7 (3fs); Mikey Cullen, Eoin O'Connor, 0-2 each; Ciaran Caulfield, Rob Bourke, James Toher (f), Ciaran Joyce, 0-1 each.
Clara - Ross Brady 1-3 (0-2 fs); Cathal O'Meara 1-0; Josh Fleming, Cormac Delaney, Lorcan Hiney, Aaron Wynne, Matthew Mitchell 0-1 each.

Trim - Peter Farrell; Gerry Dwane, Luke Moran, Declan Dowling; Conor Quigley, James Toher, Ciaran O'Rourke; Rob Bourke, Sean Fitzgerald; Ciaran Caulfield, Alan Douglas (c), Daire Lynch; Mikey Cullen, Aaron Lynch, Eoin Connor. Subs - Ben Holden for Cullen (56), Ian Bermingham for O'Connor (60), Cieran Joyce for Fitzgerald (60 + 4).

Clara - Joey Deehan; Seamus O'Brien, Ciaran Doyle, Cathal O'Meara; Colm Doyle (c), John Ledwith, Lorcan Hiney; Carl Stewart, Graham Guilfoyle; Conor Egan, Edward Cullen, Matthew Mitchell; John Fleming, Ross Brady, Cormac Delaney. Subs - David Falsey for Egan (ht), Scott Brady for Ledwith (ht), Aaron Wynne for Brady (50), Ciaran Ennis for Hiney (60).

Referee - John Hickey (Carlow).
Most Read Stories