Offaly minor camogs continue winning ways
August 02, 2021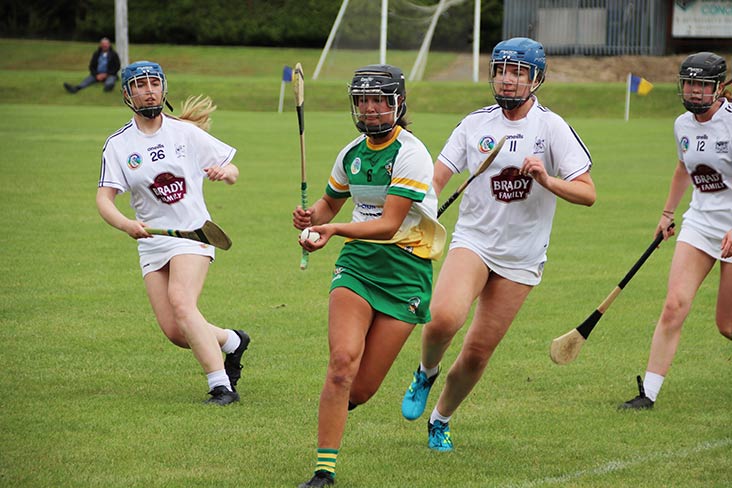 Offaly's Orlagh Phelan in possession against Kildare in Banagher
Offaly 5-13 Kildare 0-7
Offaly Minor Camogie played their second round of the All Ireland championship against Kildare in Banagher on Sunday last after both teams had won their opening encounters with Offaly beating Laois in Portlaoise and Kildare taking care of Carlow.
When play got underway it was Kildare who opened the scoring with an early point, but Offaly responded quickly with Clodagh Leahy converting two placed balls and then hitting an excellent goal. Kildare hit back with a point of their own to leave Offaly leading by that Leahy goal at the water break.
Shortly after play resumed Faye Mulrooney struck a shot that nestled in the Kildare net and following that Offaly continued to dominate the scoring with a free from Clodagh Leahy followed by points from Sinead Hanamy, Chloe Fogarty and Faye Mulrooney, leaving Offaly with a healthy lead. An excellent goal by Chloe Fogarty and point from Clodagh left the half time score reading Offaly 3-7 to Kildare's 0-2.
Kildare started the second half well and scored two points from play. Offaly replied with a brace of points from Faye Mulrooney and Cayla Fletcher but credit to Kildare who continued to battle went on to score two further points from play to leave the score at 3-9 to 0-7 at the water break.
Once play resumed however it was Offaly who dominated. Faye Mulrooney rocked the net again with her second goal which left Offaly with a commanding lead. Further points from Clodagh Leahy and Mulrooney put Offaly out of sight before Cayla Fletcher finished low to the corner of the Kildare net to score her team's fifth goal. Points from Mulrooney and Hannah Riley wrapped up the scoring from Offaly to leave them comfortable winners
Offaly will now go on to play Carlow on Sunday next in the final group match of the competition. With two wins out of two, Offaly are now in a comfortable position to qualify for the All-Ireland semi-finals.
Teams:
Offaly: Leah Gallagher, Hannah Feenane, Sarah Doherty, Denise Connor, Cara Hoare, Orlagh Phelan, Sarah Fitzgerald, Grace Leonard, Caoimhe Darcy, Labhaoise Glynn, Cayla Fletcher, Sinead Hanamy, Chloe Fogarty, Faye Mulrooney, Clodagh Leahy
Subs: Sarah Freeman for Sinead Hanamy, Aoife O'Regan for Caoimhe Darcy, Hannah Riley for Labhaoise Glynn, Caoimhe Rice for Leah Gallagher, Aoibhe Kennedy for Denise Connors, Ciara Brady for Grace Leonard. Niamh Egan, Emma Nevin, Eimear Maher, Chloe Hennessy, Miriam O'Neill, Aoibhe Liffey.
Kildare: Eimear Stirling, Aine Mernagh, Laoise Mimnagh, Chloe O'Gorman, Julie Kennedy, Claire Lynch, Aoife McDermott, Sarah Carroll, Ally Morgan, Saidhbh Farrell, Orlaith Delany, Ella Copeland, Niamh Jenkins, Michelle Brogan, Molly Berns
Subs: Allie McGrath, Hannah Murphy, Emma Moran, Abigail Mulreid, Fahsai Nic Choncradha, Dalison Modliar, Claire Lynch, Aibhe Connolly, Jules Kelly, Rebecca Lynch, Katie Whelan, Orla Carragher, Nikki O'Keeffe, Maebh O'Donovan, Saoirse Ni Mhuircheartaigh
Scorers for Offaly, Faye Mulrooney 2-4. Clodagh Leahy 1-5 (4 frees, 1 45) Cayla Fletcher 1-1, Chloe Fogarty 1-1, Hannah Riley 0-1, Sinead Hanamy 0-1.
Most Read Stories