Ladies club round-up: Ronayne relieved as Mourneabbey reach another final
November 11, 2019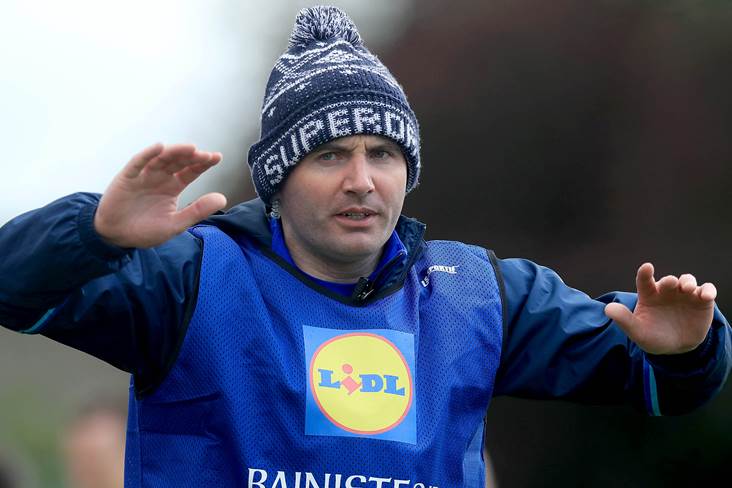 Mourneabbey manager Shane Ronayne.
Compiled by Declan Rooney
MOURNEABBEY manager Shane Ronayne expressed his satisfaction after the All-Ireland Champions advanced to another Final.
Tipperary's TG4 All-Ireland Intermediate Championship winning boss watched his club charges stage a powerful second-half comeback as Doireann O'Sullivan's haul of 1-8 helped her side record a 2-13 to 1-10 win against Donaghmoyne.
Joining the champions in the Final is Galway's Kilkerrin/Clonberne who reached their first All-Ireland decider after they helped themselves to a 5-12 to 2-10 victory over Foxrock-Cabinteely.
Louise Ward and Ailish Morrissey scored two goals each, while the free-taking of Olivia Divilly kept the Galway champions on the front foot throughout.
The sides will meet in the All-Ireland Final in two weeks' time at Parnell Park, and Ronayne knows his side face a serious test if they are to defend their title.
"My first thought has to be a lot of relief," said Ronayne. "The only real positive at half-time was that we were only three points down after playing so poorly.
"In fairness to all the girls they stuck to the game plan, and managing to outscore a very good side like Donaghmoyne by ten points to one was something else.
"Players stood up today and were counted. Overall we are delighted to be in the final – we know we have plenty of work to do but that is a great way to be going into it."
It was an historic victory for Kilkerrin/Clonberne, who powered on to the win despite goals from Katie McNally and Amy Ring for the Leinster champions.
A goal from Annette Clarke helped as Kilkerrin/Clonberne to lead by 4-3 to 1-7 at the break and their manager Kevin Reidy praised his team's effort and admitted they are already looking forward to having a crack at the champions.
"We are delighted to finally get over the line, very happy with today," said Reidy.
"Olivia (Divilly), Louise (Ward) and Ailish (Morrissey) wouldn't be scoring unless they were being given the ball. I thought the team played very well and the girls finished the scores.
"We were beaten last year in the semi-final by Mourneabbey and they are a fine team. All we could do was dust ourselves down and get back at it again. We never talked about last year and we just took it one game at a time.
"We look forward to the final. This is they type of game you look forward to. It is going to be a very tough game for us but we look forward to it."
Elsewhere, St Paul's and Naomh Ciarán will contest the All-Ireland Intermediate Club Final on November 23, following victories over St Nathy's and Inch Rovers respectively.
St Paul's needed Kirsty McGuinness's early goal to stay in touch after St Nathy's impressed for the first 40 minutes, but despite Kathleen Coleman's strike for the Sligo champions they were denied by the narrowest of margins as St Paul's edged the win by 1-7 to 1-6.
Meanwhile, Kate Kenny's personal score of 1-10 was vital for Offaly side Naomh Ciarán who ran out 3-15 to 1-11 winners over Inch Rovers, although they needed extra-time to reach the final.
"It just came down to a dogfight and the girls had to show their character," said Naomh Ciarán coach Colin Kenny.
"They kind of ran out of steam at the end of normal time but we went in there, we had a chat and we asked 'how badly do we want this?'. And the girls just showed what they're all about."
And the All-Ireland Junior Club Championship Final on Sunday November 24 will be contested by Mayo's CL MacHales Rovers and Cork champions Donoughmore.
Mayo star Rachel Kearns scored an impressive total of 1-9 for her side as they ran out 4-12 to 1-13 winners against Edendork, who stayed in touch thanks to Maeve Maxwell's 1-9 tally.
It was altogether tighter in the other Junior Semi-Final as goals from Rena Buckley and Aileen Buckley edged the Cork side ahead of Navan O'Mahony's at the final whistle.
"We're thrilled to return to an All Ireland final," said Donoughmore manager Donal Dineen.
"We're rebuilding, just two years ago we hadn't an adult team but to be defeated by the eventual All Ireland champions Glanmire last season gave us encouragement".
Results:
All-Ireland Ladies Senior Club Championship semi-finals:
Kilkerrin-Clonberne (Galway) 5-12 Foxrock-Cabinteely (Dublin) 2-10
Mourneabbey (Cork) 2-13 Donaghmoyne (Monaghan) 1-10
All-Ireland Ladies Intermediate Club Championship semi-finals:
St Pauls (Antrim) 1-7 St Nathys (Sligo) 1-6
Naomh Ciarán (Offaly) 3-15 Inch Rovers (Cork) 1-11 AET
All-Ireland Ladies Junior Club Championship semi-finals:
Edendork (Tyrone) 1-13 CL McHales (Mayo) 4-12
Donoughmore (Cork) 3-13 Navan O'Mahonys (Meath) 3-12
FIXTURES:
All-Ireland Club Finals:
Senior: Kilkerrin/Clonberne v Mourneabbey; Parnell Park, 5pm, Saturday November 23
Intermediate: St Paul's v Naomh Ciarán; Parnell Park, 3pm Saturday November 23
Junior: CL MacHale Rovers v Donoughmore; TBC, 2pm, Sunday November 24.
Most Read Stories