Tullamore motion seeks to amend Offaly GAA parish rule
November 22, 2022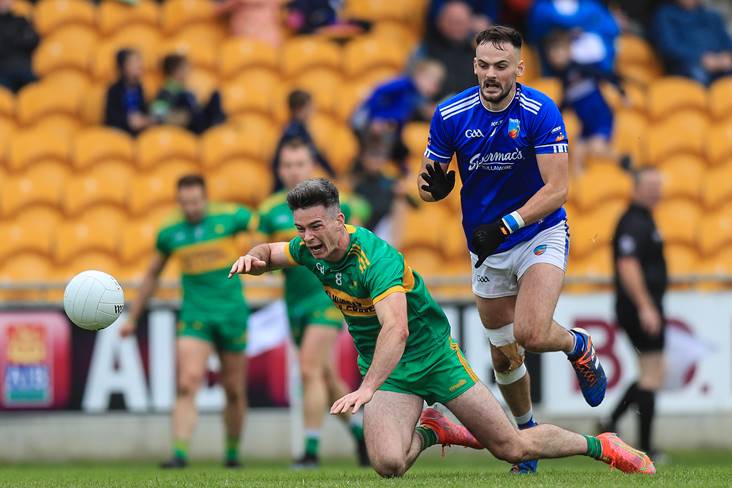 Tullamore's Ciaran Egan with Conor McNamee of Rhode. ©INPHO/Evan Treacy.
A motion from Tullamore GAA seeking to amend Offaly GAA's century-long parish rule will be debated at next month's county convention.
The controversial motion seeks to add to the existing rule by allowing players to join a club other than the one based in their parish of residence if they can prove to the CCC (Competitions Control Committee) that a strong family connection can be established with that club.
Tullamore are currently canvassing other clubs in Offaly to support the motion, saying it's a positive step at a time when some young families are struggling to find or build houses in their home parish due to planning restrictions. Tullamore are the biggest club in the county, but have identified 28 players living in the county town who are playing with other clubs.
However, the prospect of Tullamore GAA expanding their playing base is likely to prove unpalatable to neighbouring clubs who have a much smaller pick by comparison.
The text of the motion, which requires a 60% majority, is as follows: "A person seeking to become a member of the Association shall be restricted to joining a club in the catchment area of his residence or a club to which he has 'Other Relevant Connection' as defined below:

"Other relevant connection – a member shall be regarded to having 'Other Relevant Connection' with a catchment area if:
"It has been demonstrated to the satisfaction of the CCC that a strong family connection i.e. parents/guardians exists between the player and the club with which the players wishes to become a member.
"Application from a Member to become a member of a club outside his catchment area shall be submitted in writing to An Runai Chontae on or before January 28th of each year."
Most Read Stories