Kinnitty Camogie Club Notes
October 24, 2022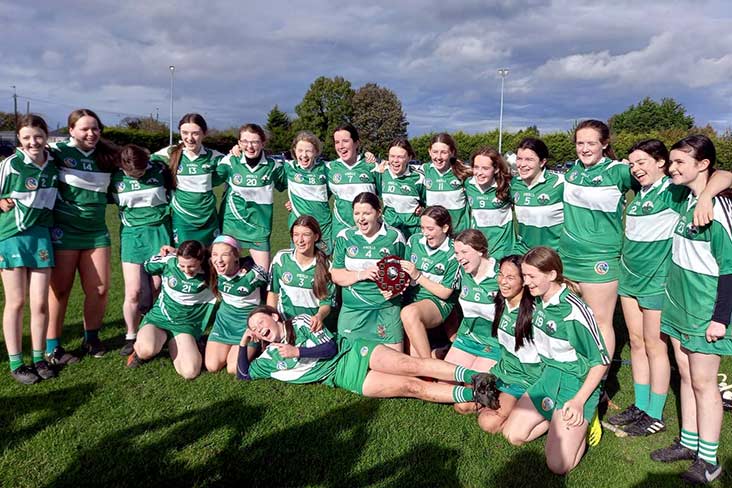 The Kinnitty team that won Saturday's Under 15 B1 Final
Under 15s
Huge congratulations to our girls who won the Under 15B1 Final when they overcame St Rynaghs on Saturday in Cloghan.
In what was a close game throughout, at half time Kinnitty lead 2-2 to 1-3 with both our goals coming from Hannah Robinson.
In a low scoring but competitive second half our girls added 3 points to their tally and opened up a 4 point lead but St Rynaghs hit back with a goal followed by a point to level proceedings and set up a nail biting finish. Credit to the Kinnitty girls however as they showed great resolve and finished the game well with two points coming from Meadbh Dooley and Amber Mortimer to seal the win for the girls in green and white.
Team: Abi Browne, Maisie O'Neill, Kiera Leahy, Aoife McGovern, Ella Boland, Caitlin O'Neill, Alison Ryan, Amber Mortimer, Kate Maher, Katie Standish, Meadbh Dooley, Moya Guinan, Hannah Robinson, Aoibhe Longworth, Abbie Sheppard
Subs: Kate Browne, Kate Harris, Aine Kinsella, Amber O'Brien, Leah Dooley, Caoimhe O'Shea, Roisin Flanagan, Aishling Farrell
AGM
Our Annual General Meeting will take place on Sunday, 20th November 2022 at 3.00 pm. We would love to see some new faces at the meeting and help get involved in the club for 2023 so please come along.
Thank you
The Under 15 Final brings the curtain down on our on field activities for this year. Thank you to all the coaches that volunteered their time throughout the year to train and coach the girls throughout the year. Thank you to all our sponsors, whether it was sponsoring kit for the teams or donating towards our Race Night. Thank you also to all our supporters who cheered on the girls in their blitzes and matches in 2022. Thank you to everyone that washed jerseys, lined the pitch and helped make sure our games were played. Thank you to Kinnitty GAA Club for their co-operation and support.
Last but by no means least, thank you to our Committee who are the driving force of our club. While all the work you do may go unnoticed we hope that you take great satisfaction in seeing our girls pull on our jersey and take pride in the fact that without your work it would not be possible.
Most Read Stories