Three brothers with one passion sees unique historic achievement in Monaghan
November 11, 2022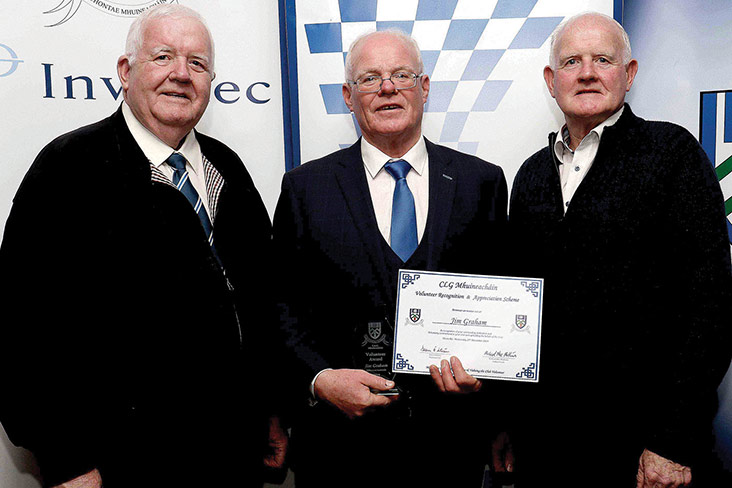 John P. Graham, Jim Graham and Tom Graham
The GAA as an organisation is about many things. It is primarily about the games but it is also about communities as the Association is deeply rooted in every parish in the country and its influence is major on so many things from the quality of life in communities, the provision of facilities for the development of youth and the history of communities, including the part that history plays in the national story.
At club level history is often said to be made by players being selected to represent the county, club teams winning championship titles for the first time or completing so many in a row and part of that is also the dedication of trophies to the memory of former players and activists.
This past weekend the Killeevan Sarsfields club in Monaghan reached another milestone with the unique historic achievement of three brothers, John P (JP), Tom and Jim Graham all having served the club as chairman during the last half century.
Their record of service though, doesn't end there as all three have given a lifetime of service to the club in various capacities but three brothers, having served the club as chairman has never happened before in the club or as far as can be ascertained in the county and perhaps even further afield than Monaghan.
JP was the first to serve in that office, taking up the role in the mid-70s and the highlight of his term in office was the initial development work at Sarsfield Park, which saw the provision of dressing rooms and all ancillary facilities for the club for the very first time.
Later, Tom took over the mantle of chairman and indeed served two separate terms with the highlight of his first term being the construction of a covered stand at Sarsfield Park and later the establishment of what has become a very successful fundraising club Lotto.
The youngest of the three brothers, Jim, has been deeply involved in the development of facilities at Sarsfield Park over the last 30 plus years, drawing up plans and overseeing the work for the extension of facilities, the provision of an astro turf pitch, the development of a Prunty pitch and the construction of a second suite of dressing rooms, including gym facilities, as well as the provision of a recreational walk around the club grounds.
Their unique and historic achievement will be officially recognised at the club's annual get together in the Hill Grove Hotel, Monaghan this Saturday night, November 12th.
Most Read Stories