"Without that AED being available that day, he wouldn't have been here"
March 24, 2021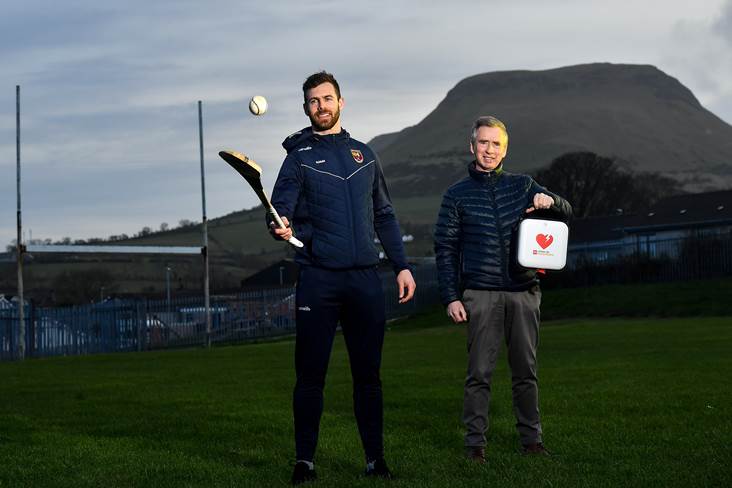 Antrim hurler Neil McManus and his father Hugh at Cushendall GAA Club in Antrim. ©David Fitzgerald/Sportsfile
Antrim hurling star Neil McManus has urged all GAA clubs to install an Automated External Defibrillator (AED) at their grounds.
McManus – who is an ambassador for the GAA's Community Heart Programme which was launched yesterday – recalled how a defibrillator came to the rescue of his father Hugh back in 2015 when he suffered cardiac arrest after a game of golf.
Speaking to GAA.ie, the Saffrons ace revealed: "He just began to feel a little unwell when he was playing and thankfully the other guy he was playing with advised him to go home, just because he was feeling warm and his chest was a bit tight.
"I just rang an ambulance and said I think my father risk having a heart attack and I didn't really know if he was or wasn't I just wasn't sure I wasn't used to him being unwell."
The Emergency Services contacted first responder Joe Burns who lived near the McManus family in Cushendall and was able to access an AED which was located at the local hurling field.
"Joe is a local crew member of the RNLI in Cushendall and he got training through them and without him that day there is no way my father would still be there.
"There was a second responder as well, Hugh McIlwaine, I think he's chairman of Glenariffe the neighbouring village but he put club rivalries aside that day and came in and helped Joe out. Thankfully they brought him around.
"We got very lucky on the day, how Joe was at home whenever the phone call came and he was right beside the hurling field, where our AED is stored on outside wall. He was up at the house within five minutes.
"Without him, my father wouldn't be here today. Without that AED being available that day, he wouldn't have been here."
Most Read Stories