Football championship gate receipts down
February 06, 2019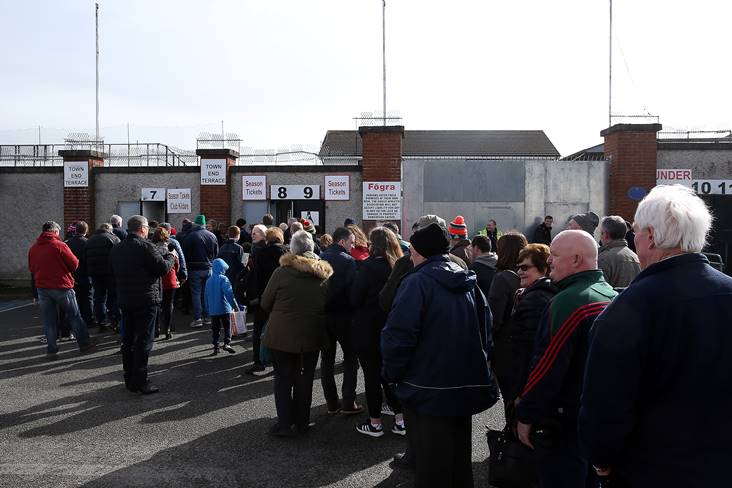 Kildare and Mayo fans wait for the gates to open before the Allianz FL clash at St Conleth's Park, Newbridge.
©INPHO/John McVitty.
A decrease in the football championship attendance figures has hit the GAA hard in the pocket.
The association's new Director of Finance Ger Mulryan presented his first annual report today and it shows an overall drop in gate receipts from €34,391,635 to €29,575,091.
Despite the introduction of the Super 8s, the money generated from the football championship fell by €3,695,115.
Meanwhile, the hurling championship gate receipts were down from €10,706,252 to €10,236,313.
According to the report, a factor in the decrease was that there were two major replays in 2017 and just one in 2018.
Overall, Central Council's revenues decreased by just 1%, down from €64.4 million (2017) to €63.5 million (2018).
A record €19.3 million was spent on Games Development and Player Welfare while Grants Funding increased by 25 per cent to €2.5 million with a total of 424 GAA clubs receiving a grant of for improvement of pitches and facilities.
€13.9 million was distributed to counties, an increase of €0.5 million on 2017's total.
"It is with a high level of confidence that our members can be assured that the Association enters the coming year in a solid financial state," Mulryan stated in his report.
"Our balance sheet is strong and there are no third-party borrowings. Loan balances owed to Central Council from our units are sizeable at €33m, but most importantly this loan book is performing, and repayments are on track.
"Our common objective is to deliver the adequate resources to seamlessly allow all our units to develop and prosper.
"In conclusion, our financial well-being is due as always to the tireless dedication of thousands of club and county treasurers nationwide. Their role is a difficult but valued one.
"The Association is also indebted to the members of the National Financial Management Committee, National Audit & Risk Committee and National Risk & Insurance Committee for their hard work, insight, support and expertise.
"It is thanks to the hard work and expertise of all these people that I am pleased to be able to report favourably on Central Council's 2018 financial results, and to look forward to exceeding expectations in 2019."
Most Read Stories