'Please God everybody gets through it well'
October 18, 2020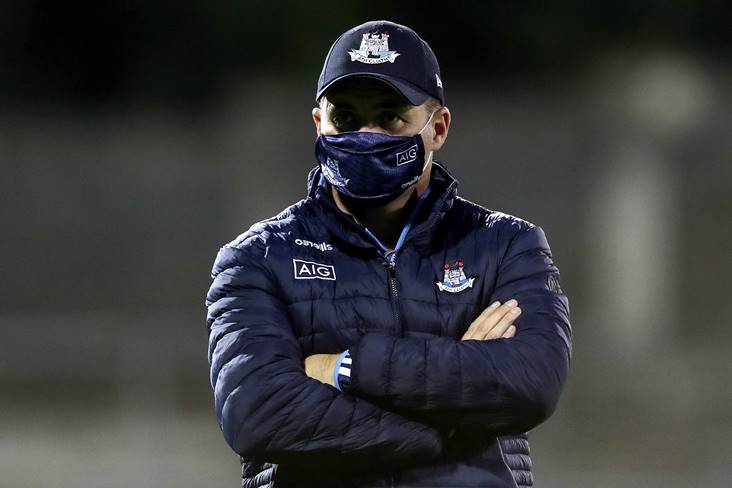 Dublin manager Dessie Farrell. ©INPHO/Laszlo Geczo.
Dessie Farrell remains hopeful that inter-county activity can continue in the coming weeks, despite Level 5 COVID-19 restrictions looming large on the horizon.
Speaking after his side marked their return to action after a seven-month absence with a hard-earned Allianz Football League victory over Meath last night, the Dublin manager admitted that there is huge uncertainty surrounding the completion of the inter-county season.
"That doubt hangs over you constantly, but there's nothing you can do but embrace it and be grateful for every day you get to come and play again," he said.
"That uncertainty was out there for sure, but it's a lot better position to be in than where we were at the start of lockdown when we thought everything was gone for the year. Look, you just get on with it and make do and embrace what comes your way. We're just delighted to be back at this stage."
Farrell continued: "There's been a lot about COVID-19 and the increased numbers and the trajectory of the virus in the last two weeks or so. It's always going to give cause for concern, players are no different. I'm hoping this weekend was a success for the GAA, it is very difficult to manage this, the goalposts keep shifting week to week. Please God everybody gets through it well and we'll be able to look on to next week with some confidence.
"It's difficult, but it's difficult for everybody. Perhaps it's slightly accentuated because you're an inter-county player and you've that added responsibility but the behaviours of every citizen in the country are under scrutiny and we're no different in that regard."
Most Read Stories