Eamonn Burns - Down's midfield maestro
October 09, 2019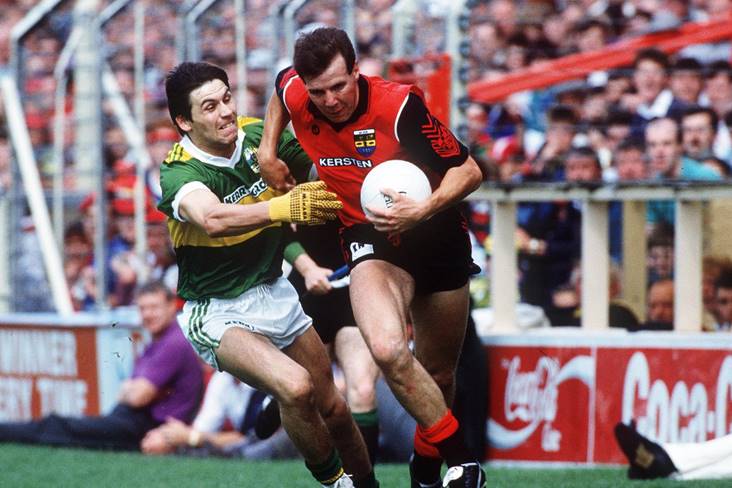 The late Eamonn Burns in action for Down against Kerry in the 1991 All-Ireland semi-final.
The sudden and untimely death of Down GAA great Eamonn Burns has shocked and saddened the GAA community.
An All-Ireland winner with the Mourne County in 1991 and '94, Eamonn wore the famous red and black jersey with great distinction.
Eamonn was Mourne County manager between 2016 and 2018 and guided them to an Ulster final appearance in 2017.
He also managed his home club Bryansford, as well as Ballymartin, Darragh Cross and Tullylish in recent years.
The following is a feature on Eamonn which appeared in Hogan Stand magazine in October 1991:
Eamonn Burns - Down's midfield maestro
by Brian McAvoy
Down's supporters have many happy memories of their team's magnificent All-lreland victory over Meath and each individual will no doubt have their own special moment from the game to savour. One of those moments might well have been witnessed in the twentieth minute of the game when towering Down midfielder Eamonn Burns took a great pass from Greg Blaney and cut incisively through the Meath rearguard to shoot the Mourne County into a 0~5 to 0~4 lead. It was the first time that Down led in the game and it was a lead they were never to lose. Another such moment came thirteen minutes from time when the heroic Meath fightback was on in earnest but Down broke out of defence and moved upfield to score a splendid point. The scorer was Eamonn Burns.

The Bryansford clubman had not scored in the Championship prior to the All-lreland Final but he kept the best wine until the last and turned in his best performance on the day when it really mattered. His display in Croke Park against the highly rated Meath midfield pairing of Liam Hayes and Gerry McEntee proved that on his day Eamonn Burns is a player capable of competing at the highest level. He is an expert at the overhead catch but unlike many other players his talents do not end there. This unselfish player gets through a lot of spade work in every game he plays and often fails to get the credit which his overall contribution to the game merits. He is an excellent distributor of the ball and as he showed in the All-lreland Final he is capable of scoring the odd point or two.

Eamonn also plays midfield for his club and although not a prolific score-getter he was not to surprised about finding the target twice against Meath. 'I score regularly for Bryansford but the chances just didn't come my way while playing for the county this year. In the All-lreland Final I was able to go further forward than what I have been doing all season and when the chances came my way I was delighted to take them", he said.

In a recent newspaper article Liam Hayes described Eamonn Burns as an "awkward" player to play against. "Journalists are paid to write said Eamonn who confesses to not having read the article in question. Liam Hayes had played against Eamonn Burns on several occasions previously, most significantly in the 1990 National Football League Final which the Royal County won by two points. While one might argue as to how appropriate the choice of word used by Hayes was, the Meath player was clearly stating that Burns had a style of play which was difficult to counteract and that any player marking him would find it well neigh impossible to really assert their authority on the game. Indeed in any game, be it club or county it is very rare that Eamonn Burns plays second fiddle to anyone.

Eamonn Burns has been playing Gaelic Football from about the age of thirteen. His very first manager at juvenile level was Willie Kane himself a former county star and one of the greatest club players ever to grace the football fields of Down. An East Down U14 League medal was one of the rare honours to have come the way of the young Bryansford lad but he had slightly more success at schools level when he won a County Down U 14 Vocational Schools medal with St. Malachy's High School, Castlewellan. While at school in Castlewellan Eamonn came under the influence of PJ McGee, the present Down minor football team manager, and Des Farley who trained the All-lreland winning Down team of 1968.

By the age of seventeen, Eamonn was representing Bryansford at adult level and at that stage he was one of three brothers playing for the club. His older brothers Malachy and Colm won All-lreland U-21 medals with Down in 1979 and soon afterwards were to represent the county at senior level. Uncharacteristicly they were not destined to achieve the success that was to come the way of younger brother, though Eamonn still regards them as having the biggest influence on his career.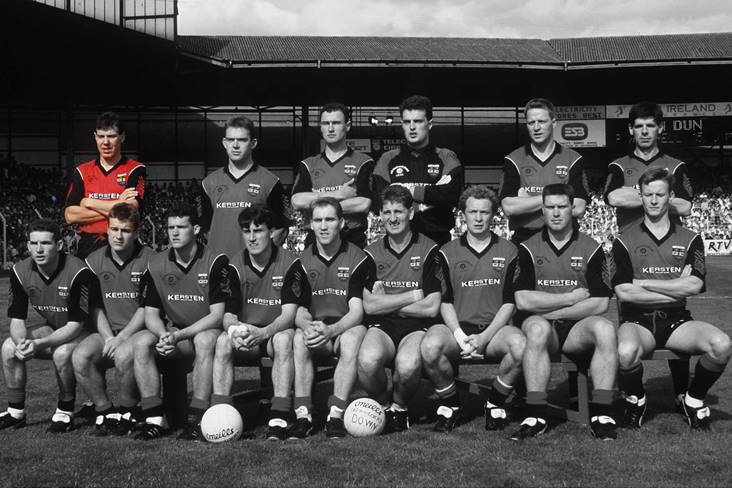 The late Eamonn Burns, back row, first from left, with the 1991 All-Ireland winning Down team.
Never selected to play for Down at minor level, Eamonn did make it onto the under 21 team in 1983 but hopes of an Ulster medal vanished with a first round championship defeat by Cavan. It was three years later that Eamonn made his debut on the Down senior team. Manager Sean Smith called him into the panel for the Ulster Championship campaign and he was thrown right in at the deep end by making his first appearance in a Down jersey in an Ulster Senior Championship first round tie. The game was played at Eamonn's home ground of St. Patricks Park, Newcastle and although Down won through on a 2-8 to 1-10 scoreline, it was sadness for Eamonn as a serious injury sustained during the course of the game was to rule him out for the rest of the season.
By the time Eamonn Burns lined out for Down again two years later he had qualified as a teacher and had won a Ryan Cup medal with St. Josephs College, Belfast. Today he is a teacher of Design and Technology at St. Patricks High School, Omagh but his talents are not confined to the classroom as he also coaches the school's under 14 football team.
PJ McGee taught and coached Eamonn Burns at St. Malachys High School, Castlewellan and also coached the Bryansford team which lost to Burren in the 1987 Down Senior Football Championship Final. He better than most could verify that Eamonn Burns is a wonderful ambassador for the game of gaelic football. "On and off the field he is a true gentleman," said PJ. "He is a strong footballer and a very skilful one. He has brilliant skills and I think that this can be allied to the fact that he played a lot of basketball in his earlier days. For one so tall, he is very mobile and you can always be assured that he will give nothing but his best on every occasion."
Two weeks ago, Eamonn Burns achieved what every footballer dreams of but what only the privileged few achieve - he won an All-Ireland senior football medal. The previous day his club Bryansford had won the Kilmacud Crokes All-Ireland Sevens to make it a memorable weekend for Down. When Bryansford last won these renowned sevens in 1984, Eamonn Burns was a playing member of the team. Indeed his tremendous mobility around the pitch is often attributed to the fact that he plays sevens football quite regularly.
He missed out on a sevens medal this time around of course, but that doesn't even cost him a thought. "I'll settle for the medal that I got in its place. It feels fantastic to have won an All-Ireland medal and the enormity of what it means is only beginning to sink in. I feel very honoured and proud to have played a part in helping the Sam Maguire Cup return to the County Down," he stated. Like every other Down person he is no doubt hoping that that same Sam Maguire will be a regular visitor to Down in the years ahead.
Most Read Stories