Minor and U20 county teams to resume training on 10 May
May 05, 2021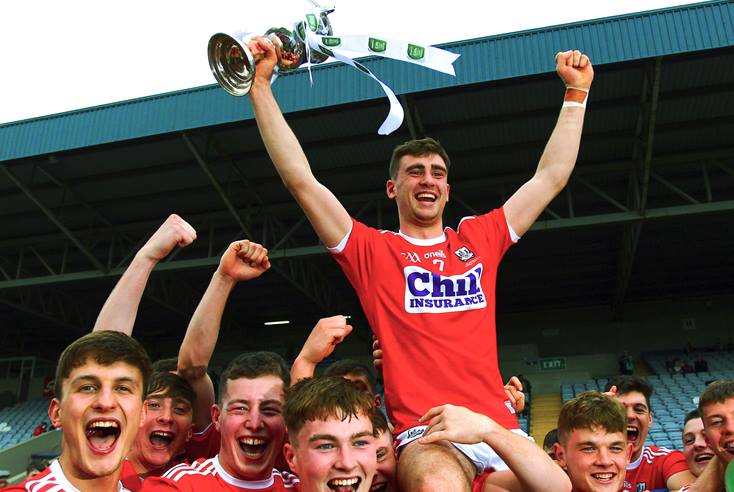 The Cork U20 players celebrate with captain Peter O'Driscoll
The GAA has informed counties that minor and U20 intercounty training may resume on Monday 10 May.
A number of competitions from the 2020 season still need to be completed including minor football and hurling as well as the U20 hurling All-Ireland.
Croke Park has said that fixtures will be released in the coming weeks with games expected to return once the Leaving Certificate is completed at the end of June.
The moves applies to 2021 team and those still in the 2020 competitions.
The games from the 2020 competitions that remain to be played are:
Minor Hurling
Leinster MHC final
Kilkenny v Offaly, O'Moore Park, TBC
All-Ireland MHC semi-final
Limerick v Galway, TBC, TBC
All-Ireland MHC final
Kilkenny or Offaly v Limerick or Galway, TBC, TBC

U20 Hurling
Leinster U20HC final
Dublin v Galway, O'Moore Park, TBC
All-Ireland U20HC final
Dublin or Galway v Cork, TBC, TBC
Minor Football
Leinster MFC final
Meath v Offaly, Parnell Park, TBC
Ulster MFC semi-finals
Tyrone v Derry, Clones, TBC
Fermanagh v Monaghan, Kingspan Breffni, TBC
Ulster MFC final
Tyrone or Derry v Fermanagh or Monaghan, TBC, TBC
All-Ireland MFC semi-finals
Roscommon v Kerry, TBC, TBC
Meath or Offaly v Ulster winner, TBC, TBC
All-Ireland MFC final
Semi-final winner v semi-final winner, TBC, TBC
Most Read Stories