'You want to try and keep Meath up there at the top table'
February 04, 2023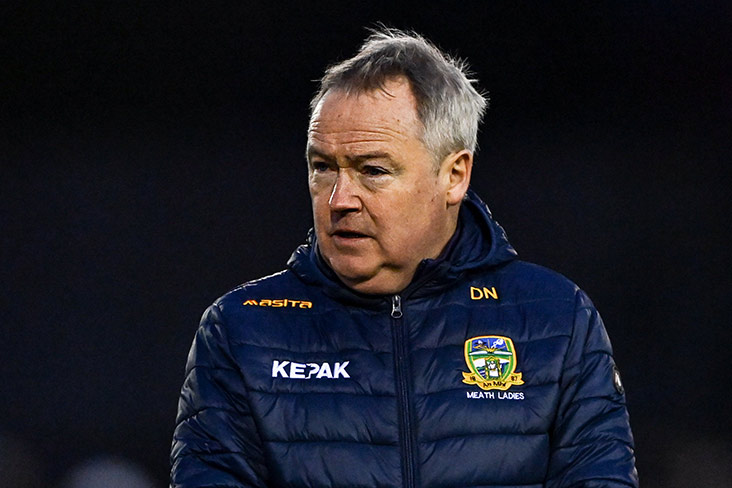 Meath manager Davy Nelson
by Daragh Small

Standing on the DCU St Clare's sidelines, with his pen and paper in hand, Davy Nelson finally got to experience what it was like to manage a Ladies Football team.
The new Meath manager is the archetypical student of sport, he has a thirst for knowledge and self-development that translates perfectly to a place roaming the sidelines.
He hasn't been fazed by the massive task he took on when he agreed to assume control of a back-to-back TG4 All-Ireland Senior Championship winning juggernaut. He is so familiar with pressure that he almost revels in the expectations.
But it is the magnificent feeling of a good plan coming to fruition that he craves, and he hopes next Monday that Meath can make it successive wins in the Lidl NFL with victory at home to an in-form Galway outfit.
It will be justification for the direction he is giving his players and new coaching set-up. Coming from a man who directs plays in big theatres, managing his players on and off the field will be key to a seamless transition after Eamonn Murray.
"It's a privilege to be asked to take on and manage this Meath team," said Nelson.
"My third time to manage a Meath team and I didn't know it would be the Ladies if I was to look into a crystal ball a couple of years ago. It's a great honour for me and my family.
"It's new territory for me. I am keeping very much an open mind. I have been around the game a long time but that's all men's football. So my knowledge of the Ladies game, quite honestly, is limited.
"I have 25 years done in the men's game as a manager and coach. You just know that you are being given the reins of the last All-Ireland champions and you want to try and keep Meath up there at the top table.
"That would be my role. Just to facilitate the players to grow and get better and to make the most of what they have."
The continuity of having Mark Brennan again this year is vital to Nelson's plans. Brennan joins Bernie Murray, John O'Connor and Alan Malone in the backroom team.
But centre stage is Nelson, a man also familiar with pulling the strings from behind the scenes at the Solstice Arts Centre in Navan.
"I have a big interest in theatre so I would read plays for leisure time and I really enjoy that as well as directing," said Nelson.
"If you think about it, at the end of the day, you are directing people. Whether it is theatre or GAA, you are still directing people. You still want people to go out and perform.
"Whether it's Páirc Tailteann, Croke Park, the Solstice in Navan or wherever it may be, you want them to be the best they can be and go out and perform. There are some similarities definitely, it's about drawing the best out of people.
"The theatre is really enjoyable because when you go into that world you meet a completely different set of people. It's a great diversion from Gaelic Games. We all know that can be very all-consuming. And it's nice to get a complete break from it, too.
"But you get that same feeling of adrenaline of a job well done, if you win a championship match or if you put on a good play in front of 300 or 400 people and you get a standing ovation.
"I was fortunate enough to get that a couple of years ago with a play called 'All My Sons' by Arthur Miller. We got four standing ovations over four nights. That adrenaline is the very same as getting the win on championship day anywhere."
Nelson made the transition from actor to director in the world of theatre, just like he moved from playing on the field to managing from the sidelines.
He was a ten-time senior football champion in Meath as a player and manager with Navan O'Mahonys, while he also took charge of Latton in Monaghan, as well as the Meath U21 and Junior sides.
And to this day, he remains fascinated with ways in which he can tweak his approach, making him a better manager.
"I really enjoy theatre but sport is my number one," said Nelson.
"I would read books from coaches in the NFL in America all the way to the Premier League in England.
"There is one thing about world-class coaching, we all can cross-pollinate and learn and bring things into how to give players a better experience. How to enhance player learning, how to challenge players, how to keep relevant and keep up to date as the world changes and players' lives change.
"I would like to think that by reading and engaging with players as well, I would pride myself on having a good relationship with any player that I manage. I would place a lot of emphasis on that.
"If you look at what exactly is coaching, automatically we think of coaching players on the pitch to doing certain things. That's fine but that's fairly basic. You look at a lot more than that, coaching the person and helping them in their lives in any way you can, just by even speaking to them, by being a shoulder there if they need it.
"That player will be a better one then out on the pitch, by extension."
It's a powerful mindset to have and one that seems to align perfectly with a Meath side during their time in transition.
The management team looks a bit different, Paul Garrigan was another notable loss in the off-season, but news that Vikki Wall is returning later in the year has been a huge boost to the playing ranks.
Nelson is adamant that he wants as little change as possible and despite defeat to arch-rivals Dublin in their opener, they bounced back last weekend against Donegal, and there could be more standing ovations on the horizon for the new director at the helm.
"I would be keen to give as little change as possible. Given the extraordinary success they have had, why change?" said Nelson.
"Every team has a way of doing things. I am keen to hopefully enhance it a little bit but very much follow the lead on how they do things.
"So we are all new in but the constant is Mark Brennan and that is crucial in coordinating the change-over from Eamonn Murray to me."
Most Read Stories