Munster and Ulster acts dominate at Scór Sinsir finals
November 15, 2022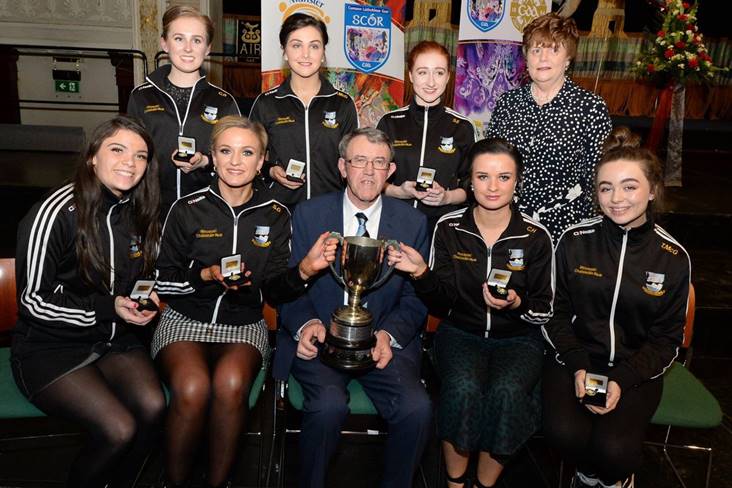 Newcastle GAA won the Rince Foirne (Figure Dancing) competition at the 2019 All-Ireland Scór Sinsir finals.
Seven of the eight competitions at last Saturday's All-Ireland Scór Sinsir finals at the TF Royal Theatre in Castlebar were won by acts from Munster and Ulster.
Munster led the way with four wins – Monaleen of Limerick in the Tráth na gCeist, Newcastle from Tipperary in the Rince Foirne, and Gneeveguilla of Kerry in the Amhránaíocht Aonair and Rince Seit.
The Ulster winners were Carrickcruppin (Armagh) in the Aithriseoireacht, Glasdrumman of Down in Bailéad Ghrúpa and Armagh's Mullaghbawn in the Ceol Uirlise. Carnew Emmets of Wicklow won the Nuachleas.
2022 All-Ireland Scór Sinsir winning acts
Tráth na gCeist - Mónalín, Luimneach Monaleen Gaa Club
Rince Foirne - An Caisleán Nua, Tiobraid Árann
Amhránaíocht Aonair - Marc Ó Laoire, Gníomh go Leith, Ciarraí
Aithriseoireacht - Donal Ó Muireagáin, Carraig an Chropáin, Árd Mhacha
Bailéad Ghrúpa - An Ghlasdromainn, An Dún
Nuachleas - Eiméid Charn an Bhua, Cill Mhantáin
Ceol Uirlise - An Mullach Bán, Ard Mhacha
Rince Seit - Gníomh go Leith, Ciarraí
Most Read Stories