Tyrone earn first win since star forward Damian Casey's tragic death
February 05, 2023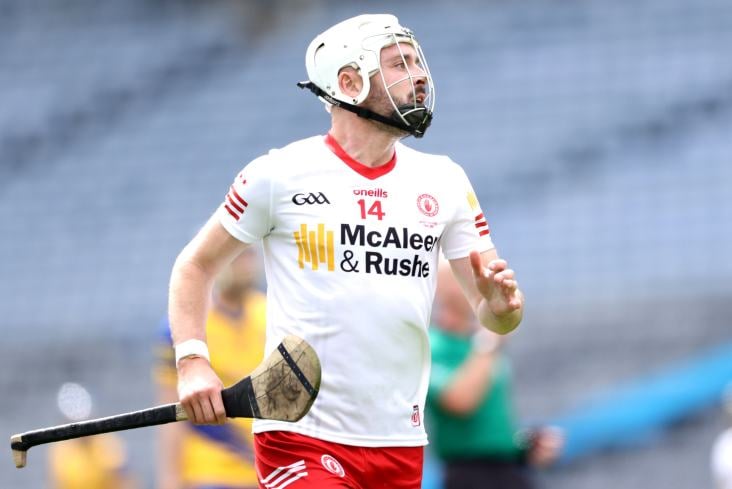 Tyrone's Damian Casey
Tyrone hurling boss Michael McShane said an opening win in yesterday evening's Allianz Hurling League Division 2B clash against London was the best way to serve the late Damian Casey's memory.
The Red Hands returned to competitive action for the first time since their ace attacker's tragic death in Spain last June.
The opening round clash against the Exiles was staged in Casey's home club of Dungannon Eoghan Ruadh and saw Tyrone winning out by 1-26 to 3-18 in the end.
"We said there was only one way to serve Damian's memory and that was to keep Tyrone winning, because that was all Damian ever wanted," McShane told BBC Sport NI after.
"There was a lot of courage and a lot of guts shown there at the end, and I knew that we would have that, because there was a desire there from the draw was made and it was a home game."
Casey's clubmate Mickey Little led the way with 0-11 over the 70 minutes and McShane lauded his sharpshooter for taking on the responsibility on the night, as he added:
"I told Mickey after the game how proud I was of him, and more importantly how proud Damian would be of him. It's not an easy role to come in and take over the role of free-taker for Tyrone after how Damian was for 10 years.
"And for a young lad like Mickey, a club-mate of Damian's, who had probably, as a child, been watching Damian for the last 10 years and idolising him, and all of a sudden he's out under the lights on a night like that with a big crowd watching him, and taking crucial frees at the end of the game, and putting them away."
Most Read Stories