Evan Kelly has some wonderful memories of his playing days. Not just the Leinster SFCs, the All-Irelands and the All Star but also the many great friends he made along the way. It's been six years now since he hung up the boots, but the friendships he made are for life and Evan's inherent passion for gaelic football is being reignited by the fledgling involvement of his two young sons.
It seems like only yesterday since Evan Kelly's industry, intelligence and ability were instrumental in two All-Ireland successes for Sean Boylan's Meath. But 1996 and 1999 certainly weren't yesterday! He gleaned an All Star too, in 2001, and also enjoyed a notable club career with both Drumree and Simonstown Gaels.

"I'm enjoying my retirement," he notes. "The last time I played senior football was in '07. I did the cruciate at the start of '08 and that finished me."

The former Meath attacker - who has been employed as a piping supervisor with Mercury Engineering for two decades now - remains extremely active, however. He "does a bit of everything" to keep himself in shape, with cycling a particular love.

"You see a lot of the other ex-GAA lads involved in cycling as well. The likes of Paul Clarke from Dublin did a couple of stages of the RAS. I'd cycle most weeks myself and there are fundraisers on for clubs in Meath most weekends. I try to take in as many of those as I can and I also do a good bit of training on my own."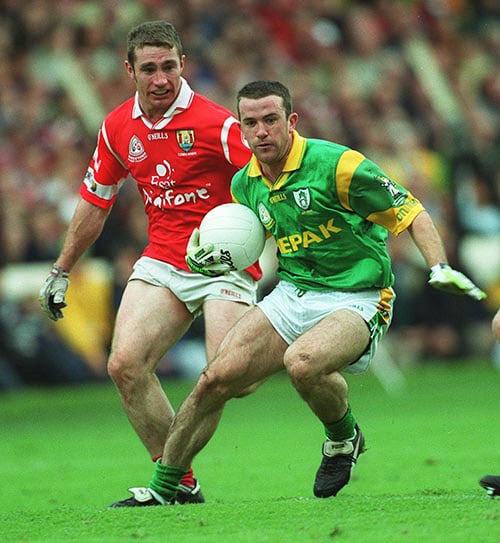 On the GAA front, Evan admits it's only a matter of time before he gets involved at backroom level again with his adopted club. "I was a selector with Simonstown in 2012 but I'm not involved at the minute," he says. "I have one little lad who's five now and I have done a bit of underage coaching before. I'll get back there with him if he stays interested. He's at the age where he knows what football is about and all his cousins are playing. He seems to have a good interest in it, so you never know. I have a three-year-old lad behind that as well, so we'll see what happens..."

In an ideal world, both lads would maintain a healthy interest in football. "I'd love to see them playing. You do see names like the Harnans, the McEntees, the O'Rourkes and the Foleys popping up again and it would be nice to see the Kellys playing. Football opens a lot of doors for you. But you won't open too many doors sitting at home watching the television. It's good socially and physically. I made friends for life out of football - from inside and outside the county. When the dust settles, you still have your friends and the memories, and these are nice to have."

There's no danger of Evan Kelly 'letting himself go' if recent activities are anything to go by. In February, he took part in Simonstown's White Collar Boxing fundraiser and he was also involved in their Strictly Come Dancing event. "There's always something to be getting involved in." he quips.



The former Meath star has been a key part of the Mercury Engineering team for 20 years. Mercury is a leading European contractor specialising in the provision of mechanical, electrical, fire protection and technology services to a range of sectors including commercial, data centre, manufacturing, infrastructure and healthcare.

"We are in Intel here at the minute and we are very busy," he notes. "Thankfully, we weren't really affected by the downturn in the economy. We were in Mayo for three years, between 2008 and 2011, working on the Corrib Gas Line, and that got us through the recession."

A senior intercounty footballer for ten years from 1994 until 2004, Evan Kelly won two All-Irelands and also played in the 2001 final against Galway (earning an All Star that year). He also represented Meath in a league decider and won two Railway Cups with Leinster.

Reflecting on his playing days, he concludes: "Those were good times and you honestly don't realise until you retire how good it was. When you look back at it, you realise you were very lucky to have been where you were and involved in something so special."