Galway's Mulkerrin on comeback trail after shattering kneecap
June 23, 2022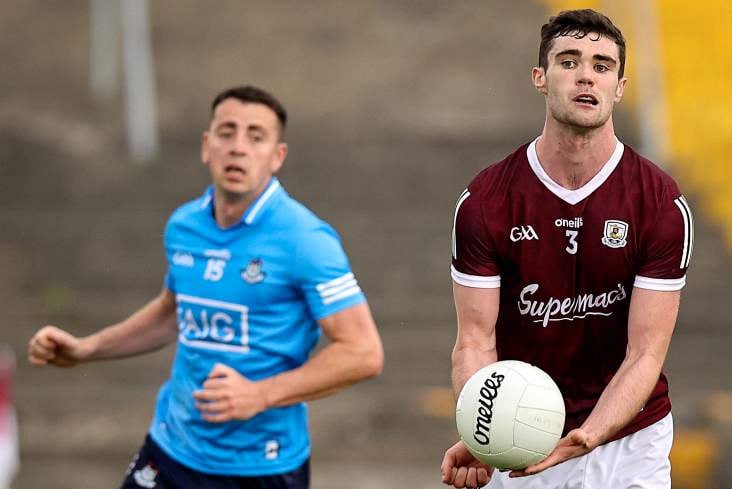 Galway's Sean Mulkerrin dishes off a pass against Dublin ©INPHO/Tommy Dickson
Galway defender Sean Mulkerrin is on the comeback trail after shattering his knee while on duty for NUI Galway in the Sigerson Cup at the start of this year.
Mulkerrin broke his patella just 18 minutes after coming on as a substitute against University Ulster and the game had to be abandoned as they waited for an ambulance to arrive.
Speaking to GAA.ie, the Aran Islander confirmed that he is now back jogging after five months and that the process to try and get back has been mentally tough.
"Yeah, it was very tough mentally now, like nothing I've experienced before. It's my first kind of major injury. Like I've had a few groins and a few hammers, but not nothing crazy like that," he said.
"In terms of kind of mentally challenging, it was definitely challenging because you go from planning...the Sigerson game I came on with 20 minutes to go and I was kind of building because I was actually out with a groin strain at the time.
"So, it was actually building up fitness and getting back into training. And then your goals all of a sudden change to wanting to push to get on the team for the first league game against Meath to trying to put on your shoe or your sock by yourself so it certainly did change and was challenging but luckily with people around me, I kind of got through it. I'm kind of past that stage now thankfully."
Most Read Stories