"There's bigger things than football here"
July 31, 2021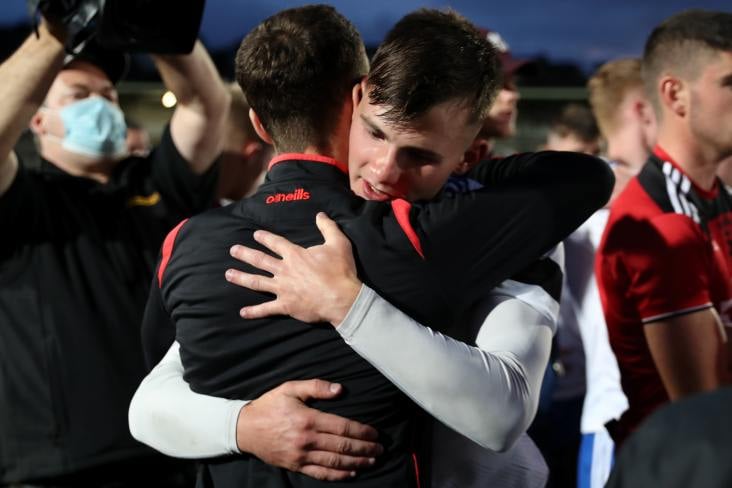 Down manager Conor Laverty consoles Jason Irwin of Monaghan after the game ©INPHO/Declan Roughan
Down's Ruairi O'Hare gave an emotional interview after picking up the Man of the Match award for his performance in last night's Ulster U20FC final victory over Monaghan.
O'Hare notched 1-2 in the Mourne men's 3-15 to 1-14 triumph after extra time at the Athletic Grounds, where an grief-filled decider was played out after the tragic death of Monaghan captain Brendan Brendan Óg Duffy two weeks ago.
Speaking to TG4 after the game, O'Hare offered his condolences to Monaghan and dedicated his award to his late friend Niall Laverty.
"My condolences goes to the Monaghan boys," said the Saul clubman. "I personally know exactly how they're feeling. A year-and-a-half ago, a person in my own club passed away. My best friend, who I was living with.
"We had to go and play a relegation play-off a week-and-a-half after. I know that feeling in the stomach that they're having now. It's not nice. I was able to get over the line that day but it's not nice for them boys.
"There's bigger things than football here and I would just like to dedicate this to my mate, Niall Laverty. I love him so much, I miss him every day and I wish he was here now."
Most Read Stories