"We're going to try our best to implement it the best way we can"
March 08, 2021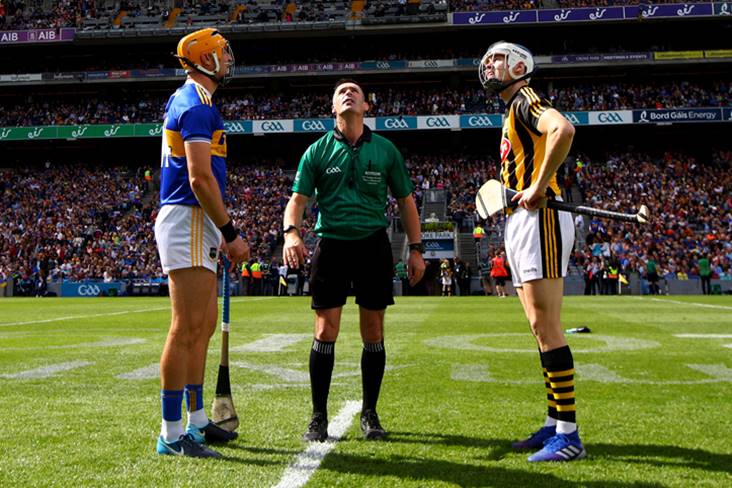 Tipperary captain Séamus Callanan and Kilkenny captain TJ Reid with referee James Owens at the coin toss before the All-Ireland SHC final. ©INPHO/James Crombie.
Three-time All-Ireland final referee James Owens has spoken on the new rule in hurling which penalises the denial of goal-scoring opportunities.
Devised by the standing playing rules committee and passed by Congress the weekend before last, it now means a cynical foul committed inside the 20m line or semi-circle that denies a clear goal scoring opportunity, in either hurling or football, will result in a ten-minute sin-bin for the offending player and a penalty for the attacking team.
Speaking to RTE Sport, Wexford native Owens commented on the new rule by saying: "It's something that we have been looking for. We're going to try our best to implement it the best way we can.
"For me, and having spoken to a couple of the referees during the week, we would be looking at the pull-down and trip especially as straightforward enough.
"If a player is in on goal and he is taken down, the majority of those cases will be dealt with with a yellow card and penalty.
"There are different types of 'careless use of the hurl', which might warrant (only) a yellow card or a sin-bin so that one will have a small bit of (ambiguity).
"It's the defender that's going to be under pressure because he's going to have the decision whether to pull him down, trip him or let him go by."
Most Read Stories