GAA 'Return To Play' Roadmap: All pitches to re-open on 29 June
June 05, 2020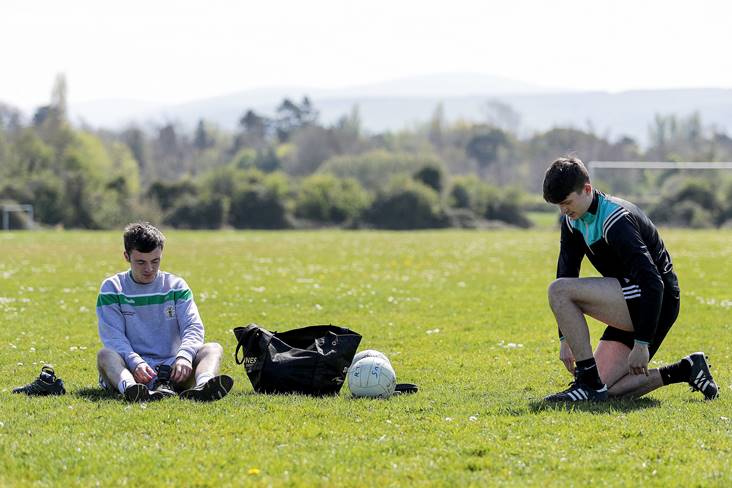 The GAA's 'Return To Play' roadmap has been announced.
The GAA has outlined plans for a safe return to action including key dates for the re-opening of all pitches and when club and inter-county competitions can resume.
The Covid-19 Advisory Group, chaired by Shay Bannon, this evening, unveiled its 'Return To Play' roadmap for the Association, the LGFA and the Camogie Association, consisting of four phases: from Phase Two (8 June), Phase Three - 29 June, Phase Four - 20 July and through to Phase Five - 10 August, similar to the one rolled out by the Government which was fast-tracked today.
Despite the Government's updated measures allowing outdoor exercise within a group of up to 15 people from Monday, GAA training for adults and juvenile teams will return in small groups on 29 June when all pitches are set to re-open. Designated walking tracks may re-open beforehand.
31 July sees the resumption of club competitions including juvenile and youth competitions while inter-county training can resume on 14 September in preparation for games in mid-October.
Key dates:
8 June - Designated walking tracks may re-open
29 June - All GAA pitches to re-open, small group training for adults and juvenile teams
20 July - Collective outdoor training can resume, Covid Supervisors required to check temperatures and Health Questionnaires must be recorded before entry to grounds
31 July - Club competitions can resume including juvenile and youth competitions, limitations on spectator numbers to be confirmed in line with Government guidelines
10 August - Access to GAA buildings and indoor facilities including meeting rooms, gyms, exercise studios permitted
14 September - Inter-county training can resume
17 October - Inter-county competitions to take place no sooner than then with fully revised calendar to be published in Phase Three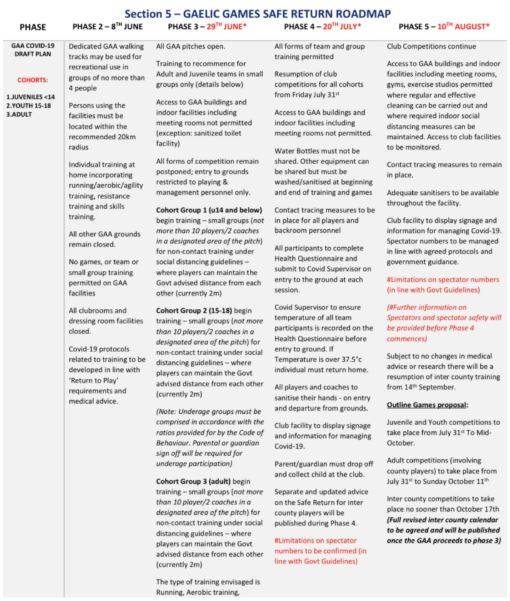 The 'Return To Play' roadmap 15-page document can be downloaded here.
A statement on GAA.ie reads: "The Covid-19 Advisory Group was tasked with preparing a guidance document and recommendations that would inform the safe resumption of activities within the Gaelic games family.
"While this document provides a guide for a safe return for Gaelic Games activity, it is important to note that further, more detailed, advice and guidance will need to be provided in the coming weeks on specific areas contained within this document such as online training modules, the role of the Covid Supervisor, advice on recording player temperatures, advice on, and samples of signage and so on.
"It is also envisaged that separate and updated advice on the Safe Return for inter-county players will be published during Phase 4 and closer to the resumption time for inter-county activity.
"The Covid-19 Advisory group makes its recommendations on the resumption of activities having studied the best advice available from the Governments and National Health agencies on the island of Ireland, as well as other sporting bodies (separate advice, based on local considerations and consistent with jurisdictional obligations will need to be provided for clubs outside of Ireland).
"The evidence and research to date indicates that the resumption of activities is a complex process, that it may not be linear and that small and deliberate steps must be taken before there can be a return to full activity.
"The roadmap contained in this document outlines and defines a set of recommended minimum practices for the reintroduction of activities in a methodical manner which preserves player and community safety.
"The objective is to advise members and clubs on how a resumption of activities can best be achieved in a controlled and safe manner. The resumption of activity and the timing of progression between the various phases outlined may be influenced by factors outside the control of the Association.
"The guidelines, protocols and recommendations within the document are capable of evolving and staying abreast of changes in Government policy and developments within the Association.
"The priority at all times must be to protect the health and welfare of all those involved in Gaelic Games and to minimise the risk of transmission within the wider community."
Most Read Stories