Watch: Philly McMahon discusses how he's using this challenging time for good
May 15, 2020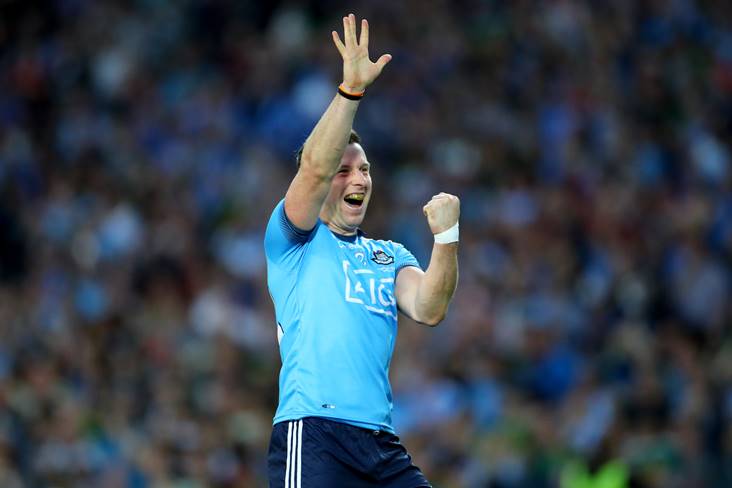 Dublin's Philly McMahon celebrates by putting up five fingers to Hill 16. ©INPHO/James Crombie.
Dublin GAA star Philly McMahon discusses the effects of Covid-19 on his mental health and training, what it's like owning a business during this challenging time and how he can't wait to get back on the pitch.
"The banter in the changing rooms! I miss that and the lads terrible," said the Dublin All-Ireland winner when asked what he is looking forward to the most post Covid-19 in a video released by McSport. "I'm looking forward to keeping on growing my business and this new virtual, online avenue."
WIth no intercounty games to take place before October 1, players are missing out and especially those who cherish their involvement in the latter days of their career.
"Would I love to go back playing? Jesus I'd love to go back playing today.
"At this stage in my career, I'm not one of the young lads, I won't take it for granted. Every time I get on that pitch I'm going to love it and enjoy it. When that's taken away, it's something you crave so much."
Keeping positive is important at this time and McMahon explains what helps him to achieve this: "I'm kept busy. It helps the void of not playing GAA.
"I follow the 'Power of Choice' philosophy. You kick start your day with one choice and that has a snowball effect on your day. What's your trigger to start your day?"
Speaking on how he sees Covid-19 changing us, Philly says: "This could help you understand yourself a bit better, your life a bit better, and others a bit better. There could be a huge benefit to this horrible things that's happened to the world.
"When something is taken from you, all you want is to have it back. The world is being imprisoned right now.
"I think we'll be grateful for the things we have in life"
"People will learn that we need to spend more time with each other, speak to each other, reach out to each other. I think this will help us be more connected as a people."
Most Read Stories