"You couldn't but be happy" - Harte on McKenna's impressive form
October 26, 2020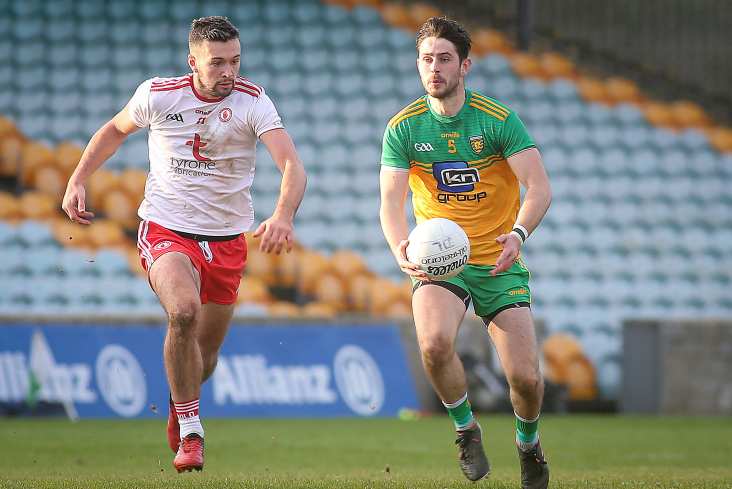 Tyrone's Conor McKenna chases down Donegal's Ryan McHugh
Tyrone boss Mickey Harte says Conor McKenna has "adjusted seamlessly back into Gaelic games" since returning home from Australia.
McKenna called time on his AFL career with Essendon early last month and has since broke into Harte's starting team and has been a massive addition to the Red Hands.
Last Sunday week saw the 24-year-old hit 1-2 on his county senior debut which ended in defeat to Donegal while yesterday he produced a 'Man of the Match' performance, scoring 2-2 and providing an outstanding assist for Darragh Canavan's goal, as Tyrone held off Mayo to secure their Division 1 status.
"Absolutely. I mean you couldn't but be happy," Harte told BBC Sport NI on McKenna's impressive form since returning to football.
"I mean he adjusted seamlessly back into Gaelic games and the first night he came to the training, he was just like lad that was always there.
"He enjoys football, he's just a real fanatic for any kind of sport and I'm glad now that Gaelic (football) is his game of choice."
He added: "It would be a surprise (how well McKenna has fitted in) because I've often said it in the past that many of the players that go to play AFL, when they come back, aren't as good at Gaelic games as they were before they left and it takes some time for them to recover that level of capability in our game.
"It would have been expected for him to take more time as well, but he didn't waste much time in getting up to speed with inter-county football."
Looking ahead to this coming Sunday's rematch with Donegal in the Ulster SFC quarter-finals, Harte says his team are entering into "a new zone" entirely.
"This is just one half of the story here. This is a league victory that keeps us in Division 1 and there's much to be happy about," said the three-time All-Ireland winning manager.
"But, ultimately, everybody wants a championship victory and this is just a new zone we're going to next week and we've never found it easy to get championship victories in Ballybofey."
Most Read Stories