Tipp club hits back at media coverage of abandoned minor final
November 30, 2022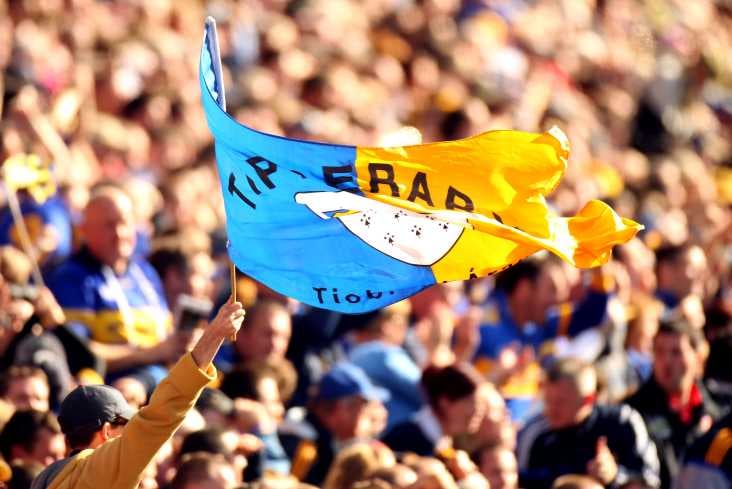 Tipperary flag in the crowd
Cahir GAA club have released a strongly-worded statement condemning media coverage of their recent South Tipperary U17 'B' football final against Carrick Swan.
The game, which was played last Sunday week, was abandoned by referee Martin Doyle with four minutes to go following an incident involving players and supporters. It was suggested by some outlets that the earlier sending off of Cahir captain and Tipperary All-Ireland MHC winner Tom Delaney was the catalyst for the row.
However, this has been strongly refuted by Cahir who described the coverage as "incomplete, misleading and unbalanced."
The statement in full reads:
"Cahir GAA club has serious concerns in relation to the media coverage of the South Tipperary U17B football final on Sunday the 20th November 2022. The coverage in both local and national print and online media is incomplete, misleading and unbalanced as it does not provide the full picture of the events that unfolded on the day.
"As a consequence of this, the Delaney family is deeply hurt and disappointed with how Tom has been portrayed. In addition, the parents and families of the other players on the team have been unfairly tarnished and the coverage reflects very badly on Cahir GAA club. We believe this is unjustified, unwarranted and unsubstantiated.
"Firstly, the articles imply that the reason the game was abandoned was due to protests after Tom Delaney received a red card. No Cahir player, sub, mentor or supporter protested or entered the field of play after Tom received his red card. The red card was warranted and is not being appealed.
"We do not condone any form of inappropriate physical, verbal or abusive behaviour on or off the field from any of our club members. Tom left the field of play and the mentors ensured he remained off the field and that no other Cahir player became involved after the incident.
"Secondly, the articles make no reference to the fact that two players were sent off, one from each team. Anyone reading the article and not present on the day would be led to believe that there was only one red card issued at the time. In addition, Tom is named as the player sent off. We have serious concerns as to whether this is appropriate given the fact that he is a juvenile player.
"Finally, as a club Cahir GAA wishes to highlight an ongoing battle we face whenever we play a game of football or hurling. A group of our players are targeted due to their ethnicity.
"Cahir as a club prepare the boys for this verbal aggression as best we can but now feel the onus needs to be placed on all other clubs to ensure that their members (players, mentors and supporters) are made aware that this is not acceptable in the home, on the street or on the field of play.
"Note: Permission was granted by the Delaney family for Tom Delaney's name to be used in this."
Most Read Stories