Down Memory Lane: The King of Cavan
April 30, 2020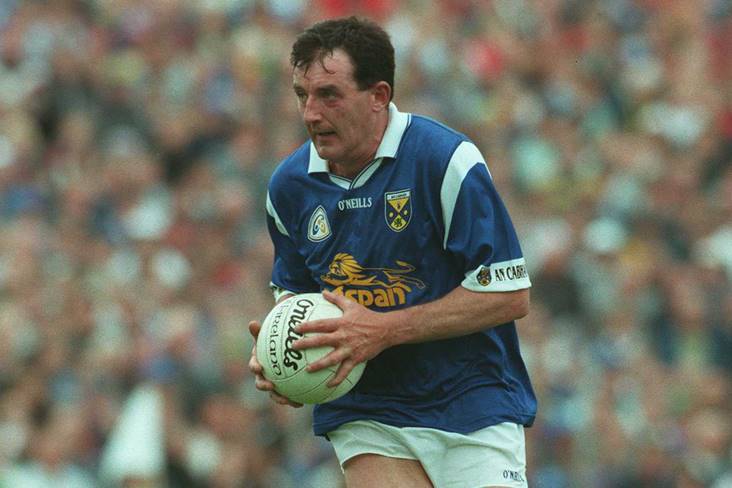 Cavan's Stephen King in 1997. ©INPHO/Matt Browne.
Taken from Hogan Stand magazine 21st May 1993
For over 20 years now, the mass ranks of Cavan's GAA blue brigade have been busy beavering away at trying to bridge gaps, break ducks and generally reclaim their long lost place alongside the frontline teams of Ulster football. While the so-called "troubles" up in the six counties have been an ongoing affair since 1969, it's a cruel, ironic statistic that Cavan's own troubles on the provincial scene have lasted just as long. For those in the vanguard of Cavan's push for a reclamation of their once haughty position in GAA circles, the irony isn't lost.
For the Breffni side's long serving, long suffering ace midfielder Stephen King, a panacea for the beleaguered Ulster county's troubles can't come quickly enough. Those with the inside track on Cavan football these days realise that the Killeshandra clubman is his county's great white hope when facing arch rivals and next door neighbour Monaghan on May 23rd next. The theory goes something like this, if King performs well on the day, Cavan should get through. In essence the latest word to emanate from the grapevine is a different version of the original of the species which categorically states that when the six foot plus, 30 year old schemer plays well, Cavan plays well.
Such is the vagaries of sport involving team games however, that the record books, volumes of newspaper column inches and a liberal sprinkling of media air time will demonstrate that while King has reigned supreme on some of the biggest stages in the country, Cavan seniors have remained serfs in the GAA kingdom. Cavan's last major assault on the status quo in Ulster was this time last year when Killeshandra's King held on to his midfield crown but still bowed to the combined forces of Donegal's Molloy Michael Gallagher and Murray in a 1-6 to 0-20 provincial championship defeat at Ballybofey.
Brian McEniff's pre match tactics of aiming to crowd out Cavan's principal ball winner worked to perfection. King's chief partner in crime for Cavan that day, Fintan Cahill at full forward, similarly ended up suffering from claustrophobia. All par for the course, football pursuits would have you know. Even Mick O'Connell would join the ranks of the long-game Do Do in such an environment, they'd expound. Significantly though, Cavan's current team captain gets to the marrow of the bone and teases out the finer points surrounding Cavan's 1992 Ulster Championship exit, points, not immediately discernable among the loyal hordes of travelling Cavan fans leaving the Ballybofey ground last year.
"Over the years Cavan have tended to lack that bit of confidence and against Donegal and teams like them, you cannot afford to lack self belief. In all honesty though, the panel, as a whole, was short a few players capable of really strengthening the team. As Donegal went on to prove later on, fifteen or sixteen players don't win a championship." For more than most Cavan fans can rightly recall, Stephen King has been a vital cog in the Blues' engine room. The boilerhouse of the senior county side for the last ten years at least, he has, in fact been a role model for aspiring blues since first coming on to the senior county scene back in 1979.
Two decades later, he's still firmly pitched at the coalface, the first player to roll up his sleeves and the last to let them down. His workrate and selfless attitude towards toiling away for the common good has always been two of Stephen King's most endearing features as a long, loping midfielder. As a teenager, his size and strength singled him out for a specialised central role and towering above his peers, he excelled as a feather with few rivals on the Cavan football circuit. Sergeant Peter Maguire and Jimmy Finlay are remembered by him as men of great assistance and advice to him in his underage days. Then there was his da too, Stephen King snr.
Currently Chairman of the local Killeshandra Leaguers gaelic football club, Stephen snr. remains a hugely influential force in the local GAA world and must surely have known that he produced a footballer of great promise as his son and namesake collected underage medals with gay abandon. An out and out midfielder, whose inclination to drop back into defence in times of dire need has consistently made him a defender's best pal, Stephen King has always enjoyed the most luxurious of surroundings in which he could graze his considerable skills and leadership talents.
The lushness of the sward at Saint Patrick's College, Cavan, for instance, especially helped him to develop into a thoroughbred footballer par excellence. There at the famed gaelic football nursery he blossomed as a disciple of the wiles and ways of proven football gurus like JJ Reilly (current Cavan selector), Fr. Sean Brady and Fr. Colm Hurley. Saint Pat's failed to deliver medals for Stephen King but as a vehicle of football education, it gained full marks. The Greg Blayney's and Dermot McNicholls were faced and reputation enhanced. The county minor fare proved to be a mirror image of the highly competitive McRory Cup College scene, equally as unrewarding but highly enlightening, all the same.
Killeshandra's King had established himself as a prince among his midfield contemporaries in Ulster, a name to be reckoned with. Eight times a Railway Cup panelist (once a winner), Stephen King might have been (what is euphemistically known as) burnt out at the age of 21 had it not been his zest for the game and his then seemingly limitless stamina. "I'm surprised I didn't get burnt out. I had played Father Manning Cup for two years, then county minor for two and a further three years at under 21 level. It must have helped though that I didn't carry any weight when I was younger, I was a lot more mobile then and I always enjoyed my football," explained the highly successful Tennents Brewery employee, who steadfastly refuses to countenance talk of defeat against the 'oul enemy on Sunday next.
A debutant with Cavan seniors against Meath at Kells all of fourteen seasons ago, Stephen King is as inspirational to the Cavan team as Colm O'Rourke is to the Royal County, as influential to the Breffni fold as Martin McHugh is to Donegal and as forceful a motivator as Eamon McManus was to Roscommon. Mindful of the cushioned base from whence he derived his formative skills, Cavan's current longest serving player fully acknowledges the role his home club have played in helping him career to the top of his chosen sport.
"Playing with Killeshandra over the years had helped me retain a competitive edge. We have always been there or thereabouts on the county scene and that's been important for me. I think it's vital for a county player that his club does consistently well, that there's a good spirit in his club and plenty of enthusiasm among it's members. In this respect, I have been very lucky with Killeshandra." Working off a consistently small panel of players, the Killeshandra Leaguers club has indeed been good for their best known footballer. "Only for Killeshandra I possibly wouldn't have stuck with the game for so long," King admits.
Enjoyment of the game has always been there for him and aided and abetted by men like Andy Feeney, Tomas McDermott (the well known inter county referee), Junior McKiernan and Tom Downes, Killeshandra Leaguers have undoubtedly received good value from their hugely popular county representative. On and off the field Stephen King has prove himself a fine ambassador for the club, the town and of course, his beloved county. PJ Carroll's invitation to him to take up Cavan's captaincy at the advent of season '92/'93 was well received countywide, hardly surprising and for King himself "an honour and a privilege, but no great extra weight on my shoulders."
A series of Cavan junior successes, plus intermediate title wins in 1989 and '91 has cushioned the obvious dearth of silverware claimed via the county cause, although a McKenna Cup winners medal in 1986 has provided Cavan's number one player with some solace. Coach of the club side that scooped aforementioned honours in 1991, King has refused to shed his responsibilities, refused to hide his distaste of defeat over the course of three decades now of top class inter county fare. A social person, whose non-condescending demeanour has endeared him to supporters and fellow players alike, Stephen King has been showered with several personal achievement awards over the years.
For once a prophet in our midst has been rightly recognised. Cavan fans now earnestly look to the strapping midfielder to be their Moses, to lead the county out of the footballing wilderness. Whatever happens, Herr Kaptaen King will not let anyone down for the want of grit, fire and passion. The new rule changes cannot have suited him. Those that have witnessed the polish being added to the raw talent of yesteryear will testify that he's lost some of his mobility. That the emphasis on crowding the middle has reduced his influence on the game, that fielding the ball while suspended three feet above the ground is not an item opponents are prepared to allow him include in his portfolio. That the Monaghan camp like Brian McEniff know that he's the man they'll have to stop to prevent Cavan going six seasons without an Ulster championship victory.
Most Read Stories