Laoise Duffy hoping to cap a glorious year
November 18, 2023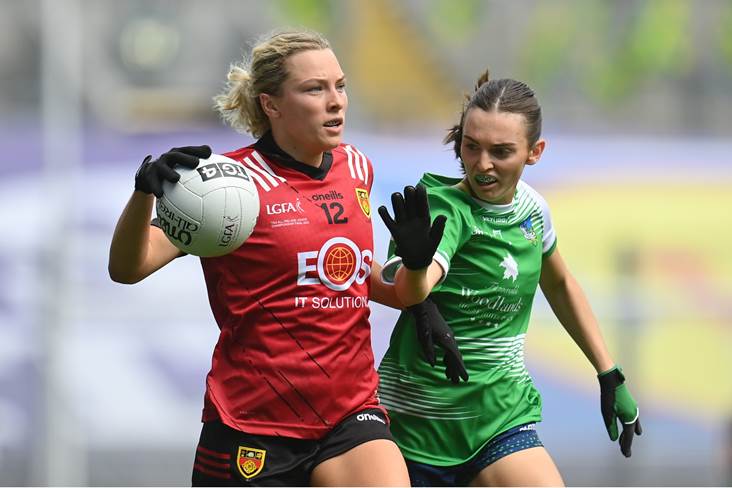 Laoise Duffy of Down in action against Lauren Ryan of Limerick during the 2023 TG4 All-Ireland Ladies Junior Football Championship Final ©Seb Daly/Sportsfile
By Daire Walsh
It has been an overwhelmingly positive year for her thus far and with an Ulster LGFA Senior Club Championship decider on the agenda tomorrow in Healy Park, Omagh, Laoise Duffy will be looking to add another memorable chapter to her 2023 story.
A TG4 All-Ireland Junior Football Championship winner with Down back in August, Duffy was named alongside her sister Orla on the TG4 Junior Team of the Championship a month later and picked up this award at a function held in Croke Park on November 3. Following the conclusion of the inter-county season, the Duffy sisters returned to their club Bredagh, where they are joined on the senior panel by their siblings Emer and Caoimhe.
A 0-4 haul from Laoise was one of many highlights from Bredagh's emphatic victory against Kilcoo in the Eamonn Rooney Coach Hire Down Ladies' SFC showpiece in early October and she rattled the net last Sunday week as the Mourne women defeated Tyrone's Errigal Ciaran on a scoreline of 4-8 to 1-8 in the semi-final of the Ulster Club Senior Championship.
This now leaves them 60 minutes away from securing a top-tier provincial title and while their opponents Clann Eireann will be appearing in their first final at this grade – in contrast to 2021 finalists Bredagh – Duffy knows that a big team performance is needed to get past the Armagh side.
"The girls have worked hard every game and come out with the win. It hasn't been an easy road. The scorelines have, especially in the Down championship, seemed easier than they were. Every game has definitely been a battle and we've had to work for every win that we've gotten so far," Duffy explained.
"I think Clann Eireann are going to be strong all over the pitch. I think we're just going to have to be on our game from 1 to 15 really. We know that they've definitely got a good few players from the Armagh team and things like that.
"We've got our eye on a few different areas, but we know we're going to have to be strong the whole way through the pitch in order to get the win."
A Down panellist since 2015, Duffy has been vice-captain for Bredagh's successful club championship campaign to date. Just above her in the leadership ranks is Eilish Ward, who hails from Donegal and featured for the O'Donnell County in their TG4 All-Ireland Intermediate Football Championship final win of 2010.
She was still playing at inter-county level as recently as 2020 and with someone of her experience within the Bredagh set-up, Duffy was able to settle in comfortably to the vice-captaincy position.
"It's an honour to be vice-captain of the team, but to be honest it's not too difficult a role. Everyone on the team is so dedicated and everyone is working towards the same goal. There's not really much on my end that I'll need to do and having Eilish Ward as well as captain is unbelievable.
"She puts in an extra 1% and makes sure that everything is running smoothly. Between her and the management and coaches that we've got in, there's definitely not much for me to do in the background anyway! I think we've all gained that experience together, but she's a great person to have around the team. She's a fantastic captain. She brings a lot of experience to it."
Interestingly, Ward is one of a number of players on the Bredagh team to have represented a county other than Down. Before becoming an integral part of the Mourne side that won the same competition this year, Aoife Laverty represented her native Derry in an All-Ireland JFC final replay defeat to Fermanagh in 2017.
Additionally, because Bredagh are located within earshot of the Down-Antrim border in South Belfast, it is not uncommon for members of the club to represent the Saffron County. One such player is Aislinn Keenan, who was on the Antrim team that claimed the TG4 All-Ireland junior football title in 2022.
While the fact that she hails from Holywood in County Down meant she was always going to don the red and black jersey from a county perspective, Duffy is glad to have the Antrim cohort on board at club level.
"There have been girls in the past that have played for Antrim from Bredagh, just because it is where their home address lies. It's good to have those girls on the club team too. I would have played with St Paul's Holywood, underage on the boys team.
"Then whenever I got to U14, that's when I moved over to Bredagh. Because there wasn't a ladies team in St Paul's at that time."
Even though they required a replay to get over Fermanagh in the closing stages of last year's junior championship, Keenan and her Antrim team-mates made a strong impression in the second-tier of ladies football in 2023. Three successive victories against Westmeath, Longford and Monaghan got them into the semi-finals of the TG4 All-Ireland Intermediate Football Championship, where they fell to a narrow four-point reversal at the hands of Clare.
Having made it to the quarter-final stage of the same competition in 2021 – and seen how the profile of the game has been bolstered by their All-Ireland success - Duffy is confident that Down are more than capable of replicating what her club colleague and provincial rivals did in this year's campaign.
"We definitely are looking forward to this next year with county. I think our first step is definitely the league and seeing if we can progress out of Division Three. We think there is a lot of potential in the team and we're excited to see where the year takes us," Duffy added.
"Orla and myself actually went to our old primary school there recently and brought the trophy with us. It was unreal just to see our old teachers and the kids that are in school now.
"Throughout Down, the support for the team has just been unreal and then after the final, we would have gone and done a homecoming in Bryansford. It was unreal to see all the young kids out there as well. It has just raised the profile of it and hopefully it has allowed us to be role models for some of the younger girls out there."
Most Read Stories