'I don't think we're in a good place'
November 17, 2023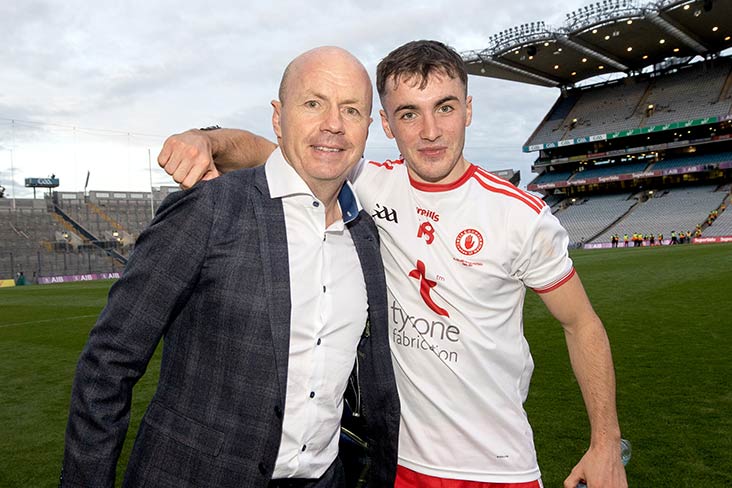 Tyrone legend Peter Canavan and his son Darragh Canavan celebrate. ©INPHO/James Crombie.
Peter Canavan says 'meaningful' rule changes are needed to make Gaelic football easier on the eye.
Speaking on RTÉ last weekend, the Tyrone legend expressed concern about the influence coaches and their style of play are having on making the game hard to watch.
"I don't think we are in a good place. When I was a player, it used to irk me when I was listening to commentators and they were saying 'football back in the day was a lot better," he said.
"I'm not one to be making rash statements but I think if we don't act now... we've had so many poor games at county level and at club level.
"Back in the 70s and 80s, you had a lot of poor games, but it was down to maybe poor skill level, you had corner-backs who all they could do was mark and get the ball and get rid of it.
"Now, the skill level of players has never been better. The quality of football when it is played right is absolutely brilliant, but such is the state of play that coaches now can play in a way to make the game really unattractive, if they choose to do that..."
Canavan added: "I know there was a think-tank appointed a few months back, brilliant people on it, Colm O'Rourke, Kevin McStay, Enda McGinley, Michael Murphy, really good people in the game who know the game inside out.
"So I think they are going to collate a lot of information and bring it forward on the back of that I would like to think that there's going to be some meaningful rule changes in the months to come."
Most Read Stories