Akermanis to coach Aussies in Masters International Rules Series
August 30, 2023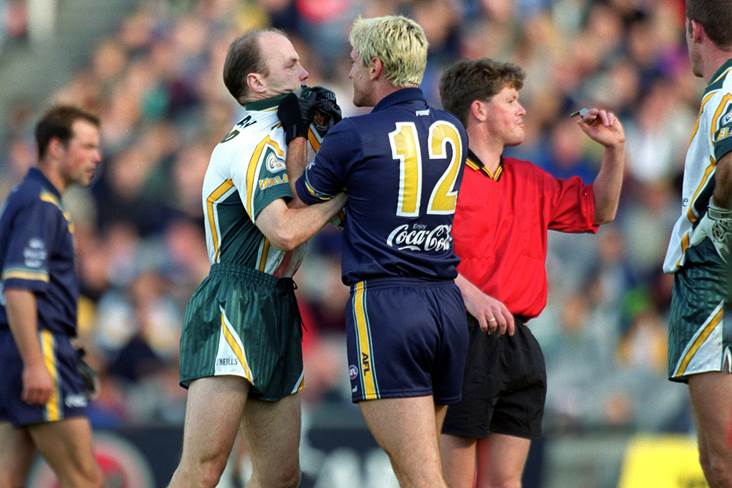 Ireland's Peter Canavan and Jason Akermanis of Australia in 2000.
©INPHO/Morgan Treacy.
International Rules hard man Jason Akermanis has been appointed Australian head coach for next year's Masters International Rules Series against Ireland.
The Aussies return to Ireland in March 2024 and will be led by Akermanis, who is doubling up as a coach / player. The blonde bombshell from Brisbane Lions was engaged in an infamous running battle with Peter Canavan over four senior Tests in 1999 and 2000, leading to both of them being suspended for the first Test of the 2001 series. In 2000, Akermanis gave the Tyrone great a bloody nose just 20 seconds into the first Test before the pair were sent off in the second Test for fighting.
"Jason played 325 AFL games, including 3 Premierships and was the 2001 Brownlow Medallist. He is a four-time All-Australian and was inducted into the AFL Hall of Fame in 2015. Playing four International Rules tests, Jason is experienced in the hybrid game. He will also be playing/coach for the Australian Men's 40s team," a post on the AFL Masters Australian Team Facebook page read.
Australia have also announced the appointment of Lisa Ropere as coach of their inaugural Women's Masters team.
Two test matches featuring Men's Over 40s, Women's Over 40s and Men's Over 50s will take place in Mullagh, Co. Galway on March 9 and Denn, Co. Cavan on March 16. The squads will also have a training runout at the Connacht GAA Air Dome as International Rules action returns for the first time since the Covid-19 pandemic.
Earlier this year, GAA president Larry McCarthy ruled out a return of the International Rules Series at senior level for the foreseeable future due to a clash with club activity in the second half of the year.
Most Read Stories