40th anniversary of Offaly's famous All-Ireland win that ended Kerry's drive for five
September 19, 2022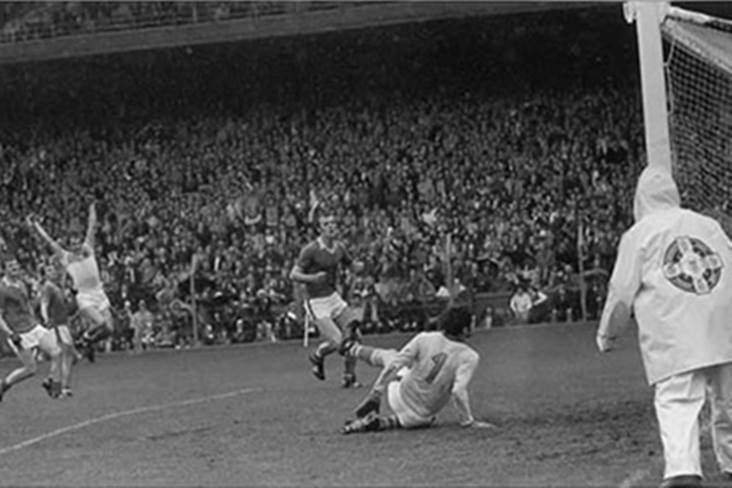 Seamus Darby jumps for joy as his shot finds the Kerry net in the final moments of the 1982 All Ireland SFC final.
Pic via GaelicArt.com.
19 September 1982, at a rain-soaked Croke Park, Kerry were just two minutes away from completing an unprecedented five-in-a-row when super-sub Seamus Darby scored the most famous goal in the history of the GAA to give Offaly a sensational 1-15 to 0-17 victory.
Labelled 'the Seamus Darby final', goalkeeper Martin Furlong's penalty save from Mikey Sheehy in the 17th minute of the second-half was also crucial to the Faithful County's third All-Ireland SFC win. A goal would have put the Kingdom four points up but Furlong guessed correctly and Johnny Mooney levelled the sides for the ninth time.
Sean Walsh (two), Tom Spillane and John Egan hit four successive scores for Kerry to take command before Offaly fought their way back into the game with a brace of Matt Connor frees. Then came the unforgettable moment from Darby as recalled by then Offaly manager, the late Eugene McGee, in his book 'Classic Football Matches' which was published 11 years later.
"As the ball was dropping, Seamus Darby was behind Tommy Doyle. Doyle went to jump for the ball, Darby jumped behind him and made contact with Doyle. The ball went over Doyle's outstretched hands and into the hands of Darby," McGee wrote.
"He spun around and let fly with his left foot from about 12 yards out and about five yards to the left of the goals. Charlie Nelligan had spotted the danger and was about to dash off his line. Too late. The ball went over Nelligan's outstretched arm and dipped into the right-hand corner of the net. It would have been a classic score in any game.
"It was one of the most dramatic moments ever witnessed in a stadium that had seen its fair share of drama. The score now read Offaly 1-15, Kerry 0-17. The Kerry players, not to mention the mentors and supporters were in a state of shock."
Most Read Stories