Window for unfinished 2020 Minor and U20 competitions continues to narrow
March 31, 2021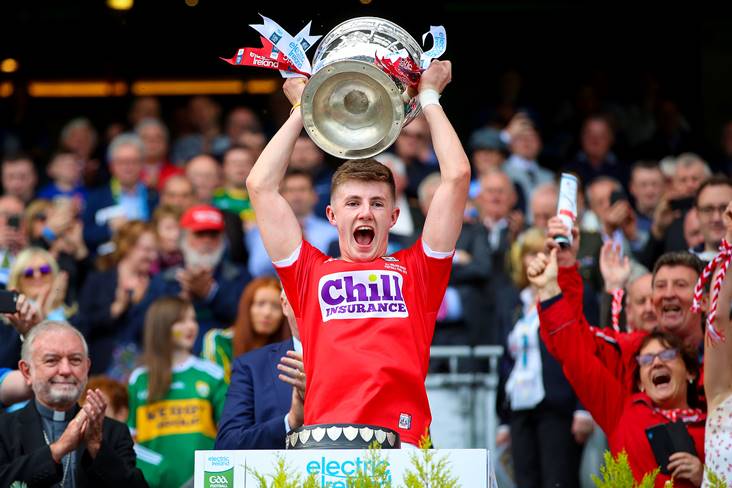 Cork captain Conor Corbett lifts the Tom Markham Cup. ©INPHO/Tommy Dickson.
The 2020 Minor Football, Minor Hurling and U20 Hurling Intercounty Championships remain unfinished and with State Exams on the horizon, the window to play them is reducing by the week.
15 teams remain in the 2020 competitions - four in minor hurling, three in U20 hurling and eight at minor football level.
There are currently 12 games that have yet to be played but under the easing of restrictions announced by the Government on Tuesday, U20 and Minor intercounty panels can not resume training or games alongside their senior counterpart on April 19.
Just two weekends of games are needed to conclude the 2020 U20 and Minor hurling competitions but the Minor football championship will need four fixture weekends to finish.
The Leaving Cert Exams begin in June which would cause huge fixture issues for the outstanding 2020 minor games.
Compounding the issue is the fact that the 2021 underage competitions are already behind schedule, as the U20 and minor football and hurling championships for 2021 were scheduled to start in March.
The games from the 2020 competitions that remain to be played are:
Minor Hurling
Leinster MHC final
Kilkenny v Offaly, O'Moore Park, TBC
All-Ireland MHC semi-final
Limerick v Galway, TBC, TBC
All-Ireland MHC final
Kilkenny or Offaly v Limerick or Galway, TBC, TBC

U20 Hurling
Leinster U20HC final
Dublin v Galway, O'Moore Park, TBC
All-Ireland U20HC final
Dublin or Galway v Cork, TBC, TBC
Minor Football
Leinster MFC final
Meath v Offaly, Parnell Park, TBC
Ulster MFC semi-finals
Tyrone v Derry, Clones, TBC
Fermanagh v Monaghan, Kingspan Breffni, TBC
Ulster MFC final
Tyrone or Derry v Fermanagh or Monaghan, TBC, TBC
All-Ireland MFC semi-finals
Roscommon v Kerry, TBC, TBC
Meath or Offaly v Ulster winner, TBC, TBC
All-Ireland MFC final
Semi-final winner v semi-final winner, TBC, TBC
Most Read Stories