Passing of a Cavan Legend
March 18, 2021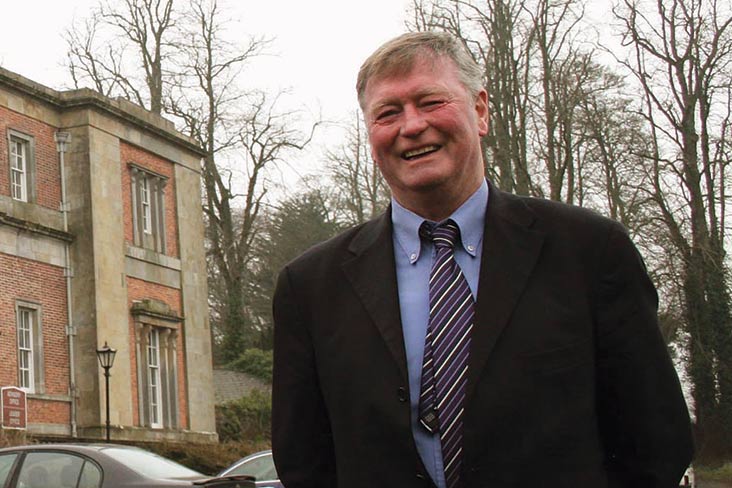 The late Jimmy Stafford
Sad to report the passing of Cavan and Killinkere football legend Jimmy Stafford.
Jimmy was to the fore on the fine Cavan team of the early 1960's which strove manfully to wrestle control of Ulster football from an emerging Down.
Back in 2008 Hogan Stand magazine carried out an interview with the ever popular, Gentleman Jim. It went thus
Cavan football has become something of an enigma in recent years. Although the county prides itself on the passion shown for football, success has eluded the Breffni Blues since 1997.
That year, the Ulster side lifted the provincial title for the first time in 28 years and even though many felt that they would not have to wait long for further success, Cavan has failed to rekindle the spirit of old.
One man, who has followed the fortunes of the county with a keen interest, is the great Jimmy Stafford, who was part of the side during the sixties when the county won four Ulster championships.
Jimmy lined out for the side in 1962 and '64, while emigration meant that he missed out on the successes of '67 and '69. It was a golden era for Cavan football as they and Down dominated the Ulster scene during that period.
The Killinkere native made his senior debut for Cavan in 1962 and what a remarkable year it turned out to be for the youngster as success came on three fronts.
"I had been with the Cavan minors in '61, but the following year proved to be probably my most successful year in inter-county football. I won my second McRory Cup medal with St Pat's that year, while also winning Ulster junior and senior medals," said Jimmy.
"I learned a lot of my football at St Pat's College, Cavan and Ray Carolan, who I played with for Cavan was also on that schools team that won two McRory Cups. Sixty-Two was an amazing year for me and a great start to my inter-county career."
Jimmy certainly played a huge part in the 1962 success when making his debut in the unaccustomed position of half forward as he had played all his underage football at full back.
"I scored two of the three goals that we got that day against Down in Casement Park, while I also set up the other for James Brady and I'll never forget what he said to me coming back out on the pitch after half time.
"I was after hand passing the ball over my shoulder to James in the small square and he was unmarked and finished to the net. When we were coming back out for the second half, he turned around and said 'J lad, would you have another one of them'. It was a statement that I never forgot.
"We were total underdogs that day against Down, but dug deep to find a win. There were some exceptional players playing for Cavan that day. Players like Gabriel Kelly, Ray Carolan and Charlie Gallagher deserved to play in an All-Ireland final, but never got to, which was a great shame."
In '62, Jimmy was involved in a piece of history as he lined out for Cavan versus Roscommon in the All-Ireland semi final, which was the first match to be screened live on television, but unfortunately for the Cavan boys, it was the Connacht side that triumphed.
Two years later and Cavan were the kings of Ulster once again having defeat old rivals Down in the decider. However, the All-Ireland semi final proved to be a stumbling block as Kerry earned a place in the final this time.
Jimmy has many fond memories of his trips to Croke Park and remembers when he first travelled to GAA headquarters to see Cavan play Kerry in the All-Ireland semi final of 1955, which the Breffni men lost after a replay.
In 1965, Jimmy like so many others at the time was forced to emigrate in order to find employment and spent two years in the United States, missing out on the '67 Ulster title.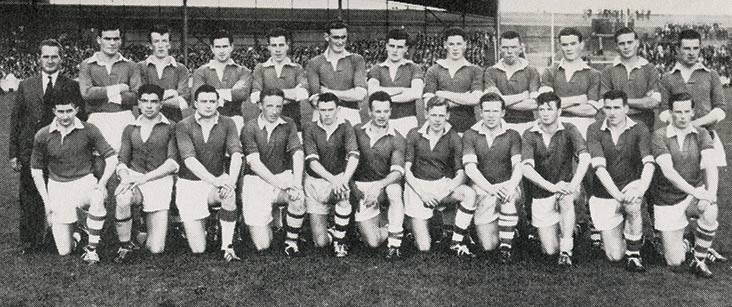 Jimmy Stafford and the Cavan side that lost to Roscommon in the 1962 All Ireland semi final. Front l-r: C. Smith, PJ McCaffrey, C. Gallagher, T. Galligan, S. McMahon, M. Brady, J. McDonnell, J. Brady, J. Stafford, T. Maguire, M. Ryan. Back l-r: B. Smith, P. Clarke, P. Gaffney, PJ O'Gorman, J. Quinn, T. Smith, G. Kelly, R. Carolan, T. Morris, T. Lynch, P. Lyons, S. Og Flood
Nonetheless, he was back in the fold two year later, but injury ruled him out of action and forced him to miss the provincial success of that year. Jimmy returned to the county scene in 1970 and played for a further three years before injury ended his inert county career.
However, success was not to stop there for the Cavan man as he obtained a Sigerson Cup medal in 1973, having captained the side the previous year.
"I played Sigerson Cup for four years with UCD and was part of the side that won in '73. Also that year, I won a Railway Cup medal with the Combined Universities, who were part of the competition that time."
Jimmy has one junior football championship medal and two league titles from his club career as Killinkere became known as the 'nearly men' of the sixties.
"I was captain of Killinkere when we got to three county finals between 1963 and '65, but we lost all three, which was very disappointing. We did manage to lift the title in 1972 and I kept playing with the club until 1979."
Work meant that Jimmy moved to Donegal for a short period and he played football with the Sean MacCumhaills club, but his heart always lay with Killinkere and Cavan.
Having finally hung up his boots, the former inter county star turned to coaching and was selector with the Cavan senior footballers in 1992 when Eamon Curley was manager.
"That year we had a fairly decent team and we were beaten by Donegal after a replay and as we all know Donegal went on to win the All-Ireland that year, so who knows what would have happened, if we won that day."
Jimmy has had a life time's association within the game and he admits that he feels that a football match is now not the interesting spectacle that it use to be years ago.
"The skill level has dropped considerably, compared to what it was years ago. The game is certainly a lot faster now, but it is rare to see high fielding or long passes in the game these days, which is a great shame."
Like all Cavan gaels, Jimmy hopes to see his beloved county back where they belong, mixing it with the best the country has to offer, but he acknowledges the fact that a lot of work must be done before that can be achieved.
"We have to go back to basics and take a look at the underage structure within the county and start developing players from a young age. It's the only way forward for the county."
After 38 years working for Teagasc in the Cavan/Monaghan area, Jimmy is retiring later in the year, but no doubt he will continue to follow the fortunes of both his beloved club and county for many years to come.
Ar dheis De go raibh a anam dilis.
Funeral details as per the RIP.ie website are
Son of the late Mattie and Kathleen Stafford. Predeceased by his sister Kathleen, his brother Mattie and cousin Jimmy Clarke.
Beloved husband of Úna and devoted father of Jennifer, Katie, David, Donagh and Fionnuala. Adoring grandfather of Sarah, Charlie, James, Una Mae, Elizabeth, Jack and Harry. Deeply missed by his sons-in-law Paul, Michael and Tom and his daughter-in-law Roisín. He will be sadly missed by his sisters Dympna, Carmel, Nancy, Rosemary and his brothers Aiden, Thomas, Pe and Brendan, his brothers-in-law, sisters-in-law, nieces, nephews, neighbours and friends.
Rest in Peace
Removal from his home on Friday to arrive at St Mary's Church, Clanaphillip, for Funeral Mass at 12noon, followed by burial in the adjoining cemetery. Due to current government guidelines, Jimmy's Funeral is private to family. House is strictly private due to current Covid restrictions.
A Memorial Mass will be arranged at a later date and the family kindly invites those who would have liked to have attended the funeral.
To leave a message of condolence click here
Most Read Stories