Former Aussie Rules ace can't wait to play for Louth under new boss Mickey Harte
February 17, 2021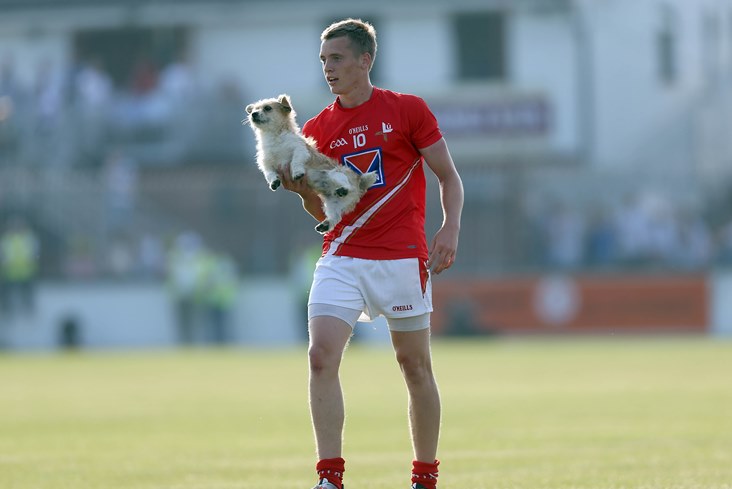 Louth's Ciaran Byrne
by Paddy Hickey
Former Aussie Rules player Ciaran Byrne says he can't wait to resurrect his inter-county career under new Louth football boss Mickey Harte
Dogged by a series of injuries during his five-year career with Melbourne outfit Carlton, and also since returning home in October 2018, Byrne's difficulties in that regard have now thankfully cleared up.

"There has been a tremendous buzz in Louth since Mickey and (his former Tyrone assistant) Gavin (Devlin) agreed to come into the management set-up, and I'm really looking forward to getting involved with them," enthused Byrne, who embarked on his Aussie Rules career when he was only 17 after appearing in the same trial as Dublin aces Jack McCaffrey and Ciaran Kilkenny.

"Of course, it's unfortunate and regrettable that Louth will be playing in Division Four if the league gets played this year, but now the only way is up and I'm very optimistic that we will make a very strong bid to get promoted to Division Three.

"I first played with Louth seniors when I was only 17 and that year, after beating Laois, we were unfortunate not to have also beaten Wexford in the Leinster Championship, so there's no reason why we can't be a major force once again," added the ace corner-forward, who, also in 2013, represented Ireland in the International Rules series against Australia.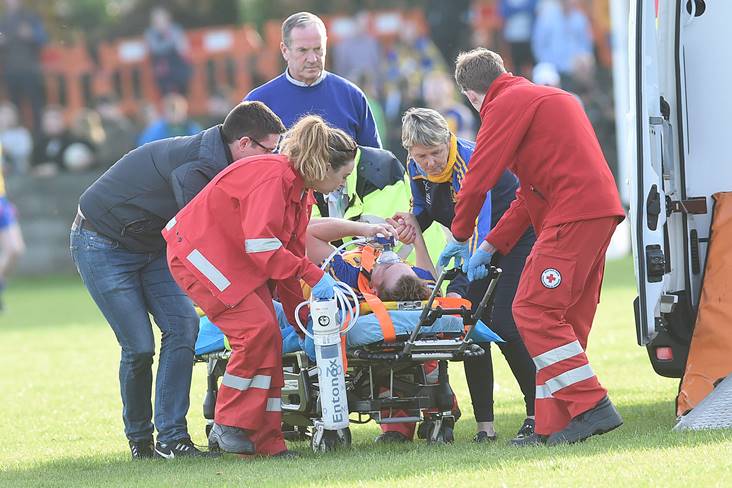 St Mochtas player Ciaran Byrne is stretchered off during the IFC final against St Fechins at the Grove after suffering a leg injury

Shortly after severing his link with Carlton, Byrne suffered the misfortune to break his ankle and to also suffer serious damage to his knee in the wake of coming on as a second half sub for his club, St Mochta's, in their subsequent win over St Feichin's, in the 2018 Louth intermediate football final.

"I was out for a long time after that and I also suffered a lot of soft tissue injuries, with the result that the only time I've played for Louth since coming home was for about five to 10 minutes in a league game against Leitrim in 2019," explained Byrne on his almost total absence from inter-county action over the last two years.

"Before that, I had a lot of injury issues during my time with Carlton, including a ruptured ACL in 2015 which kept me out for almost a year. And, but for all the injuries, I probably would have played over 100 games for Carlton instead of the 22 games that I did appear in.

"But thankfully I now feel physically great once more, and the fact that I did a lot of weight exercises on my legs had paid off in a big way for me.
"At the moment, like everyone else on the Louth panel, I'm working away on my own, and I'm really looking forward to getting training with everyone else when the Covid-19 restrictions are lifted."
In addition to his litany of injuries, Byrne pointed out that he struggled somewhat to make the transition from being a full-time professional sportsman to operating as an amateur player with a job to go to during the day.

"It a huge change for anybody to have to make in their lifestyle and it certainly took me a considerable amount of time before I was able to make the necessary mental adjustment," he explained.

"When I was with Carlton, all I had to think about was training and playing matches with them, but now after working from morning to evening, I have to go training afterwards."
Most Read Stories