Outstanding championship finals a headache for club fixture makers
January 29, 2021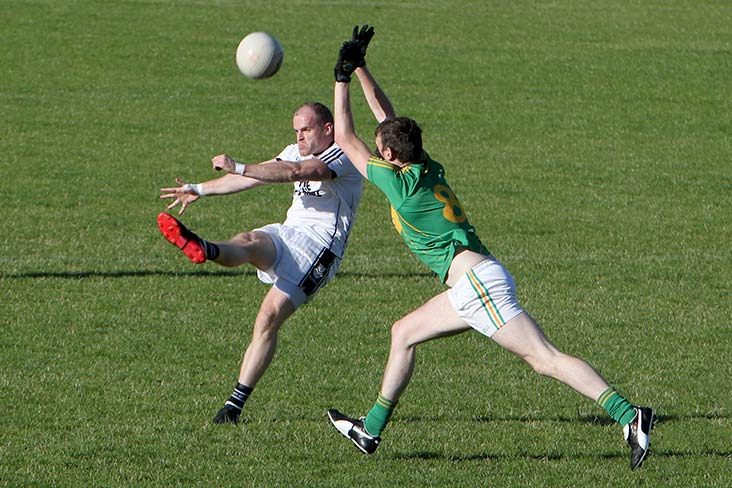 Drumalee's Enda McCormick shoots as Donal Maguire of Templeport closes in during the Cavan JFC
When the GAA called a halt to all club fixtures last October, 10 county senior championship competitions and a host at lower levels were left unfinished.
Christmas and New Year have come and gone, with the 2020 senior football champions in Cork, Donegal, Waterford, Carlow, Laois and Longford yet to be crowned. Indeed, the latter three counties are only at the semi-final stage.
In hurling there are no senior champions for last year in Kildare, Laois, Meath or Offaly.
The problems don't just end there as a host of counties have not completed their football or hurling competitions at intermediate or junior level.
When games were called off in October the hope was that the outstanding games could be completed in December or early January. However, the gravity of the third wave of Covid-19 which we are now in the middle of means even elite senior intercounty players cannot train, and the return of club games looks a long way off.
Some counties have indicated it could be May before club games return, and those would be games without county players.
If club championship action returns at the end of July as planned, counties are working within a tight schedule and fixing outstanding games will be problematic. Indeed, many finalists will not have had access to their county stars at that point and will be unwilling to field in finals without proper preparations.
There is also the huge issue regarding unplayed intermediate and junior finals, as 2021 competitions cannot go ahead with the promoted winners of the 2020 finals decided.
Cavan is a case in point with the junior final between Denn and Templeport yet to be played. The 2021 Cavan IFC can't be played without the winner of the 2020 JFC. Already there has been talk in the county of both sides being promoted to intermediate level this year and the outstanding JFC final being played at a later date.
The situation in Cavan will be replicated in a number of other counties and highlights the challenges that fixture makers face in 2021.
It could be the making of a pub quiz question in years to come - if the finals of the same competition from two different years are played within weeks of each other.
Most Read Stories