FL2: Rossies make Orchard men pay the penalty
October 17, 2020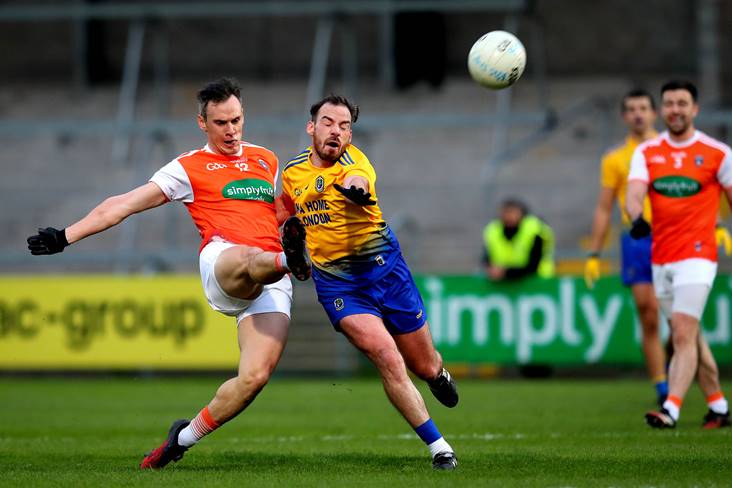 Armagh's Mark Shields and Niall Kilroy of Roscommon. ©INPHO/Ryan Byrne.
Roscommon 3-10
Armagh 0-15
Roscommon are on the cusp of a third promotion to Division 1 in five years after making their goals count against Armagh this evening at the Athletic Grounds.
Two Enda Smith penalties and a Conor Daly goal made the difference for Anthony Cunningham's men, having trailed by two points at the break after Smith's first conversion.
However, back-to-back goals in the game's third quarter saw the Rossies assume control between the 43rd and 45th minutes and they didn't look back as Conor Cox and Cian McKeon helped them over the line.
Armagh made the brighter start to this top of the table encounter, with points from Rian O'Neill (free) and Callum Cumiskey (mark) putting them two to the good after 11 minutes.
The Rossies would be off the mark two minutes later through McKeon but it was the hosts that were ruling the roost early on and they began to covert their possession after the water break.
Rian O'Neill backed up a mark with a point from play prior to Conor Turbitt making 0-5 to 0-1 with 27 minutes on the clock.
McKeon (free) and Cox hit the Connacht champions' responses before their next tour on goal would reap maximum profit.
The home side were caught out when Cox ripped through and he was brought down for a penalty which Enda Smith converted sublimely.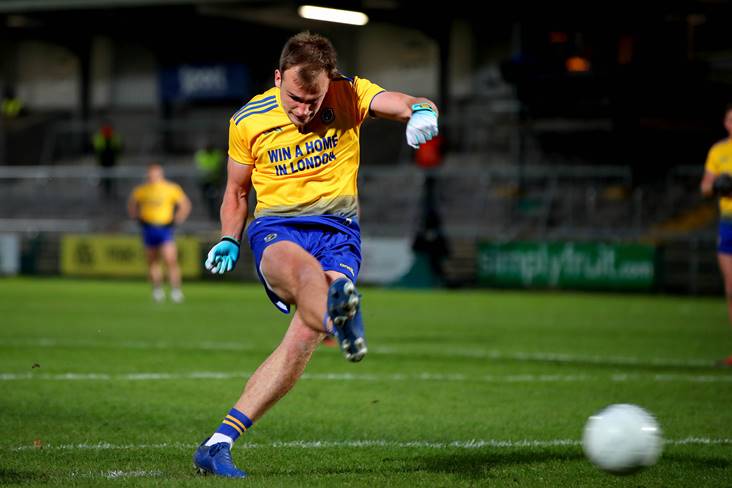 Roscommon's Enda Smith scored both of his penalties. ©INPHO/Ryan Byrne.
Rory Grugan squared matters before Kieran McGeeney's charges finished out the half strong via points from Oisin O'Neill and Grugan to deservedly lead by 0-8 to 1-3 at half-time.
Jamie Clarke's free and another from Rian O'Neill bumped the lead up to four but the Orchard men would pay the price again for indiscipline at the back when James Morgan brought down McKeon in the square.
Smith slotted the penalty home coolly on 43 minutes and two minutes later the ball would be in Armagh's net again.
This time Conor Daly hammered home the goal that surged the Rossies in front and they'd be four to the good come the second water break after points from McKeon and Cox (free) flew over.
Cox and Ciaran Lennon kept the scoreboard ticking over for the visitors and while Armagh got points back through Oisin O'Neill and Rian O'Neill, they wouldn't be enough.
Points from Ronan Daly and Cox (free) put Roscommon up by four entering into injury-time before the latter rubberstamped the win in the sixth added minute.
Roscommon - C Lavin; D Murray, C Daly (1-0), S Mullooly; R Daly (0-2), B Stack, N Daly; C Compton, T O'Rourke; N Kilroy, E Smith (2-0, 2pens), C McKeon (0-2); C Lennon (0-1), C Cox (0-5, 2f), C Cregg. Subs: C Devenney for Kilroy (42mins), C Murtagh for Cregg (43), C Hussey for Daly (54), S Killoran for O'Rourke (59), E Nolan for Compton (63).
Armagh - B Hughes; R Kennedy, A Forker, P Burns; C O'Neill, J Morgan, C Cumiskey (0-1); N Grimley, O O'Neill (0-4); C Turbitt, S Campbell, M Shields; R Grugan (0-3), R O'Neill (0-6, 2f), J Clarke (0-1, 1f). Subs: J Burns for Turbitt (45mins), A McKay for Kennedy (50), J McElroy for Campbell (53), C McKenna for O'Neill (53), J Hall for Cumiskey (65) Yellow cards: O O'Neill (35), J Morgan (42), R O'Neill (47), Grugan (68).
Ref: David Gough (Meath)
Most Read Stories