Save the dates: Revised inter-county fixtures schedule
June 27, 2020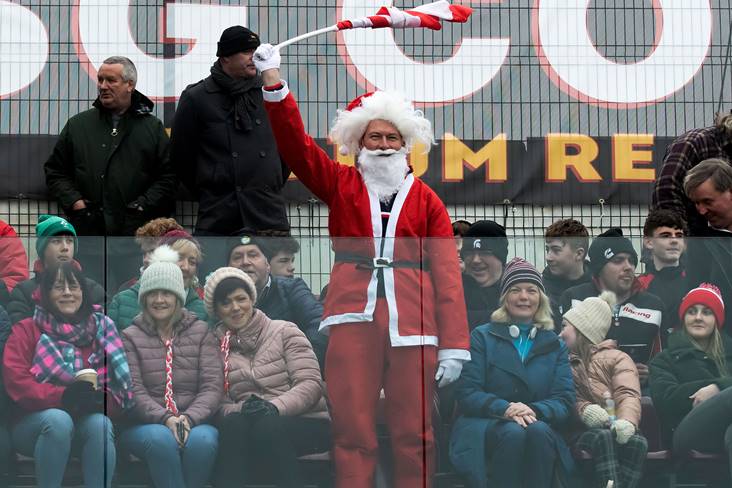 Saturday 19 December has been marked as the date for the All-Ireland SFC final.
With the release of the revised inter-county fixtures schedule, GAA supporters will be able to start planning their county's direct route to All-Ireland glory in December.
The season resumes on Saturday 17 October with the All-Ireland U21FC semi-finals and ends with the All-Ireland SFC final, six days before Christmas.
See the revised inter-county fixtures schedule below (Note: there are still provincial minor and U20 hurling fixtures to be announced)
Saturday 17 October
All-Ireland U21FC semi-finals
Galway v Kerry, TBC, TBC
Dublin v Tyrone, TBC, TBC
Saturday 17/Sunday 18 October
Allianz FL Division 1 round 6
Dublin v Meath, Croke Park, TBC
Galway v Mayo, Pearse Stadium, TBC
Donegal v Tyrone, Ballybofey, TBC
Monaghan v Kerry, Inniskeen, TBC
Allianz FL Division 2 round 6
Westmeath v Laois, TEG Cusack Park, TBC
Clare v Fermanagh, Cusack Park, TBC
Armagh v Roscommon, Athletic Grounds, TBC
Kildare v Cavan, Newbridge, TBC
Allianz FL Division 3 round 6
Down v Leitrim, Pairc Esler, TBC
Derry v Longford, Celtic Park, TBC
Cork v Louth, Pairc Ui Chaoimh, TBC
Tipperary v Offaly, Semple Stadium, TBC
Allianz FL Division 4 round 6
Wicklow v Antrim, Aughrim, TBC
Waterford v London, Fraher Field, TBC
Limerick v Wexford, Rathkeale, TBC
Carlow v Sligo, Netwatch Cullen Park, TBC
Ulster MFC first round
Monaghan v Cavan, Clones, TBC
Allianz HL Division 2A final
Antrim v Kerry, TBC, TBC
Allianz HL Division 2B final
Down v Derry, TBC, TBC
Allianz HL Division 3B final
Sligo v Leitrim, TBC, TBC
Saturday 24/Sunday 25 October
Allianz FL Division 1 round 7
Monaghan v Meath, Clones, TBC
Mayo v Tyrone, MacHale Park, TBC
Kerry v Donegal, Austin Stack Park, TBC
Galway v Dublin, Pearse Stadium, TBC
Allianz FL Division 2 round 7
Kildare v Westmeath, Newbridge, TBC
Cavan v Roscommon, Kingspan Breffni, TBC
Clare v Armagh, Cusack Park, TBC
Fermanagh v Laois, Brewster Park, TBC
Allianz FL Division 3 round 7
Longford v Cork, Glennon Bros Pearse Park, TBC
Offaly v Derry, O'Connor Park, TBC
Leitrim v Tipperary, Pairc Sean MacDiarmada, TBC
Louth v Down, Drogheda, TBC
Allianz FL Division 4 round 7
Antrim v Waterford, Glenavy, TBC
Sligo v Limerick, Markievicz Park, TBC
London v Carlow, Ruislip, TBC
Wexford v Wicklow, Chadwicks Wexford Park, TBC
Leinster SHC quarter-final
Laois v Dublin, TBC, TBC
Munster SHC quarter-final
Limerick v Clare, TBC, TBC
Joe McDonagh Cup round 1
Kerry v Meath, TBC, TBC
Antrim v Westmeath, TBC, TBC
Christy Ring Cup quarter-finals
Down v London, TBC, TBC
Offaly v Kildare, TBC, TBC
Roscommon v Wicklow, TBC, TBC
Derry v Sligo, TBC, TBC
Nicky Rackard Cup quarter-finals
Armagh v Leitrim, TBC, TBC
Warwickshire v Tyrone, TBC, TBC
Donegal v Longford, TBC, TBC
Monaghan v Mayo, TBC, TBC
Lory Meagher Cup round 1
Louth v Fermanagh, TBC, TBC
Cavan v Lancashire, TBC, TBC
Friday 23/Saturday 24/Sunday 25 October
Ulster MFC quarter-finals
Derry v Armagh, Celtic Park, TBC
Donegal v Tyrone, Ballybofey, TBC
Antrim v Monaghan or Cavan, Antrim venue or Kingspan Breffni, TBC
Fermanagh v Down, Brewster Park, TBC
Saturday 31 October/Sunday 1 November
Connacht SFC quarter-finals
London v Roscommon, TBC, TBC
Mayo v Leitrim, TBC, TBC
Leinster SFC first round
Louth v Longford, TBC, TBC
Wexford v Wicklow, TBC, TBC
Carlow v Offaly, TBC, TBC
Munster SFC quarter-finals
Waterford v Limerick, Fraher Field, TBC
Tipperary v Clare, Semple Stadium, TBC
Ulster SFC preliminary round
Monaghan v Cavan, TBC, TBC
Ulster SFC quarter-finals
Derry v Armagh, TBC, TBC
Donegal v Tyrone, TBC, TBC
Monaghan or Cavan v Antrim, TBC, TBC
Fermanagh v Down, TBC, TBC
Leinster SHC semi-finals
Galway v Wexford, TBC, TBC
Kilkenny v Laois or Dublin, TBC, TBC
Munster SHC semi-finals
Cork v Waterford, TBC, TBC
Tipperary v Limerick or Clare, TBC, TBC
Joe McDonagh Cup round 2
Carlow v Antrim, TBC, TBC
Westmeath v Kerry, TBC, TBC
Christy Ring Cup semi-finals
Quarter-final winner v quarter-final winner, TBC, TBC
Quarter-final winner v quarter-final winner, TBC, TBC
Christy Ring Cup relegation semi-finals
Quarter-final loser v quarter-final loser, TBC, TBC
Quarter-final loser v quarter-final loser, TBC, TBC
Nicky Rackard Cup semi-finals
Quarter-final winner v quarter-final winner, TBC, TBC
Quarter-final winner v quarter-final winner, TBC, TBC
Nicky Rackard Cup relegation semi-finals
Quarter-final loser v quarter-final loser, TBC, TBC
Quarter-final loser v quarter-final loser, TBC, TBC
Lory Meagher Cup round 2
Lancashire v Louth, TBC, TBC
Fermanagh v Cavan, TBC, TBC
Saturday 7/Sunday 8 November
Connacht SFC semi-finals
Sligo v Galway, Markievicz Park, TBC
Mayo or Leitrim v London or Roscommon, TBC, TBC
Leinster SFC quarter-finals
Laois v Louth or Longford, TBC, TBC
Meath v Wexford or Wicklow, TBC, TBC
Kildare v Carlow or Offaly, TBC, TBC
Westmeath v Dublin, TBC, TBC
Munster SFC semi-finals
Cork v Kerry, TBC, TBC
Waterford or Limerick v Clare or Tipperary, TBC, TBC
All-Ireland SHC qualifiers round 1
Beaten Leinster quarter-finalist or semi-finalist v beaten Munster quarter-finalist or semi-finalist, TBC, TBC
Beaten Leinster quarter-finalist or semi-finalist v beaten Munster quarter-finalist or semi-finalist, TBC, TBC
Joe McDonagh Cup round 3A
Carlow v Meath, TBC, TBC
Christy Ring Cup relegation final
Relegation semi-final loser v relegation semi-final loser, TBC, TBC
Nicky Rackard Cup relegation final
Relegation semi-final loser v relegation semi-final loser, TBC, TBC
Lory Meagher Cup round 3
Fermanagh v Lancashire, TBC, TBC
Cavan v Louth, TBC, TBC
Saturday 14/Sunday 15 November
Connacht SFC final
Sligo or Galway v Mayo or Leitrim or London or Roscommon, TBC, TBC
Leinster SFC semi-finals
Meath or Wexford or Wicklow v Kildare or Carlow or Offaly, TBC, TBC
Laois or Louth or Longford v Westmeath or Dublin, TBC, TBC
Ulster SFC semi-finals
Donegal or Tyrone v Derry or Armagh, TBC, TBC
Fermanagh or Down v Monaghan or Cavan or Antrim, TBC, TBC
All-Ireland SHC qualifiers round 2
Beaten Leinster quarter-finalist or semi-finalist v round 1 winner, TBC, TBC
Beaten Munster quarter-finalist or semi-finalist v round 1 winner, TBC, TBC
Leinster SHC final
Galway or Wexford v Kilkenny or Laois or Dublin, TBC, TBC
Munster SHC final
Cork or Waterford v Tipperary or Limerick or Clare, TBC, TBC
Joe McDonagh Cup round 3B
Antrim v Kerry, TBC, TBC
Christy Ring Cup final
Semi-final winner v semi-final winner, TBC, TBC
Nicky Rackard Cup final
Semi-final winner v semi-final winner, TBC, TBC
Lory Meagher Cup final
1st placed team v 2nd placed team, TBC, TBC
Saturday 21 November
Leinster SFC final
Meath or Wexford or Wicklow or Kildare or Carlow or Offaly v Laois or Louth or Longford or Westmeath or Dublin, TBC, TBC
All-Ireland SHC quarter-finals
Beaten Leinster finalist v round 2 winner, TBC, TBC
Beaten Munster finalist v round 2 winner, TBC, TBC
Joe McDonagh Cup round 4
Meath v Westmeath, TBC, TBC
Kerry v Carlow, TBC, TBC
Sunday 22 November
Munster SFC final
Cork or Kerry v Waterford or Limerick or Clare or Tipperary, TBC, TBC
Ulster SFC final
Donegal or Tyrone or Derry or Armagh v Fermanagh or Down or Monaghan or Cavan or Antrim, TBC, TBC
All-Ireland U20HC final
Leinster winner v Munster winner, TBC, TBC
Saturday 28 November
All-Ireland SHC semi-final
Leinster winner v quarter-final winner, TBC, TBC
Joe McDonagh Cup round 5
Meath v Antrim, TBC, TBC
Westmeath v Carlow, TBC, TBC
Sunday 29 November
All-Ireland SHC semi-final
Munster winner v quarter-final winner, TBC, TBC
Saturday 28/Sunday 29 November
All-Ireland MFC semi-finals
Leinster winner v Ulster winner, TBC, TBC
Connacht winner v Munster winner, TBC, TBC
All-Ireland MHC semi-final
Leinster or Munster winner v Galway, TBC, TBC
Saturday 5 December
All-Ireland SFC semi-final
Leinster winner v Ulster winner, TBC, TBC
Sunday 6 December
All-Ireland SFC semi-final
Connacht winner v Munster winner, TBC, TBC
Saturday 5/Sunday 6 December
All-Ireland MFC final
Semi-final winner v semi-final winner, TBC, TBC
All-Ireland MHC final
Leinster or Munster winner or Galway v Leinster or Munster winner, TBC, TBC
Sunday 13 December
All-Ireland SHC final
Semi-final winner v semi-final winner, TBC, TBC
Joe McDonagh Cup final
1st placed team v 2nd placed team, TBC, TBC
Saturday 19 December
All-Ireland SFC final
Semi-final winner v semi-final winner, TBC, TBC
Most Read Stories