Draws made for new-look Kilkenny championship-leagues
June 27, 2020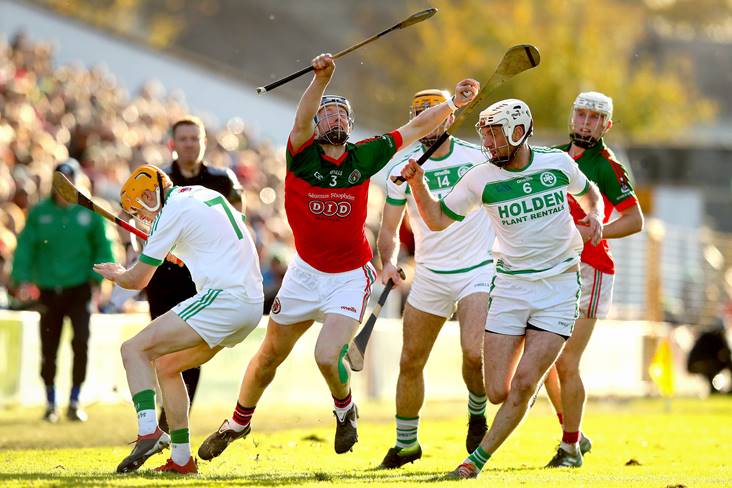 James Stephens' Tomas Keogh is challenged by Michael Fennelly of Ballyhale Shamrocks. ©INPHO/Ryan Byrne.
The draws for the new-look Kilkenny senior and intermediate hurling championship-leagues were made this afternoon following the approval of the proposed new format at a county board meeting last Monday.
The most intriguing first round clash sees senior champions Ballyhale Shamrocks paired with last year's intermediate winners Tullaroan. Both teams were crowned All-Ireland champions at Croke Park earlier this year.
Games will get underway on the August bank holiday weekend with the county finals fixed for September 27.
2020 Kilkenny SHC and IHC format
The twelve teams in the senior and intermediate grades are divided into two groups of six (A, B) and subdivided into four groups of three (A1, A2, B1, B2)
All teams are guaranteed to get at least five games with three rounds in the group stages (A1 v A2, B1 v B2)
First and second placed teams in each group will advance to the quarter-finals
First placed will also contest the league finals and second placed advance to the shield finals
The remaining eight teams will be drawn against each other in the first round of the knockout phase (3rd in A v 6th in B, 4th in A v 5th in B, 5th in A v 4th in B, 6th in A v 3rd in B)
The four first round losers will contest the relegation semi-finals
First and second placed teams will join the four first round winners in the quarter-final draw
The semi-finals will be an open draw
Games schedule
Weekend of August 2 - League round 1
Weekend of August 9 - League round 2
Weekend of August 16 - League round 3
Weekend of August 23 - League and shield finals
Weekend of August 30 - Championship round 1
Weekend of September 6 - Championship quarter-finals, relegation semi-finals
Weekend of September 13 - Senior semi-finals, relegation finals
Weekend of September 20 - Intermediate semi-finals
Weekend of September 27 - County finals
2020 Kilkenny SHC draw
Group A1: Bennettsbridge, James Stephens, Ballyhale Shamrocks
Group A2: O'Loughlin Gaels, Danesfort, Tullaroan
Group B1: Graigue-Ballycallan, Erins Own, Rower Inistioge
Group B2: Clara, Mullinavat, Dicksboro
First round
Bennettsbridge v O'Loughlin Gaels
Graigue-Ballycallan v Clara
James Stephens v Danesfort
Erins Own v Mullinavat
Ballyhale Shamrocks v Tullaroan
Rower Inistioge v Dicksboro
2020 Kilkenny IHC draw
Group A1: O'Loughlin Gaels, St Patricks, Thomastown
Group A2: John Lockes, Carrickshock, Glenmore
Group B1: St Lachtains, Young Irelands, Dunnamaggin
Group B2: St Martins, Fenians, Lisdowney
First round
O'Loughlin Gaels v John Lockes
St Lachtains v St Martins
St Patricks v Carrickshock
Young Irelands v Fenians
Thomastown v Glenmore
Dunnamaggin v Lisdowney
2020 Kilkenny JHC draw
Section A
Group A: Windgap, Cloneen, Emeralds, Mooncoin
Group B: Slieverue, Blacks & Whites, Tullogher-Rosbercon
Group C: Galmoy, Conaghy Shamrocks, Kilmacow
Group D: Barrow Rangers, Graiguenamanagh, Piltown
First round
Windgap v Slieverue
Galmoy v Barrow Rangers
Cloneen v Blacks & Whites
Conaghy Shamrocks v Graiguenamanagh
Emeralds v Tullogher-Rosbercon
Kilmacow v Piltown
Mooncoin Bye
Section B
Group A: James Stephens, Rower Inistioge, Erins Own, Clara
Group B: Dicksboro, Ballyhale Shamrocks, St Patricks
First round
James Stephens v Dicksboro
Rower Inistioge v Ballyhale Shamrocks
Erins Own v St Patricks
Clara
Most Read Stories