Down Memory Lane: Clare's Jamesie O'Connor
April 17, 2020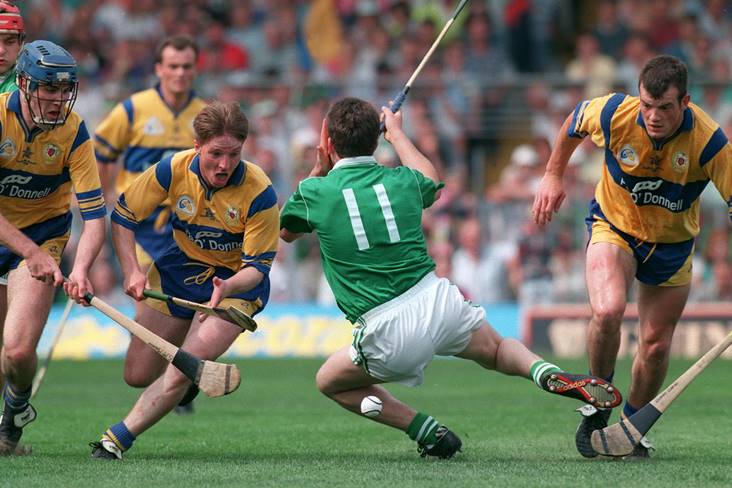 Clare's Jamesie O'Connor comes up against Gary Kirby of Limerick during the 1995 Munster SHC final. ©INPHO/Tom Honan.
Taken from Hogan Stand magazine 1st September 1995
Jamesie O'Connor possesses real quality
Forty two minutes into the game, a high ball is floated deep into the defence. It breaks to the ground from a thicket of hurls and the in-rushing forward swoops on it quickest. There's a jungle of bodies in his way, no time surely to get ball to bos, no space to swing it. But he does, crouched and wriggling to purchase that vital microsecond of time, those few cubic feet of space. In a flash, the ball is over the bar. In fact, the whole thing happens in a flash. From the moment he gathers to the moment of release, all happening maybe in less than a second. A vintage Pat Fox score: the speed of reflex, the lightning footwork, the improvised shot.
Except the player is Jamesie O'Connor and the game is this year's All-Ireland semi-final against Galway. It's a superb score, one of seven on the day, but not the most important. With seven minutes remaining Clare are on top but only three ahead. Jamesie faces up to a long range free - definitely a pressure moment. The aim is true, his nerve up to it. Four up now, they cruise home, winning by five - Jamesie adding a triumphant, swaggering point from way out on the left wing.
On Sunday, September 3rd next, similar questions will be asked of Jamesie all over again and at 23 years of age, he has already proven he possesses the mettle and maturity to answer them. And he's come up in the classical hurling tradition to arrive at the point where he's regarded among the pre-eminent midfield/forward players in the country. His family moved from Galway to Ennis when he was eleven, just in time to begin a Grade A hurling apprenticeship in that elite academy for stars, St Flannan's. Two Harty Cups in 1989 and '90 came his way under the guidance of shrewd mentors like Father Seamus Gardiner, Father Willie Walsh, John Minogue and Mike Mclnerney. "Saint Flannan's have a tremendous GAA tradition, like most other Diocesan Colleges. Pupils start off playing first year leagues, then under 14, 15 and 16 and a half before Harty Cup. Playing hurling and football is very much central to the whole question of extra-curricular activities at Saint Flannan's. The first year Leagues at the college help get everyone involved initially and then they're encouraged to continue playing as they get older."
In a neat piece of symmetry, Jamesie is back at St Flannan's, this time as a teacher of economics and business studies, where he will no doubt impart the skills to generations of hurling stars to come. But it's his own star that is now shining and his admirers are legion. Clare supporters have long been convinced of his excellence - and the cognoscenti, the experts, are in no doubt either. "When Clare needed him in the second half (against Galway)," wrote Jimmy Barry Murphy in the Irish Times, "he produced the goods. I love watching a player like him, his footwork and his stick work are magnificent and I think he will benefit from playing in Croke Park." Galway manager Mattie Murphy had a perfect sideline view of him the same day. "Jamesie O'Connor is one of the best half forwards/midfielders in the game. There's nobody better than Jamesie to plug a hole in midfield and he can pick up breaking ball better than anyone - even Johnny Pilkington."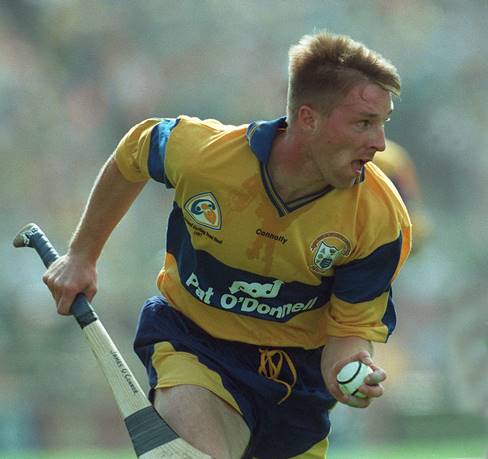 Ger Loughnane, like any good team manager, will always emphasise the importance of the unit over any individual but, when pressed, he concedes the value of a player like O'Connor. "While every member of a team is important, there are a few players you couldn't contemplate going out without. If, for whatever reason, he was missing, it would be a huge hole to fill. He is a top drawer, top quality player in every way. He is an inspiration to the others as well as being a brilliant player. He is the key to our chances." The key. That is a big burden but Loughnane is hardly over-stating it. Any free-taker, in any game, is a critical factor in any team. Even the ones who don't thrive in general play are vital. Jamesie of course is immensely influential from play as well so yes, he is the key man for Clare's prospects.
But it's a responsibility that he appears mentally equipped to handle. A non-drinker, serious about his hurling to the point of intensity, he will not shirk those pressure frees or 'bottle' on those crunch chances from open play. As Mattie Murphy says elsewhere in this issue, Clare have handled things since the Munster final much better than a county that's been out of the limelight for 63 years should have. Instead of going on holidays mentally after that historic breakthrough, they knuckled down to the grind again like a team that was used to winning Munster finals and saw them only as a stepping stone to greater glory. Loughnane ran the legs off them at a Friday night training session after the final and brought them down to earth with a bang. Four days after the semi-final, on the Thursday, Loughnane again put them through their paces with a heavy stamina session and they've been sticking "basically to the same routine" that has applied all summer. Reflecting on the Galway game, Jamesie says it was a big relief to come through it. "It was a big occasion but we took it just the same as the Munster final - we were very relaxed. It would have been a major aim of ours to make it to the All-Ireland final."
The county, is of course, buzzing with hype, excitement and anticipation and one of the difficulties for players living at home during the build-up is the incessant talk, questioning and autograph-seeking : there's just no getting away from it, and it can play on their nerves. Jamesie says however that the players themselves don't mind the attention and are coping easily with all the hoopla. "You just learn to deal with it. There is a lot of excitement but the players have to detach themselves from it. It's great really, it's all part of it. You do get strangers coming up and shaking your hand and that but that's part of it. It is going to cross your mind most days but we're just trying to keep things as normal as possible."
Jamesie's club hurling is played with St Joseph's from the Doora-Barefield parish and in addition to having hurled with Flannan's and Clare, he also played with UCG in Fitzgibbon Cup competition alongside Galway stars Franny Forde and Brendan Keogh, among others. Asked why this Clare team is different to all the ones that went before, why it has a harder core of self-belief, Jamesie can't quite pinpoint the exact factors. "It's hard to know. Management has to get a lot of credit. This year was make or break. That was a big thing. We just had to win this year's Munster final after losing the last two. After training so hard we felt that we should win it. We sat down after losing last year and we realised we just couldn't cut any corners. Maybe fitness-wise we weren't as strong last year or the year before. We also found five or six new players this season that hadn't been part of those losing teams and that was another factor."
His assessment of the opposition is typically pragmatic and realistic - he knows Offaly are going to be formidable. "They're a class team, no doubt about it. The defence is excellent, they've got the best half back line in the country. Their half forward line has been very good. If anything they're stronger now than last year. They're going to be very tough." Jamesie also provides a player's insight into one aspect of Croke Park that the outsider wouldn't appreciate : its width. Or rather, it's lack of width. It's "a good bit" narrower than the pitches they hurl or train on - Cusack Park, Ennis, Semple Stadium or the Gaelic Grounds in Limerick. "It definitely is narrower. Ger Loughnane narrowed our training pitch before the Galway game and it did help but it is a big factor and it's second nature to the Offaly boys playing in Croke Park."
Asked how the actual occasions of playing in an All-Ireland final might affect their concentration, he says there is no guarantee that the occasion itself won't affect them - they'll just try not to think about it and hope it goes well on the day. The pitch, All-Ireland final rookies, Offaly's class and experience : looking at these Factor, the odds could be mounting steadily against them. Then throw in another factor - which of them has had the tougher run-in? "We've had a tougher run," says Jamesie without hesitation. "We had to get it right for Cork, Limerick and Galway. Offaly just had to raise it for Kilkenny really. They got over Wexford and Down okay so it might be easier for them to raise their game again." Meanwhile, Jamesie continues to puck a ball any five minutes he gets, all the time working and refining his skills. "It's natural. I've always a ball in my hand." And, like most serious sportsmen, he's keenly interested in other sports, other practitioners. He has been watching the test cricket from England and liked what he saw, observed certain likenesses - a batsman, like a hurler, must keep his eye on the ball at all times. "There would be similarities. I'd say a hurler would pick it up fairly quick. I wouldn't mind trying myself!"
Most Read Stories