Banty doesn't believe leagues will be finished
March 20, 2020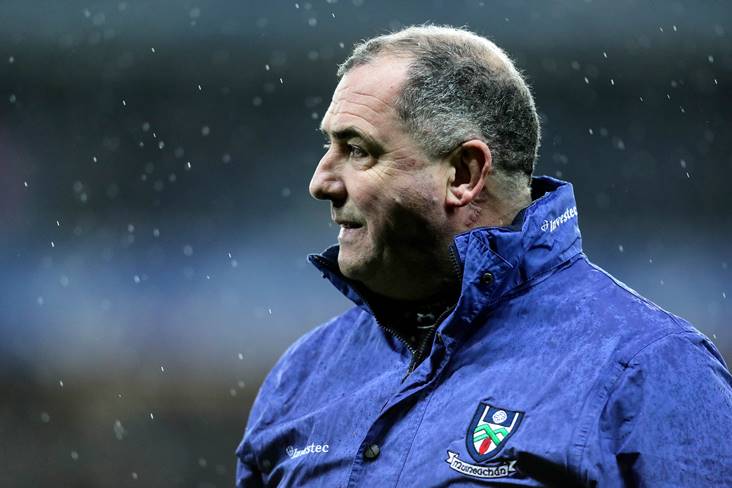 Monaghan manager Seamus McEnaney. ©INPHO/Laszlo Geczo.
by John P Graham
Monaghan manager Seamus McEnaney thinks the 2020 Allianz Leagues will not be completed and 'we will be back to where we were in January.'
With all GAA activities suspended Monaghan missed out on their high-profile game against Kerry last Sunday and were due to play Meath in Clones this weekend.
While McEnaney is disappointed to miss out on those two games he feels there are bigger issues at play.
"It is disappointing to miss those games, but as I said we are in unprecedented territory here, but we are all in this together and if the only price we pay in Monaghan is that we have missed two games but in adhering to the policies that are in place now, that we save lives, then for me that's happy days," said the Monaghan manager.
With regards to the rest of the season, McEnaney feels the league is finished but the championship still has a chance of being played.

"On the bigger picture I have to be honest, I can't see the league being finished and I think we'll all be back to where we were in January. It is disappointing as well because we had gotten ourselves into a good place in the National Football League, performance wise, with the exception of the game against Donegal.
"With the way things are looking at the moment I believe that at best we will have the championship up and running in the summer, but that's the best scenario I can picture at the moment."
Monaghan are fully respecting all advice regarding social distancing but the squad have all been given individual programs that they can work on.
"As far as the ban on squad training and squad gym sessions is concerned, it does have an effect on the players because it affect morale and it affects the camaraderie that builds up in the group," said McEnaney.
"At the same time, players can work individually and we have proposals put together in that regard and players and their families are not confined to barracks as it were, because they can go out for walks on the go out even for a run.
"I just want to assure people that we will be adhering 100% to the guidelines that have been laid down with regard to county team squads and what they can and what they can't do, because this is a very serious scenario."
Most Read Stories