Gough: I would be the first to say that Colm meant no harm
February 12, 2020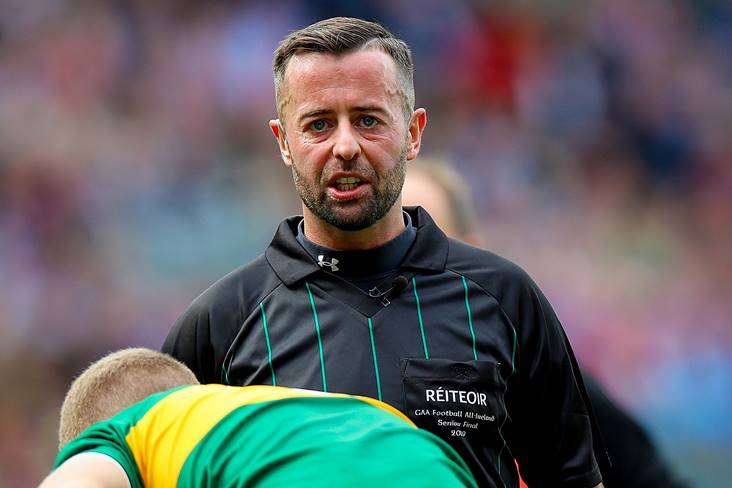 Referee David Gough. ©INPHO/Tommy Dickson.
Top gaelic football referee David Gough has revealed why he took to twitter to criticise the language used by RTE's Colm O'Rourke on the Allianz League Sunday show.
Two-time All-Ireland winner O'Rourke was accused of homophobic language after using the phrase "namby-pamby pansy-boy game" in a discussion about the lack of physicality in gaelic football on last Sunday week's show.
Last year's All-Ireland final referee took his fellow Meath man to task when tweeting: "The pejorative use of homophobic language on national TV is abhorrent and unacceptable. I'm disgusted."
Both Gough and O'Rourke discussed the matter privately afterwards and Slane clubman Gough told 2fm's 'Game On' last night: "If you look back at the tweet it was very specific and I took my time in composing it.
"I called out what I said was pejorative use of homophobic language, which was meant to be a throw-away remark.
"I've known Colm since I was 12-years of age. I went to school where he was my manager at St Pat's in Navan and he's been a huge champion of my refereeing and my abilities on the football field over many years.
"I would be the first to say that Colm meant no harm and he's not homophobic, but it doesn't take away from the fact that it did cause harm to people from the LGBT community and that needs to be recognised.
"I thought it was very unfortunate that it was broadcast on national TV."
Most Read Stories