"A final referee has to be a neutral referee"
August 13, 2019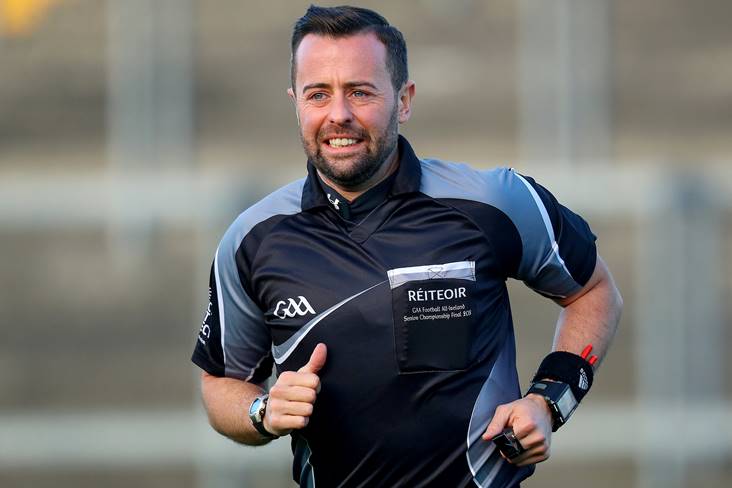 Referee David Gough. ©INPHO/Oisin Keniry.
Eamonn Fitzmaurice believes David Gough should not be appointed to referee the 2019 All-Ireland SFC final.
Widely regarded as the best referee in the country, Gough is the frontrunner to officiate over the massive meeting of Dublin and Kerry at Croke Park on September 1st but former Kingdom boss Fitzmaurice reckons it would be the wrong call:
"I think it's an injustice if he does get the game," he comments on the Irish Examiner's GAA podcast. "I am not going to be dictating here who I feel should get the game but a final referee has to be a neutral referee. Living and working in Dublin, you are not neutral. If you are living there, you are meeting people in the shop, at work, down the street.
"Of course when David Gough goes out to referee a match he is trying to be neutral and impartial, I am not questioning that, but it can't be fair that if you are living and working in a place, that you get to referee an All-Ireland final involving that county.
"It's tough on him, he is a very good referee, and Dublin are there every year. I do genuinely think from his own perspective, there's huge pressure on him. I wouldn't look on it as punishing him. If you live and work in a place it rules you out. It's very hard in that instance. If Kerry get a couple of calls, he is going to have a miserable winter listening to Dubs telling him he denied them the five in a row."
Most Read Stories