Sad passing of two-time Offaly All-Ireland SFC winning defender, Mick O'Rourke
January 26, 2019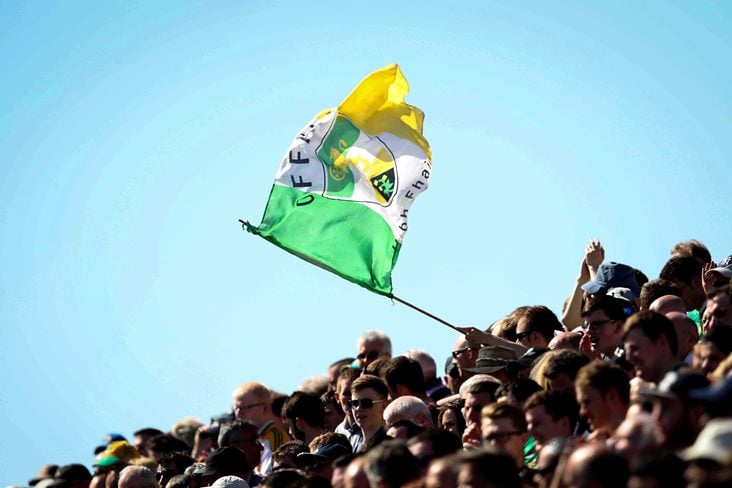 Tony Leavy RIP.
Offaly GAA has led the tributes to All-Ireland football winner Mick O'Rourke who has sadly passed away.
The Killeigh Raheen clubman wore the number four jersey against Galway in Offaly's breakthrough All-Ireland SFC final victory of 1971 and added a second Celtic Cross souvenir to his medal collection 12 months later.
He also represented the Faithful County at every level in hurling and served as a senior football selector.
Below is an interview with Mick O'Rourke that was published in the Hogan Stand magazine (October, 1993)…
Offaly's Mick O'Rourke - a teak tough prince of defenders
Double All-Ireland winner is still very much a player's man
Thady Quill has a challenger, the legendary Muskerry sportsman may have been a great one for "football and hurling, and rambling and roving", but down in the midlands, legendary Offaly footballer, Mick O'Rourke would surely give him a run for his money in the first two departments anyway.
An All-Ireland winner at football in 1971 and '72 the Killeigh Raheen clubman also lined out at every level with the Offaly hurlers, not to mention he served a couple of terms as a county football selector. With that in mind Mick seems like a likely candidate to ask about the Faithful County's current lapse into the football doldrums, is Offaly's decline of the temporary variety or is it of a terminal nature, the $64,0000.00 questions.
"I hope it's not terminal anyway, if I could put my finger on what's wrong then I'd be trying to do something about it", says the plant manager at Kilsaran Concrete. If O'Rourke cannot nail down the problem he can throw a fair few possibilities as to the cause of the malaise, into the ring.
"They seem to be operating a sort of deck-chairs on the Titanic policy with the current team, they are just filling the gaps on the teamsheet with players being tried in positions they will never ever be able to make a fist of. For, example, last week against Tyrone they played Finbarr Cullen, who is an excellent corner back, at full back and Ken Keelaghan, who is a really good full back, was at full forward, it doesn't make sense".
Suggestions there perhaps that the current 'wise men' of Offaly football are not picking the county as it were. O'Rourke is loathe to criticise selectors, but does point out that in his travels to games this season.
"I've seen nearly every Senior Championship match played", he has noticed a few players who, to his experienced eye, seem to have the makings of county performer if given the opportunity. "There's a chap called Weir from Bracknagh, a son of Frank Weirs, who is 22 years old, 6'2 and as good a forty yards man as is around in any county. A young lad called Buckley from Kilcormac/Killoughey, a chap called Daly from Daingean and a full back called Liam Carroll, of Clara, all good young players who don't appear to have been given a chance. Offaly football fans are starting to ask why".
Word on the grapevine though has reached Mick's ears that some of the above have been offered a county chance and turned it down. For the life of him he cannot understand why. "I know back in my time playing we'd have given anything to wear the Offaly jersey, these times lads seem to have a different attitude to it".
One young man who obviously has a sense of loyalty to the tricolour top, is Edenderry's Peter Braddy, who recently denied publicly, a persistent rumour that he was set to transfer to Kildare. "I heard that yarn all right. I was glad to see Peter knock it on the head, it always seems to be Kildare. If it isn't Tompkins or Fahy coming back there's talk of Peter Whitenell joining I'm delighted to see Brady staying put because he is a hell of a footballer".
That he most assuredly is, but like most of his team mates, Brady is not the biggest of men. Over the years, especially the glory years, Offaly always produced their fair share of big men. Not that one suggests they were a dirty side, rather that they had men who physically were the equal of any opposition. They bred them strong down Offaly way, or at least they used to. O'Rourke sees the point. "The present set up doesn't seem to have any big lads involved at all. You'll win nothing with fifteen fine footballers, the bit of strength is essential" .
Big Mick was as noted, a double All-Ireland winner, but the year before Offaly claimed Sam for the first time he was part of what was one of the most extra ordinary Leinster finals of all time. Meath who were dead, in receipt of the last rites and just waiting to be interred, when ten points in arrears at half time, performed at feat of which even Lazarus would be envious, when coming back from a threatened rout to win by point. Offaly's score of 5-12 still remains the only time a side has scored five goals in a Leinster decider and lost, Meath amassing the amazing total of 2-22.
"It was without doubt the most amazing match I was ever at. Not that even when we were ten points ahead we lay down thinking we had it won, we were too cute for that. I was corner forward that day and looking down the field the second half, I couldn't believe what was happening. Everything Meath seemed to kick at goal went over".
The seeds of glory had been sown though and according to mighty Mick, they were first planted as far back as 1964. "We won the Minor All-Ireland that season and 11 of that team came through to the Seniors winning team seven years later, lads like Willie Bryan, Tony McTeague, Mick Ryan and Eugene Mulligan". One other man who came through those same ranks was 'keeper Martin Furlong, and for O'Rourke, he was the Daddy of all goalies. "Furlong would give you two things if you were a back in front of him, great confidence that if the ball go by you he'd stop it, and secondly sore ears from the shouting and roaring he'd do at you over the hour".
The main source of inspiration for the Offaly players of that vintage, sadly passed away very recently, and the amount of respect in which Rev. Fr.Gilhooley was held in Offaly football was illustrated by the fact that 13 of the All-Ireland winning side turned up at his funeral, Furlong and Nicholas Clavin both based in America being the only absentees. For O'Rourke, his passing marked the end of an era.
"People generally credit Mick O'Dwyer and Heffernan as being the first G.A.A. managers as we know them today. As far as I'm concerned Fr.Gilhooley was the original of the species. He was a great one to treat men as men. He'd never have a go at you in front of others, if you played badly he'd let you know all about it in private. He had the most powerful memory of any man I've met. Maybe two weeks after a match he'd saunter up to you in training and remind you of an incident in the game that you'd thought he'd missed, a great great man and a great friend to all of us".
O'Rourkes views on coaching and training bear the hallmarks of his brilliance as a corner back. They are simple in the extreme, common sense being the most important constituent of their make up "Coaching is fine in its own right. You need a bit of coaching, but the main thing for any team is to have some sort of game plan. Players need to know how their team mates are likely to react in any given situation. I remember hearing Kevin Heffernan on the radio just before the Cork v Dublin replay in 1983, he was being told about how in training Cork had one ball for every player. Heffo just turned round and said, next Sunday there'll be only ball between thirty of us. The point being that coaching and training should be done to as near to game situations as is possible".
Micks own stint on the Offaly selection committee came between 1979 and 1980 when Eugene McGee was in charge of the side. It ended acrimoniously and in hindsight O'Rourke does say that things might have been handled differently by all parties. "We were maybe a bit too keen for success at the time. The problem as I saw it was down on the Tuesday before a game and picked the team. When it came to the match he called the shots? We might see something going wrong but we had no authority to act on it. Supporters were saying, to me anyway, why didn't you do this that or the other and I'd explain the facts to them that we had no input during the game, and as often as not they'd walk away not believing me. It was a situation that couldn't work out".
For all that, O'Rourke really appreciates McGees ability as a manager, especially the way in which McGee would studiously do his preparation for a forthcoming encounter. "Eugene would be planning a match maybe a year in advance, he'd sort out his side and if say a wing back wasn't playing well he'd go around the county looking for somebody better, not try and make the full forward into a wing back. Also he knew more about the opposition at times than I'm sure they knew about themselves".
Of course, McGee's crowning glory came when Offaly in 1982 when that famous Seamus Darby goal deprived Kerry of the five Sams in a row. Mick was in the Hogan Stand enjoying every minute of the match and as a sterling defender himself is well placed to offer an opinion on how Darby's effort beat the massed ranks of Kerrymen guarding the goal. "What push was that you mentioned. I didn't see any push on anyone, the sun must have been in my eyes. Seriously though and I've argued this with countless Kerrymen Tommy Doyle made the cardinal error of going to catch the ball, he had ample time to just knock the ball out to the side and clear it from there. Anyway, Doyle should never have gone for it at all, if he kept Darby outside of him, even if Seamus got the ball he'd never have been able to score a goal".
Kerry players seem to feature a lot in O'Rourke's career, he nominates John Egan as his most difficult opponent of all time. "John was a hard player physically. He mightn't have looked that but I can assure you he was, the only way to play him was to be first to the ball. You'd never dispossess him and if he got past you there was no hope of catching up with him because he had some pace".
In hurling though an Offaly man takes pride of place in Mick's personal role of honour, he goes for one of the county's better known players as the best he has been up against. "Barney Moylan of St. Rynaghs was as good as I've ever seen. I loved the hurling and Killeigh winning the county Intermediate Championship in 1981 meant as much to me as anything I won at football. We had a fair side then and just lost to Kinnity in the Senior semi final two years later"
Killeigh have returned to their winning ways at hurling of late though, an Under 16 team winning the county 'A' final and there was a direct O'Rourke connection in that game. "My brother Brendan's son John was captain of the team. There are a lot of good young hurlers coming through the ranks just now. Actually, things are moving nicely on the local club scene at the moment. We opened our new field a few months back. We played Eire Og in a football match and Laois hurled Offaly as well. It was a great day for the parish".
A lifetime's activity in the G.A.A. has broadened O'Rourke's horizons. He knows the score, has no regrets at all, but in a parting shot feels that Eddie O'Connor's famous holiday plea from the Hogan podium last September should not fall on deaf ears. "I'd like to see the players much better looked after. I mean don't forget that you could have 60,000 people in Croke Park, the ref ready to throw the ball in and the Artane boys band striking up the National Anthem, but if you have not teams to play, there's not much point in anyone else being there. Those lads give up a lot to reach All-Irelands, a holiday is the least they deserved".
Mick O'Rourke, a teak tough prince of defenders, still playing the game straight from the shoulders, and above all still on the player's side of whatever fence is in the way.
Most Read Stories