Electric Ireland to live stream eight Fitzgibbon and Sigerson Cup games
January 09, 2019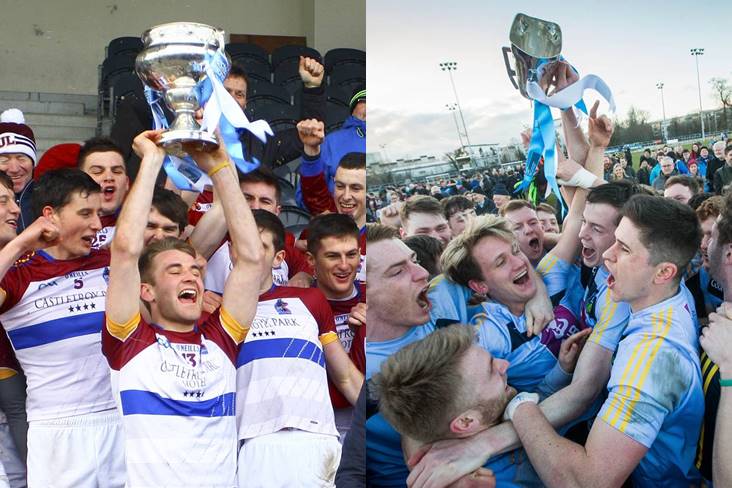 UL and UCD are the reigning Fitzgibbon Cup and Sigerson Cup champions respectively.
As part of its First Class Rivals campaign, Electric Ireland has announced that it will live stream eight key Fitzgibbon and Sigerson Cup games on its YouTube channel and GAA Now, bringing fans closer to the action than ever before.
Rival county footballers but now college teammates, Sean O'Shea (Kerry and UCC) and Cian Kiely (Cork and UCC), Michael McKernan (Tyrone and UU) and Eoghan Bán Gallagher (Donegal and UU) and hurlers, Brian Hogan (Tipperary and UCD) and Seamus Flanagan (Limerick and UCD) linked up with Electric Ireland to make the announcement.
These players will each will put aside their traditional county rivalries, pulling on matching college jerseys to compete as teammates for glory in the Electric Ireland GAA Higher Education Fitzgibbon and Sigerson Cup.
GAA President John Horan said: "Providing easy access to GAA fans to watch key games in the Electric Ireland Sigerson, Fitzgibbon and Higher Education Championships via a live stream is a big step forward in the promotion of these Championships and a step that the GAA welcomes.
"These competitions, steeped in history and tradition, showcase the best the GAA has to offer and I'd encourage any GAA fan to tune in to see what is always a highly competitive, exciting display of our national games."
All-Ireland winning Limerick star Flanagan (UCD) commented: "I think Electric Ireland's First Class Rivals sums up what the Fitzgibbon Cup stands for. The competition is a highlight for me each year and a big part of that is playing alongside lads that you might not ordinarily have the chance to play with.
"To play as teammates with some of your biggest rivals from inter-county level gives you a different perspective and challenge and results in what is always a highly competitive championship."
Ulster University footballer and 2018 All-Ireland finalist with Tyrone, Michael McKernan added: "Support is a huge part of the GAA and I think Electric Ireland's live streaming of the games is a significant addition in 2019.
"It will really help to grow support surrounding the Electric Ireland Sigerson and Fitzgibbon. These competitions mean the world to us and I think it's brilliant for people and particularly students who may not be in a position to travel to the venues on the day of games to be able to watch the games easily online. It will really give us as players a big boost to know the support is behind us."
Electric Ireland is committed to investing in young talent, launching the four-year sponsorship of the Higher Education Championships in 2018, adding to its sponsorship of the GAA Minor Championships.
Electric Ireland's Sigerson, Fitzgibbon and Higher Education Championship campaign, #FirstClassRivals, showcases the unique trait of these historic GAA competitions that sees team composition, unlike in club and county Championships, determined by place of learning not place of birth allowing traditional rivals to form the most unexpected of alliances.
Over 7,000 students take part in the Electric Ireland GAA Higher Education Leagues and Championships that commence in November and culminate in the Electric Ireland Sigerson and Fitzgibbon Cup Finals which take place on the 20 February in Mallow and on the 23 February in WIT respectively. The draw for the competitions took place on 07 December 2018 and the full schedule of fixtures can be viewed at http://www.gaa.ie/highereducation/.
Most Read Stories