GAA quartet to be invited to AFL, Stefan Okunbor settling in
December 06, 2018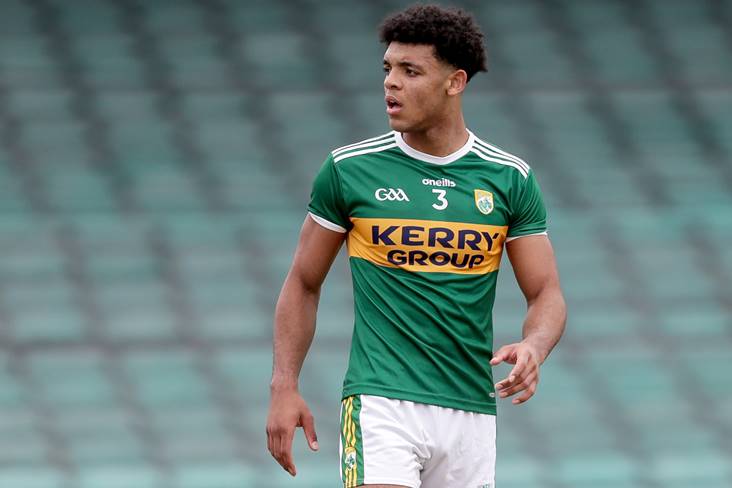 Kerry's Stefan Okunbor. ©INPHO/Laszlo Geczo.
by Daragh Ó Conchúir
The AFL has revealed that four GAA players will be brought to Australia to trial for contracts, after the success of another European combine in Dublin last weekend.
Twenty players from around the country were tested and interviewd by AFL Europe coach, the former Down and Collingwood player Marty Clarke, and AFL international talent manager Kevin Sheehan.
Representations of Sydney, North Melbourne and Essendon were also in attendance, and Sheahan says that with a record 14 GAA recruits now contracted to AFL clubs, interest is increasing all the time.
"The combine was a fantastic standard and there's no doubt they're elite young athletes and footballers," said Sheehan.
"They're also a diverse group as well as they come from 17 of the counties of Ireland and they're aged between 16 and 21. It was a great experience for the AFL clubs that were there and the boys that were there, and they adjusted well to the oval ball.
"I think it's terrific that (Sydney's list and recruiting manager) Kinnear Beatson was there oversseing the combine because they're an innovative club in looking at all angles of recruiting – Americans and Irishmen."
Sligo's Luke Towey exhibited his lightning pace with 2.82 seconds in the 20m sprint and scoring 7.93 in the agility test, while Ross McQuillan – son of former Armagh player Martin and a senior championship player this year – showed tremendous vision and aggression, along with his time of 2.77 for 20m. Dubliner James Madden, who is now with the Brisbane Lions, holds the record for the 20m sprint of 2.68.
All-Ireland U20 winner with Kildare, Mark Barrett set 2.98 for his sprint and scored 8.04 in agility, while the mobility and basketball skills of Clare's Seán O'Donoghue also stood out.
Meanwhile, Kerry youngster Stefan Okunbor has gone the extra yard in settling in straight away with AFL giants Geelong, by studying the players' pen pics and knowing all their names.
Okunbor always said he would do whatever it took to make it as a professional sportsman and having been described by the Cats' senior Irishman Zach Tuohy as having "the perfect build" to make it, is already creating quite an impression at the club that also includes former Kingdom teammate, Mark O'Connor.
"I was given the player profiles so I had no excuse to not know their names" said Okunbor, who has been in Australia for the last month.
"I think a few of the guys were a bit weirded out that I was saying their names before they introduced themselves. I got the player profiles, I've been in the loop for two years so I've had no excuse."
The 20-year-old participated in the AFL Europe Talent Combine in Dublin two years ago and was selected to go to the NAB AFL Academy in Florida early the following year.
Mixing with elite academy stars such as Jaidyn Stephenson, Jack Higgins, Paddy Dow and Cameron Rayner convinced him that he would rather be playing Aussie rules for a living than studying to be an engineer.
Last year's appearance at the AFL Draft Combine in Melbourne failed to yield a contract but Geelong remained in touch, largely through recruiter Troy Selwood, and Okunbor is sure that he benefited from the extra year at home, that ended with him being named Munster U20 player of the year after a series of barnstorming performances for Kerry.
"It was a blessing in disguise not being picked up last year. It was a bit disappointing (at the time) but I got a year to mature. For me, going home, working on my craft and my game back home stood out to me."
Such is his attention to detail that Okunbor opted not to practice kicking too much to "avoid picking up bad habits," but is looking forward to stepping up his education in that regard with tuition from Tuohy, who is recognised as one of the premier kickers in the League.
"He's really concentrating on my kicking technique. He's injured at the moment and he'd love to do more but once he's back we'll do a bit more movement. "We're going to be going through some footage inside to see my body positioning and all of that."
As is customary for first-year recruite, Okunbor is yet to progress to full training, but is working on building up his fitness and honing his skills with assistant and VFL coach Shane O'Bree.
Most Read Stories