2018 McDonagh, Ring, Rackard & Meagher Champion 15s announced
November 02, 2018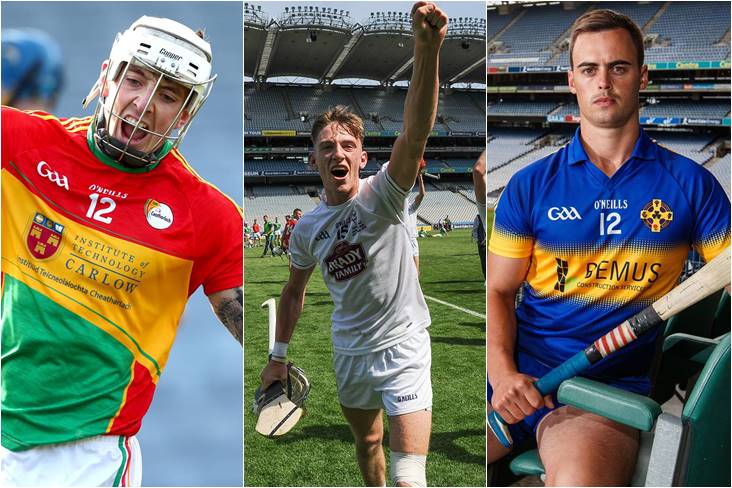 James Doyle (Carlow), Jack Sheridan (Kildare) and Ronan Crowley (Lancashire) all feature in the Champion 15 selections for 2018.
The GAA and the GPA are pleased to announce the list of players who are being honoured for their outstanding performances in the McDonagh, Ring, Rackard and Meagher Hurling Championships in 2018.
These Champion 15 selections will see the winners receive their prizes as part of the PwC All-Stars event in Dublin's Convention Centre this Friday evening.
There are six counties represented on the McDonagh Cup selection with champions Carlow dominating with six players honoured, and beaten finalists Westmeath represented by five players in what is the inaugural year of the Joe McDonagh Cup Champion 15.
Carlow's James Doyle is selected again this year having also been chosen on a Champion 15 as one of the outstanding players in 2017.
There are eight counties represented on the Christy Ring Champion 15 with Kildare taking four places after the success of the Lilywhites in the competition last summer.
The Nicky Rackard & Lory Meagher Champion 15 is also evenly spread across 11 different counties. Lancashire's Ronan Crowley is honoured for the second year in a row and comes after he landed 1-9 in their final defeat against a Sligo side who have James Weir and Gary Cadden in the team.
Uachtarán CLG John Horan congratulated the winners and said: "We play a team game but we have always been moved by the exceptional performances that have stood out and contributed to the rich culture of Laochra Gael that we celebrate on an occasion such as this.
"The McDonagh, Ring, Rackard and Meagher Cups are dedicated to GAA legends; people who are synonymous with hurling, with its greatness and in their dedication to it. I congratulate the Champion 15 selections that have been made. They are all worthy of the prestigious honour that has been bestowed upon them and it's a great occasion for them, their families and the clubs who helped produce them."
Paul Flynn, CEO of the GPA said: "Congratulations to all those who received a hurling All Star Award this year. I would like to commend each and every player for their hard work and commitment throughout the 2018 season and throughout their careers. This award truly is one of the most coveted in GAA. Each winner, along with their teammates, have contributed to a thrilling championship. Well done to everyone involved."
The three Champion 15 selections are listed below.
Joe McDonagh Cup Champions 15
Edward Byrne (Carlow)
Brian Tracey (Carlow)
James Doyle (Carlow)
Chris Nolan (Carlow)
David English (Carlow)
Paul Doyle (Carlow)
Derek McNicholas (Westmeath)
Allan Devine (Westmeath)
Paul Greville (Westmeath)
Patrick Carroll (Westmeath)
Eoin Price (Westmeath)
Sean Weir (Kerry)
Ross King (Laois)
Neil McManus (Antrim)
Joey Keena (Meath)
Christy Ring Champion 15
Paddy McKenna (Kildare)
Eanna O'Neill (Kildare)
Mark Moloney (Kildare)
Jack Sheridan (Kildare)
Brian Regan (London)
Denis O'Regan (London)
Aaron Sheehan (London)
John Henderson (Wicklow)
Warren Kavanagh (Wicklow)
Cian Waldron (Derry)
Cormac O'Doherty (Derry)
Dáithí Sands (Down)
Stephen Renaghan (Armagh)
Naos Connaughton (Roscommon)
David Kenny (Mayo)
Nicky Rackard & Lory Meagher Champion 15
Declan Coulter (Donegal)
Stephen Gillespie (Donegal)
Shane Caulfield (Warwickshire)
Niall McKenna (Warwickshire)
Dermot Begley (Tyrone)
Kevin Crawley (Monaghan)
Stephen Kettle (Louth)
John Casey (Longford)
Declan Molloy (Leitrim)
James Weir (Sligo)
Gary Cadden (Sligo)
Ronan Crowley (Lancashire)
Edmond Kenny (Lancashire)
Ryan Bogue (Fermanagh)
Kevin Conneely (Cavan)
Most Read Stories