Former soccer international Siobhan Killeen has no regrets about switching to Gaelic football
October 10, 2018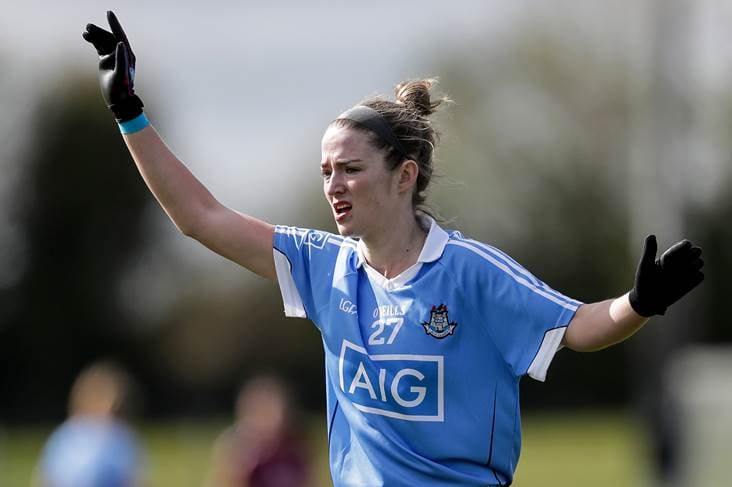 Clontarf and Dublin star Siobhan Killeen. ©INPHO/Laszlo Geczo.
by Paddy Hickey
Former ladies' soccer international star Siobhan Killeen says she has no regrets about turning her back on the world-wide code in favour of focusing on Gaelic football.
Having first represented the Republic of Ireland at under-17 level, Killeen's soccer career accelerated to the stage where she earned a total of 11 caps at adult level, and played in a host of countries around the world.
But back in March of this year the richly-talented dual ace decided to resurrect her Gaelic football career, and she made such a smooth transition to the native code that she helped Clontarf to claim the Dublin intermediate football championship title and won a place on the Dublin All-Ireland winning panel.
"I actually did the pre-season training with my soccer club, Shelbourne, but I then decided that I would have another shot at playing Gaelic football," explained Killeen, who shot a stunning total of 2-10 in Clontarf's Dublin final win over Cuala.
"And I certainly have no regrets about the decision I have taken, as I'm really enjoying playing Gaelic and, as well, things have gone extremely well for me with Clontarf and with Dublin winning the All-Ireland.
"Actually, from the time I was quite young to the age of 17-18 I played both Gaelic and soccer. I first played Gaelic with the Raheny boys' team as the club didn't have a girls' team, and then I later moved to the Scoil Ui Chonaill club.
"But when I was around 17-18 the demands of playing the two sports just became too much for me.
"And after I was involved with the Dublin team in the 2011 All-Ireland minor football final against Cork, I decided that I would focus on soccer for the foreseeable future.
"I remember well that was a very emotional decision for me to make, as, of course, I had made a lot of friends from playing Gaelic with my club and with the Dublin minor team.
"As well, I thoroughly enjoyed my time playing soccer and I have very many happy and satisfying memories of my time with Shelbourne and with the Ireland team.
"But then last March things got to the stage where I felt that I had achieved everything I wanted to achieve in soccer, and so I decided that a new and fresh challenge in Gaelic was just what I needed," added the star forward.
Interestingly, up to making the breakthrough to senior level as a result of the success against Cuala, Clontarf had suffered the agonising experience of coming up short in the Dublin intermediate football final of the previous three years, losing to Parnells, Clan na nGael and St Maur's.
But based on her outstanding scoring exploits in the clash against the Dalkey outfit, many would feel that the acquisition of Killeen played a significant part in the ending of the final losing sequence.
Of course, as well as promotion to Dublin senior ranks for the 2019 campaign, Clontarf have the opportunity of adding to their trophy haul in the Leinster Club Championship.
"It was fantastic to win the Intermediate county title, particularly as a lot of the other girls had nothing to show for playing in the three previous Dublin finals," said Killeen, whose side accounted for Laois's Shanahoe in the first round of the provincial campaign.
"While we celebrated winning the county title, we didn't fall into the trap of resting on our laurels, and so we'll be doing everything in our power to keep our season going for as long as possible."
Next challenge up for Clontarf is a quarter-final tie against Longford representatives, Carrickedmond, on Sunday next, and Killeen is anticipating a much stiffer challenge from the opposition than she and her teammates experienced in their opening encounter.
"Firstly, Carrickedmond will have home advantage in the match, and I also believe they are the Longford senior champions, rather than the intermediate champions," she pointed out.
"So I'd say that we will have to considerably improve on our performance against Shanahoe if we're to come out on the right side of the result."
Most Read Stories