Wexford great Tim Flood passes away
July 03, 2014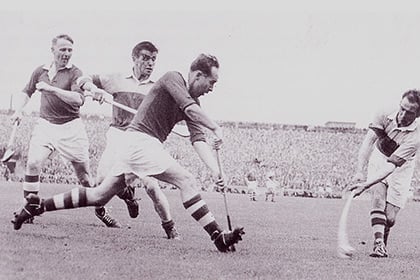 Action from the 1954 All Ireland hurling final. Players from left are Gerry O'Riordan Cork,
Tim Flood Wexford
, John Lyons Cork and Wexford's Bobby Donovan.
The passing of three-time All-Ireland winner Tim Flood has been the source of much sadness in Cloughbawn and Wexford GAA circles.
The 87-year-old, who passed away today (Thursday 3rd July), was a leading light in Wexford's golden era in the fifties.
He first came to prominence in 1949 when playing a leading role as Cloughbawn captured the Wexford SHC title for the first time ever while he featured on two losing All-Ireland final teams in 1949 and '54.
It was a case of third time lucky for Tim and the Model County in 1955 and he starred at left corner-forward on the team that defeated Galway to collect the county's first All-Ireland SHC title since 1910.
The following year he lined out at left half-forward as the Slaneysiders retained the Liam McCarthy Cup when getting the better of old rivals Cork in what is still regarded as one of the greatest ever finals.
In 1960 Tim added a third Celtic Cross souvenir to his medal collection and he brought the curtain down on his illustrious inter-county career shortly after the 1962 final defeat by Tipperary.
Son Sean, meanwhile, inherited his passion, and skill, for the small ball code and won an All-Ireland medal in 1996.
Unfortunately, an injury sustained in the semi-final win over Galway that year ruled Sean out of Wexford's Liam McCarthy Cup victory over Limerick.
An avid musician, Tim was the mainstay of the well-know Castleboro Ceili Band while, following his retirement from hurling, he was heavily involved in sheepdog trials, and represented Cloughbawn, Wexford, Leinster and Ireland on numerous occasions, appearing on TV shows such as 'One Man And His Dog'.
Ar dheis Dé go raibh a anam.
WE INCLUDE AN INTERVIEW WHICH THE GREAT TIM GAVE TO HOGAN STAND BACK IN 1993
Cloughbawn and Wexford great Tim Flood was immersed in hurling from the word go
It's a long time since Wexford brought the Liam McCarthy Cup back Slaneyside and it's even longer since Cloughbawn took the Wexford Senior Hurling title but one man who can say "I was there", the last time these events took place is Tim Flood, who contributed so much to club and county over the years.
Next Sunday, the present generation of Cloughbawn Senior hurlers will have another stab at bridging a 42 year gap when they face Rapparees in the county final replay and nobody will be cheering them on more than the great Tom Flood who has an added interest due to the fact that his sons Sean and Gearoid both line out in the Cloughbawn backline and Seamus will be on the subs bench. The first encounter between the Rapps and Cloughbawn went the same way as the Wexford football final, a draw, in a poor match. At one stage, Tim Flood's old team led by six points but a controversial goal for the opposition brought them back into it and a 70 yard point in the dying seconds levelled the scores at 1-8 each. "It was a poor game and both teams were a bit over eager. It's probably just as well that it was a draw in the sense that we will have a much better game the next day and there'll be no excuses".
The pressure is on Cloughbawn to take home the honours next Sunday after coming this far. On their way to the final, which doesn't include either Rathnure or Buffers Alley for the first time in 24 years, the Cloughbawn men overcame Glynn - Barntown, Oylegate-Glenbrien, Crossabeg-Ballymurn and Rathnure and had a couple of close calls during that campaign. However, they were still installed as favourites for the decider and doubtless will be for next Sunday's encounter as well. "I thought we would win it", comments Tim Flood, "and I still think we'll win but I wouldn't be as confident the next day. The forward line looks quite good but they don't seem to be getting the scores on the big days and hopefully we can improve on that. We've played in three county finals now and we'd badly want to win one".
If they do win, it will be the first crown to make it's way to Cloughbawn for 42 years, or 41 years to be correct as the 1951 final wasn't played until June of the following year! On the day, Tim Flood was the hero as he clocked up a total of two goals and four points in his side's seven point victory over Horeswood in a replay. Tim started at corner forward but was then moved to the centre forward position from where he got all his scores. "I was a bit lucky that day", he recalls modestly. "I didn't do well for a long time and then I got a goal and then another and all of a sudden I could do no wrong. "I suppose it was one of my good days".
It was one of Tim's many good days which came frequently during his long career at the top of the hurling tree. As a youngster, he first picked up a hurley while only about seven or eight years old, and although there were no underage competitions back then, they sometimes took on a team from Enniscorthy. Flood says that he only played two Minor matches in his career but first togged out at Junior club hurling level in 1945 and won a county Championship the following year and Senior titles in 1949 on a team that there were only two players on it who didn't have brothers playing alongside them. Tim was certainly immersed in hurling from the start as he was living near the Harrington family which produced many great hurlers. In addition, his wife, Kathleen is a sister of the former Wexford great, Oliver 'Hopper' McGrath.
Tim's involvement with intercounty hurling began in 1947 when he played in a match against Dublin. "I was very nervous and didn't feel I should be on it". The next game he played was a National League clash between Wexford and Tipperary two years later. The great Pat Stakelum was marking Tim but he played well enough to be selected for the next match and was the only one from his club to be picked for that encounter, and he kept his place for the following 13 years.
During that time, Flood played in five All-Ireland finals and 11 Leinster deciders and certainly couldn't be classed as a stranger to success. His first Senior intercounty medal came in 1951 when the yellow bellies defeated Laois by six points in the Leinster final but, unfortunately, fell to Tipperary in the All-Ireland final by 7-7 to 3-9. Further disappointment was to come three years later when Cork beat them by three points in a low-scoring final. "When we came home in 1954 after being beaten it was terrible so we said it'd be great to come back after winning it". The Wexford men weren't long in attaining this goal as, in 1955, they took the county's first All-Ireland title in 45 years.
"In 1955, I think if we hadn't won it then we wouldn't have won it at all. We scraped home against Kilkenny in a replay and Clare knocked out Cork and Tipp, Limerick beat Clare and we beat Limerick in the semi final. The luck was with us that year". In the final, Wexford met Galway and accounted for them quite easily, by a margin of eight points. "It was great to come back after winning it because it meant a lot to the supporters and everyone". Naturally enough, there were some begrudgers who claimed that Wexford had an easy run because they didn't have to play against Cork or Tipperary but the Slaneysiders answered the critics in the best possible manner the year after by retaining their title, beating Kilkenny, Cork and Galway along the way. "It was great to win that year because people said that the '55 All-Ireland was an easy one but after '56 we were classed as a good team". In 1960 Tim added another All-Ireland winners medal to his sizeable collection when Wexford beat the Premier County by 10 points in the final but the result was reversed the year after in a thrilling match. "It was the best All-Ireland that I played in. They got off to a great start but we got back again and the second half was point for point until the last few minutes. It just didn't happen for us".
That was Tim's last All-Ireland, as he hung up the intercounty boots in 1962. He had no regrets about quitting and acknowledges that he had a good innings. "I was lucky to come along at a time when Wexford had good players because in the years before that they never won anything". The Cloughbawn man certainly had plenty of big occasion experience and always enjoyed every minute of it. "I always found the atmosphere great, especially when the National Anthem was being played. It's a great occasion and I suppose it still is and it's nice to win. But it's not everything".
Tim said goodbye to club hurling in 1969 when Cloughbawn were languishing in the Junior ranks but shortly after he left them, they won the Junior Championship. "Maybe I was there too long!", jokes Tim. He coached the side for a while and was a selector for another while and today remains an avid supporter of both the Cloughbawn team and the Wexford team, who have both suffered from a dearth of success in recent years. Wexford's failure in successive Leinster Championships has been particularly lamented in hurling circles of late as they continuously come close to making the breakthrough, only to fall at the final fence. "Wexford were a bit unlucky this year. If they'd beaten Kilkenny they had a good chance of winning it out. It's possible that Wexford will do it soon but Kilkenny look like a very good side at the moment and so do Galway so it won't be easy for them".
The game of hurling has changed a lot since the days when Tim Flood was starring for Wexford and Coughbawn and there have also been some rule changes, like the banning of the kicked point which Tim thinks was a good move. He would also like to see the kicked goal being abolished. One thing he is saddened to see is a change in the way teams parade before the big matches in Croke Park. "One thing I can't understand is that coaches don't train the players to march after a band. It looks like a lack of discipline when they make no attempt to stay in step". Wise words indeed from a man who certainly didn't need to be taught discipline as Tim Flood was one of Wexford and Coughbawn hurling's greatest ever servants.
Most Read Stories