IFC: Curraha up and running
May 22, 2017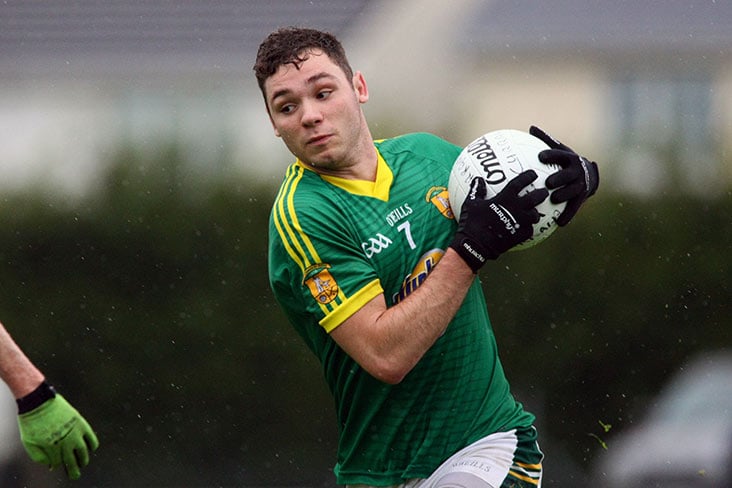 Curraha's David Toner
Curraha 0-14 Kilmainham 1-09

Curraha got off to a winning start in this years Intermediate Championship with a hard fought victory over KIlmainham played in Castletown.
It was all plain sailing for Curraha as they raced into a 5 point lead after opening scores from Neil Shortall, David Toner (2), Conor Moriarty and James McEntee. A Micheal Newman free opened Kilmainhams account and this was soon doubled. A Moriarty free stretched the lead back to five but Kilmainham finished the half better with three unanswered scores to trail Curraha by two points.

Curraha started the better in the second half and Moriarty had three points on the score board with two coming from placed balls. Kilmainham were creating chances and Newman was unlucky not to have raised the green flag but the Kells outfit soon did have the green flag raised and brought the game back to two points. Soon after they had the game back to the minimum but McEntee restored the two point lead soon after. Kilmainham felt they could get something from the game and dug deep to bring the sides level but points from Toner and sub Evan McGovern pushed Curraha ahead with the final minutes looming. Points were trading in the last few minutes with Moriarty and Toner cancelling out two Newman frees.

Curraha: L. Hogan, S. Hogan, C. McCann, S. O'Hanrahan, D. Toner 0-4, S. McDermott, B. Joyce, B. Murphy, N. Shortall 0-1, C. Moriarty 0-6, J. McEntee 0-2, A. Battersby, N. Murphy, G. Coyle, P. Dowling. Subs: P. O'Hanrahan for Coyle, E. McGovern 0-1 for Joyce.
Kilmainham: Trevor Lynch, Joe Mahon, Richie Brady, Stephen Newman, Ger Morgan, Harry Newman, Shane Morgan 0-1, Barry Lynch, Paul Farrelly, Fergal Black, Michael Newman 0-5, Denis Newman 0-1, Seanie Mahon, Freddie Newman 1-2, Mark Newman. Subs: Ros Mooney and Dean Peppard
Most Read Stories