IFC: Poor start cost St. Ultans
May 22, 2017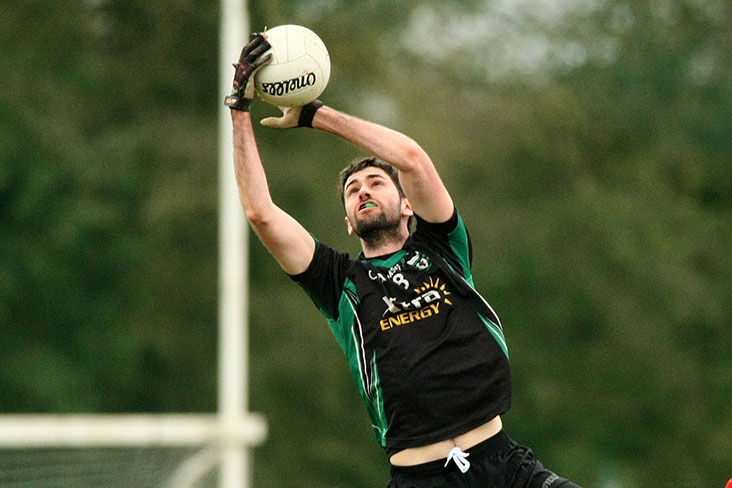 Gearoid Rennicks St Ultans
St Ultans 0-10 Walterstown 1-11
Walterstown took both points in this competitive opening round Intermediate Championship fixture in Kilberry.
St Ultans started the scoring with a well taken point from Cian Rennicks, Walterstown responded with point from Rory O'Dowd and a long range free. Gearoid Rennicks drew the sides level. Walterstown dominated possession and hit 1-4 without response, this period of domination ultimately won the game.  St Ultans rallied before half time with and 3 frees two from Gearoid Rennicks and one from Ronan Breslin narrowed the gap to 5 at the break.
St Ultans started the second half in determined fashion  and a brace of frees from Gearoid Rennicks left just a goal between the teams. Walterstown extended their lead but full forward Conor Smyth reduced the gap again with powerful finish. Walterstown kept the pressure on with another pointed free but Ultans were battling hard and two more frees from midfielder Gearoid Rennicks reduced the gap to 2 points but that was as close as Ultans would get with 2 late points from play for Walterstown to leave 4 points in it at the finish.
Next up for St Ultans Intermediates in the Championship is Syddan.
St. Ultans: Cian Farnan, Jason Bennett, Sean Herward, Darren Costello, Declan Ball, Declan Galligan, Martin Dolan, Ronan Galligan, Gearoid Rennicks 0-7 (7f), Emmet Costello, Cian Rennicks 0-1 , Conor Smyth, Alan Martin , Conor Smyth 0-1 , Ronan Breslin 0-1 (f). Subs Used Mark Allen, Darren Mallon
Most Read Stories