IFC: Early goals set up Oldcastle win
May 22, 2017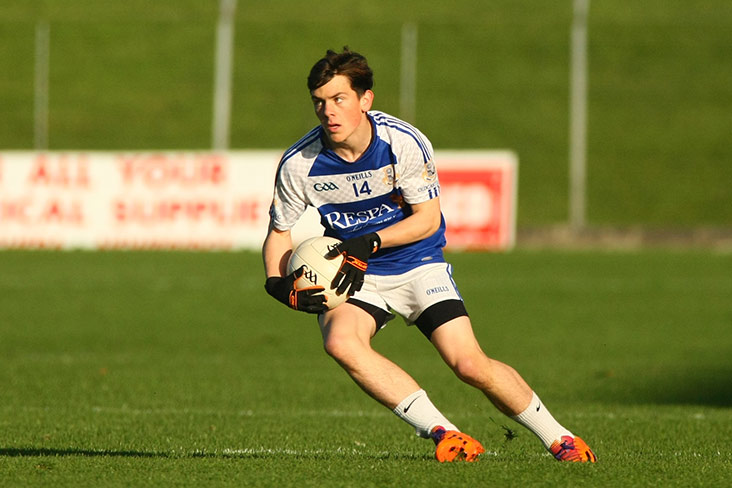 Oldcastle's CJ Healy
OLDCASTLE 3-11 SYDDAN 2-6
THE concession of two early goals proved too much for a lack-lustre Syddan as they made the worse possible start to their IFC campaign at Carnaross on Saturday evening.
Lacking urgency throughout, Syddan were unable to match a far more determined and committed Oldcastle who bossed the exchanges for most of the game.
And to make matters worse both Cormac Rowe and Ronan Mooney picked up nasty injuries while two other Syddan players were also forced out of the action with injuries in the second half.
Syddan led for the only time when Daire Rowe converted a free on two minutes. A minute later Paddy Gilsenan set up CJ Healy for the first of Oldcastle's three opening half goals.
Oldcastle's second score was also a goal, Stephen Tierney finishing to the net from a Jason Scully pass.
And the goal-spree continued when Paddy Farrelly found the back of the Oldcastle net on 11 minutes.
The Oldcastle lead stretched to nine points after Eoin Gilsenan hit goal number three on 25 minutes. Syddan made a quick reply when Daire Rowe converted from the penalty spot following a foul on Gary Farrelly.
Oldcastle spurned another couple of goal chances throughout the half and Syddan were fortunate that they only trailed 2-3 to 3-7 at the break.
A Syddan revival was never on the cards in the second half as Conor McHugh and Jason Scully (two) had Oldcastle points in the third quarter.
Scully added another point before Ronan Mooney opened Syddan's second half account on 53 minutes. The losers remaining points, from Daire Rowe and Kevin Garland arrived during the 10 minutes of injury time added on by referee Seamus O'Connor.
OLDCASTLE - Patrick Kevin; Sean Maxwell, Cian McPartland, Keith Connell; Eoin Gilsenan 1-0, Rory McHugh, Robert Pakenham; Ross Cadden, Conor McHugh 0-1f; Darren Hawdon, CJ Healy 1-1 (0-1f), Gerard Reidy 0-1; Paddy Gilsenan 0-3, Jason Scully 0-5 (2f), Stephen Tierney 1-0. Subs - Robert Smith for Healy (40), Niall Mangan for Reidy (45), Healy for Pakenham (60+).
SYDDAN - Ciaran Farrelly; Kevin Garland 0-1, Ben Bashford, Cormac Rafferty; Kevin Traynor, Ronan Mooney 0-1, Mark Fedigan; Sean Clare, Gary Farrelly; Paddy Farrelly 1-0, Cormac Rowe, Gary McManus; Michael Fedigan, Brian Dillon, Daire Rowe 1-4 (1-0 pen, 3fs). Subs - Andrew Garland for Traynor (45), Jack Reid for Rafferty (45), Peter Sheehy for Clare (48), Stuart Fedigan for C Rowe (50), Tommy Meade for Mooney (60), Rafferty for Dillon (60+).
Referee - Seamus O'Connor (Carnaross).
Oldcastle Report
Oldcastle kicked off 2017's Intermediate Championship with a blistering first half performance against Syddan in Carnaross on Saturday last. Oldcastle began the match superbly by hitting 2-1 without reply in the opening six minutes. The first of the goals calmly slotted home in the bottom corner by centre forward CJ Healy, the other coming from a well worked Oldcastle attack that split the oppositions defence and raised the green flag from the boot of corner forward Stephen Tierney.
Oldcastle's defence were tested almost instantly when Syddan struck the net five minutes later but Oldcastle ensured they would not take the foot off the pedal by hitting four points in quick succession through corner forward Paddy Gilsenan, Healy (1 free) and Jason Scully (2 frees) They also had the ball in the back of the net for a third time when half back Eoin Gilsenan made the most of a counter attacking run, got on the receiving end of a Paddy Gilsenan offload and made no mistake by rattling the ball home to give the North Meath side a significant edge.

Syddan's resilience however paid off when they converted a rewarded penalty with five minutes before the interval but through a further two more points from Oldcastle's Ger Reidy and Paddy Gilsenan, they ensured that they would go in at half time in a strong position with a score of 3-7 to 2-3 in favour of Oldcastle.
The second half didn't disappoint either in terms of a battle between the two determined sides. With Oldcastle outscoring Syddan by 4 points to 3, through a converted free from midfielder Conor McHugh and three points from play from Jason Scully, Oldcastle ensured victory was the only outcome. 
A promising display and encouraging start from Oldcastle who play Donaghmore Ashbourne in the next round.
Oldcastle: Packie Kevin, Sean Maxwell, Cian McPartland, Keith Connell, Eoin Gilsenan (1-0), Rory McHugh, Robert Packenham, Ross Cadden, Conor McHugh (0-1,f), Darren Hawdon, CJ Healy (1-1, 0-1f), Gerard Reidy (0-1), Paddy Gilsenan (0-3), Jason Scully (0-5, 2f), Stephen Tierney (1-0)
Subs used: Robbie Smith for Healy 45', Niall Mangan for Reidy '50
Most Read Stories