HL Div 1: McCabe double seals comfortable win for Kiltale
April 18, 2017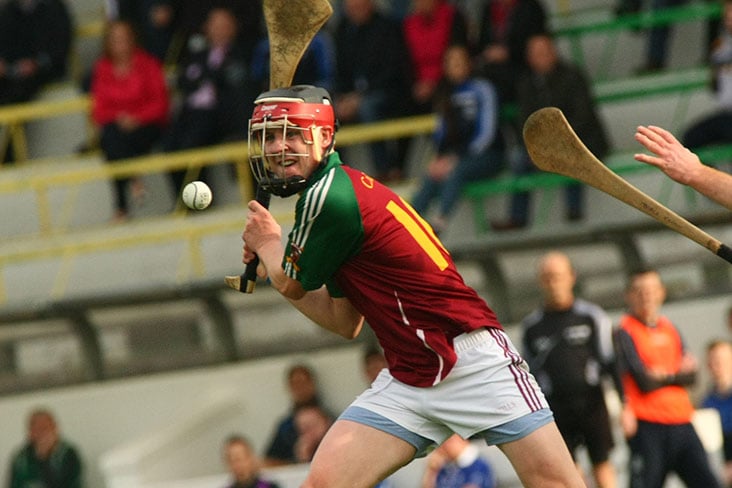 Kiltale's Fergal McCabe
HL1 McCabe's double leads to comfortable Kiltale win
Kiltale 3-16 Kilmessan 1-9
Two goals in the second quarter from Fergal McCabe saw Kiltale ease to victory over their neighbours at a showery Kilmessan on Sunday morning.
There were strong performances all round with Stephen Donoghue and Peter Durnin running through and handing off great ball to the younger forwards like Regan, Reilly and Ross Ryan who finished each move well. Durnin and Garvey linked up well all day and set up McCabe's two goals with great moves that opened the home defence. Garvey was unlucky not to have two green flags himself but he had to settle for two points instead.
Kiltale led at the interval 2-11 to 0-6
Kiltale's midfield was very solid with Stephen Donoghue playing better than ever and with new man Conor McNally who scored an outstanding goal made a very good midfield pairing.
The Kiltale defence was tight with the trusty full back line of Donnelly, Donoghue and Ennis back to their best. Ronan Ryan and Eamon Ryan swept up breaking ball with Conor Shirren cathching and winning ball at will to give the Kiltale's forwards countless scoring chances.
It was another good league win for Kiltale. Both teams were missing their county players. Kiltale now have much to ponder for the championship with many new players performing strongly and this will leave the management with a few team selections headaches which is a good problem to have coming into championship.
Kiltale: O. Regan, A. Donnelly, P Donoghue, C. Ennis, C.Shirren, R. Ryan E. Ryan, C. McNally (1-0), S. Donoghue, R. Ryan (0-1), J. Regan (0-8), B. O'Reilly P. Durnin (0-1), P. Garvey (0-2) F. McCabe (2-1). Subs used: J Cummins (0-1) for J Regan, M. Burke for R. Ryan, S. Lenehan (0-1) for P. Durnin, S. Cummins for F. McCabe
Most Read Stories