IFC: Nobber back in the mix
August 17, 2014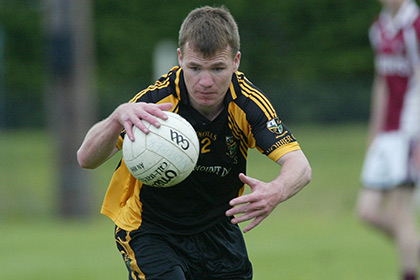 Nobber's Brendan Heffernan
Nobber. 1-14.
Drumbaragh 1-7
Andrew O Brien capped a fine performance for Nobber with a 55th minute goal which ensured victory over Drumbaragh in this IFC match.
Played in blustery conditions Brian Kelly opened the scoring for Nobber in the 2nd minute and subsequently they were never headed
Further points in this half from Kelly 2 Niall Farrell 0 03 0'Brien, Dale Larkin and Stephen O Brien saw Nobber lead. 0-9 0-4 at the break.
On the resumption Kelly was again to the fore with 2 pointed frees
Drumbaragh rallied with a 33rd minute goal but Nobber were the stronger side and with further points from O'Brien 0-2 and Sean Meade
Nobber ran out convincing winners
Apart from O'Brien Nobber were best served by Brendan Heffernan Gavin Farrelly, Colin Clarke,Niall Farrell, Brian Kelly Karl Casserly, Sean Meade and Stephen O'Brien
Nobber Scorers
Andrew O Brien. 1-3
Brian Kelly. 0-5
Niall Farrell. 0-3
Dale Larkin. 0-1
Stephen O Brien. 0-1
Sean Meade. 0-1
Nobber: C O Reilly S 0 Brien B O Reilly B Cassidy B Heffernan R Shields N Farrell C Clarke G Farrelly B .Kelly G Campbell D Larkin K Casserly A O Brien S Meade
Subs
Conor Halpin for Shields
Jamie Owens for Campbell
Fiachra McEntee for Larkin
Brian Meade for Clarke
Compliments to the Kilmainhamwood Club for the great condition they had the pitch in also their printing of match programmes
Most Read Stories