JFC: Curraha advance to the quarter final
July 07, 2014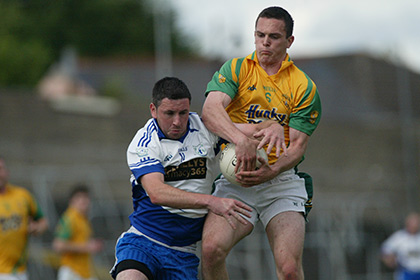 Curraha's James McEntee beats Stephen Kiernan Kilmainhamwood to the ball during the Meath JFC game at Pairc Tailteann.
Curraha 0-16
Kilmainhamwood 0-6
Curraha qualified for the quarter final following their impressive win over Kilmainhamwood, in yesterdays game played at Pairc Tailteann.
After ten minutes this seemed highly unlikely as they were behind 3 points to 1. However sterling work by the defence, with Conor Joyce kept Kilmainhamwood at bay and they would only score another 3 points for the other 50 minutes.With Ian McManus in particiliar lording it at midfield, well assisted by Locky Keogh, Curraha led at the interval by 6 points to 3. A feature of the first half was a fine point by Evan McGovern, who ran most of the pitch before kicking superbly over the crossbar.
Following his Leaving Cert, David Toner was introduced at the beginning of the second half at centre half forward.
James McEntee really turned the screw on Kilmainhamwood as he kicked fine points from play and frees. Danny Battersby tagged on a couple of points also and David Toner brought the game to an end with 2 long range points.
Best for Curraha were Ian McManus, James McEntee, Conor Joyce, Evan McGovern, Danny Battersby and Ciaran O'Hanrahan.
Curraha: Liam Hogan, David Coyle, Conor Joyce, Kevin Mallon, Evan McGovern, James McEntee, Mark Jackson, Ian McManus, Locky Keogh, Phelim Dowling, Simon McDermott, Gavin Coyle, Brian Cosgrave, Ciaran O'Hanrahan and Danny Battersby.
Subs used David Toner, Gary Dowling, Andrew Coyle, Conor McCann and Donal McDermott
KILMAINHAMWOOD REPORT
Kilmainhamwood 0-06
Curraha 0-16
Kilmainhamwood turned up to Pairc Taitleann Sunday last knowing a win would put them right back in contention for qualification out of the group but after they made a bright start by going three points to one up after 15 minutes thanks to two superb Stephen Kiernan frees and a David Russell point, Curraha responded by kicking five unanswered points to go in at the break six points to three in the lead. By this stage Kilmainhamwood had already lost wing-forward Andy Farrelly to injury, this brought about the introduction of Alan Carolan and corner-back Bernard Bennett to a Black Card offence; he was replaced by veteran Shane Russell
The 'Wood management made two further changes at the break, both in attack with Ray Magee and Padraig Owens coming on for Damien and David Russell. But it was Curraha who started where they left off by kicking the first three scores of the half to go six in front, but the substitutes for the 'Wood responded well to cut the deficit to four with points from Magee and one for Owens. Curraha responded with two of their own before Alan Carolan kicked what was Kilmainhamwood's final score of the match to cut the deficit to five, but Curraha went onto kick a further five points to run out ten point winners overall on a score line of 0-16 points to 0-06.
Best for the 'Wood was Emmet Clarke and Micheal Shankey in defence and substitute Padraig Owens in attack.
K-Wood Team: M. Kiernan, D. Dolan, P. Moran, B. Bennet, M. Shankey, E. Clarke, H. Corbally, G. Yorke, P. Berber, S. Mulligan, S. Kiernan, A. Farrelly, D. Russell, S. Smith, D. Russell Subs: A. Carolan for A. Farrelly (inj), S. Russell for B. Bennett (BC), P. Owens for D. Russell (HT), R. Magee for D. Russell (HT)
Scorers: S. Kiernan (0-02f), D. Russell (0-01), R. Magee (0-01f), P. Owens (0-01) and A. Carolan (0-01)
Most Read Stories